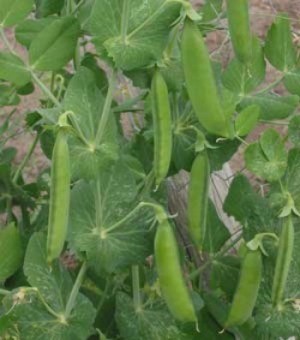 Botanical Name:
Pisum sativum
Description:
Peas are small, plump edible round green beans which grow in pods from vines. As members of the Legume family, peas are easy to grow, high in nutritional value and a popular garden vegetable in many countries around the world.
Planting Time:
Plant peas in late winter or early spring as soon as soil can be worked. Peas grow best at 60º to 65ºF and development slows at higher temperatures. Fall crops should be sown six weeks prior to the last frost.
Exposure:
full sun with protection from the wind.
Soil:
loose, well-drained, nutrient-rich soil with a pH of 6.0 to 7.5.
Planting:
Sow seeds 1 to 2 inches deep and 1 to 2 inches apart. Allow for 18 inches between rows. If planted in 16 inch-wide double rows, peas will support each other as they grow and form a dense cover to inhibit weeds.
Watering:
Keep soil moist (not wet), especially at root level.
Maintenance:
Peas can be trained to climb on fences or trellises to keep pods off the ground and vines from taking over the garden. Peas need very little fertilizing and actually leave behind nitrogen in the soil as they grow. This makes them excellent companions for tomatoes (and other plants), keeping them warm in early spring (by surrounding tomato cages) and boosting the soil with nitrogen.
Harvesting & Storage:
Harvest garden variety peas just as peas plump up and begin to touch in the pod. Snap peas should be bulging within the pods, and snow peas are best when 3 to 4 inches in length but still flat. Cut pods from vines with scissors instead of pulling.
Diseases and Pests:
Practice crop rotation to inhibit common pea problems and distribute plant-boosting nitrogen evenly throughout your garden.
Tips to Success:
Inoculants contain a bacteria found naturally in soils that helps roots convert nitrogen into forms that plants can use. Speed up this natural process by inoculating peas prior to planting for higher yields. Inoculants are available at garden centers and mail order seed companies.