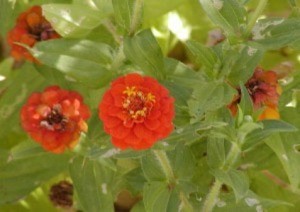 Botanical Name:
Zinnia
Life Cycle:
annual
Planting Time:
spring
Height:
6" to 4'
Exposure:
full sun
Soil:
average to rich, well-drained soil
Hardiness:
n/a
Bloom Time:
early summer to early fall
Flower:
variety of bright colors including yellow, orange, fuchsia, red, white and pink
Foliage:
green
Propagation:
seeds
Suggested Use:
beds, borders, cut flowers, mass plantings, containers, and fillers
Growing Hints:
Sow seeds directly outdoors where you want them to grow as soon as soil has warmed up, or start seeds indoors 6 weeks before your last frost date. If starting indoors, sow seeds into individual peat pots (3" pots for tall varieties) to reduce root disturbance during transplanting. Transplant seedlings outdoors when temperatures stay above 50º F in 4 to 12 inch intervals depending on variety. Taller varieties may need to be staked.
Interesting Facts:
Now one of the most popular bedding plants, zinnias were originally grown as wildflowers native to the southwest United States, Mexico and Central America. They also attract butterflies.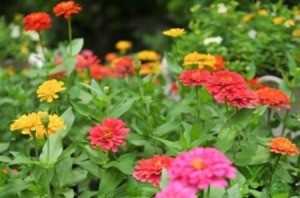 Few annuals look as cheerful and appealing in the garden as Zinnia flowers. They come in a wide range of sizes and forms; from single-stemmed upright, cut-flower types to multi-stemmed, multi-flowered border plants. Zinnias' daisy-like flowers may be single, semi-double, or double (the largest are nearly 6 inches across) and come in nearly every shade of the rainbow but blue.
Useful Facts
Bloom time:
Summer through early fall. Flower color: Varies by species; a wide range of pinks, reds, oranges, whites, purples, green, and yellow.
Hardiness:
Half-hardy annual.
Height:
4 to 48 inches.
Light preference:
Full sun.
Soil preference:
Nutrient-rich, well drained soil.
Spread:
10 to 24 inches.
Staking:
The tall strong stems usually do not require staking.
Uses:
Container planting, cut-flower garden, edging, mass planting, meadow garden, mixed border; attracting butterflies.
Growing Tips
Planting Outdoors:
Zinnias are one of the easiest annual flowers to grow. Once the weather warms up, choose a site where there's full sun and well-drained soil. Loosen the soil and plant seeds 2 to 3 inches apart, in rows spaced 12 inches apart. Cover the seeds with 1/2 inch of soil and water. In as little as 6 weeks your plants will have reached their blooming size.
Starting Indoors: Zinnia seeds can also be started indoors 4 to 5 weeks before the last frost date. Sow seeds 1/2 inch deep in individual peat pots. Most will germinate in as little as 4 to 5 days. Keep the seedlings warm (70 degrees F to 85 degrees F ) and moist and provide them with a strong light source until transplanting them outdoors. Don't be in a rush to put zinnias outside. Wait until all danger of frost has passed and the weather warms up. After hardening them off, plant the peat pots directly into the ground to avoid disturbing their roots.
Purchased Seedlings: Nurseries and garden centers often sell zinnias in cell packs. If you buy them, buy them early. Once they reach flowering size they don't transplant as well. Pinch them back by 1/3 at planting time to help reduce transplant shock.
Cut and Come Again
All varieties of zinnia respond well to cutting, and the stems and flowers hold up well in water. This includes the old-fashioned variety "Cut and Come Again" (
Zinnia pumila
), which is named for its vigor and ability to produce blooms for months on end. Cutting fresh flowers and regular deadheading will encourage the plant to keep producing. For cut flower displays, choose buds that are just about to open and cut them early in the day. Plants that produce tall stems with few buds can be pinched back to encourage branching.
Preventing Powdery Mildew
Annuals are generally less prone to problems from pests and diseases than perennials, because they don't live as long. Unfortunately, powdery mildew can be a major problem for zinnias, especially in humid conditions. Here are some tips for prevention:
Once seedlings develop three pairs of leaves, its time to thin them by removing the weakest plants. This will ensure good air circulation and leave plants less prone to fungal disease (6 inches between smallest varieties; 10 inches between medium-size varieties; 18 inches between the tallest varieties).
Keep zinnia leaves dry. Avoid watering from above, especially in the evening so that foliage doesn't stay moist overnight.
The common zinnia (Zinnia elegans) is the species most susceptible to powdery mildew and performs best when grown in drier climates.
Many newer varieties of zinnia are less susceptible to foliar diseases. The Profusion Series and Pinwheel Series of zinnias provide large-flowered, mildew-resistant zinnias in a broad array of colors. Smaller-flowered species, such as the narrow leaf zinnia (Zinnia angustifolia) and Mexican zinnia (Z. haageana) are seldom affected by powdery mildew.
Make sure you plant zinnias in full sun and in soil that drains well. Shady conditions and wet soils encourage fungi to grow.
Every spring I sow tall zinnia seed directly in the ground. Can I do the same thing with Profusion zinnia seeds or do I need to start them inside first and then transplant when I have a good sized plant? So far I have been buying new Profusion zinnias each year and this year, I would like to save the seeds and try planting them instead of purchasing every year.
Thank you for your response.
Answers
June 28, 2018
0

found this helpful
These look so amazing with their pops of color and pretty lines! I miss having them....When I did, I have always had the best luck starting them right in the ground vs starting inside. When I did the inside to outside....I must not have hardened them enough or the right way or something, because many failed...
The Farmers Almanac has an interesting blurb on sowing them:
Saving the seeds was easy and was my favorite thing to do at the end of the season:
homeguides.sfgate.com/saved-zinnia-seeds-look-like-93126...
Newer articles say keep in the fridge....but I always kept them in jars in the basement (which is cold). Something about the fridge had an ick factor to me....not sure why. Be sure to label your bottles to make planting season less confusing...unless of course you love the surprise of what will bloom!! That has its merits!!
Happy sowing!
Answer

this Question

...
While walking the paths of Shore Acres State Park with my husband, I spotted this extremely bright flower among green foliage within a beautiful flower bed. I had never seen such an orange flower before! I did help the coloring out by brightening the image and what not, but, amazingly enough, this photo really didn't need much editing at all! It was just that pretty!
I really wish I knew what kind of blossom this was, it'd make a great accent in my garden at home. God bless!
By Chelle152 from Coquille, OR