Growing a Crown of Thorns?
If I'm planting a crown of thorns plant in the ground. Should I put some planter mix around it or just put it in the ground. What should I fertilize it with and how often?
Answers
October 26, 2020
0

found this helpful
Best Answer
Euphorbia Milii- better known as Crown Of Thorns or Christ Thorn. These plants are hardy in zones 10 and above. Requires full sun and very warm/hot temperatures when placed outside. Planter mix will be ok , but needs a lot of sun and water to get established. This plant/shrub will need protecting from frost and freeze. Dress the part when planting this. Leather gloves are the best for the sharp spins and sap that often irritate your skin. en.wikipedia.org/.../euphorbia_milii
October 26, 2020
0

found this helpful
Best Answer
The best time to do this is in the spring and not in the fall when winter is approaching. These types of trees need a lot of sunlight and a warm place to grow. If you are set on planting this in the ground now you will need to dig a rather large hole and get some good potting soil to add into the hole first. Now plant this in the ground and cover it with the topsoil. These plants need to be planted in a very sunny location in order to grow correctly. Make sure to water the plant at least 3 times a week but don't soak the ground a good watering is basically all you need. If you have very cold winters you'll need to protect this plant during your winter months. That is why they suggest planting this in spring in order to give it a chance to get established before winter comes.
October 30, 2020
0

found this helpful
Best Answer
First, are you in a warm climate? I would not plant these outside if you are in a location that gets cold winters. You could, but you risk them getting killed off when there are hard freezes.
If you are in a warm climate and can plan this outside pretty freely, they love room (space) and lots of light. I would not bother with any fertilizer.
They are a succulent so not a lot of water needs. Just keep an eye and water as needed.
Keep these ways from kids and pets as they can be very dangerous if ingested.
Answer

this Question
6 More Questions
Ask a QuestionHere are the questions asked by community members. Read on to see the answers provided by the ThriftyFun community or ask a new question.
I gave a crown of thorns cutting to my mother a few years ago, she lives in Florida. This last year black dots have started appearing on the underside of its leaves, as shown in image attached. What is causing it and how would she get rid of the problem?
I don't want it to die out on her. My suggestion was to take it outside and let it enjoy the sunshine, which has been a challenge for Florida this year.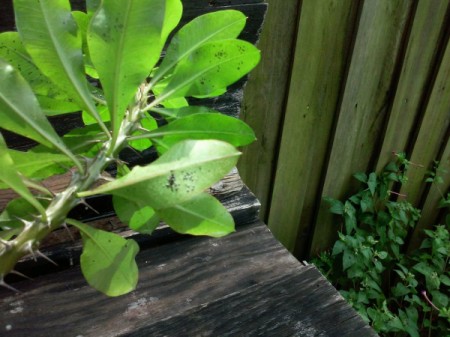 Answers
October 30, 2017
0

found this helpful
Best Answer
You either have a fungus or an insect issue. Cut back on the watering and spray with insecticidal soap
Answer

this Question
I have a large crown of thorns. It's about 3 years old and in a large pot. I know from reading that I've over watered it. The leaves are turning yellow. Is there anything I can do to save it?
Answers
December 6, 2019
0

found this helpful
A warmer place with sun,less water. It doesn't like drafty areas!
December 6, 2019
0

found this helpful
Only water when dry and place in a sunny window.
December 7, 2019
0

found this helpful
You can try to remove the soil in the pot and change out the soil to start with. When this is done find a nice sunny window the plant can sit by and only water it once a week or when the soil is very dry.
December 9, 2019
0

found this helpful
You can try laying plastic and newspaper down on the most even side of the plant and gently tilt the pot to that side.
This will help but If you can, gently remove the pot to expose the soil so the soil can dry. You may be able to save it or at least some parts of it.
Leave it laying on the side for several days as continuous moving may cause shock and do more harm.
Read the information on caring for this plant as it is not as some people think.
www.houseplant411.com/.../crown-of-thorns-plant-how-to-grow...
If you do not already have this item I highly recommend it for using with indoor and outdoor patted plants. All large stores sell these in their garden section.
www.amazon.com/.../B07BR52P26?tag=thrif06-20 (Affiliate Link)
Answer

this Question
My question is about the plant called crown of thorns. We have these plants in our garden and they look very colorful, but my neighbor said the thorns can cause cancer, meaning if you accidentally touched and were wounded by its thorns it can cause cancer. Is it true? I want to know if I can keep this plant in our backyard or need remove it? Please help me.
By LAR C.
Answers
September 5, 2011
0

found this helpful
The plant is toxic and the sap can cause skin irritation, but I don't think it will give you cancer! Many popular garden plants are in fact toxic but people still grow them. If you have small children or pets who might be tempted to mess with the plants you might consider removing them, but it's really up to you.
September 6, 2011
0

found this helpful
Love these nosy neighbors with their old wives tales. I have one like that. Many plants are somewhat toxic and can cause skin irritation. It's the plant's defense against predators. A lot of these plants are common in people's yards and houses.
The Crown of Thorns plant has a religious name, and those tend to have stories or superstitions associated with them.
September 9, 2011
1

found this helpful
A web search came up with this site. Take a look at it. www.wanapluk.com/.../ Then tell your nosy neighbor that she needs to do some more research. It looks like it might make you itch or it might kill you, but nothing is said about Cancer.
Answer

this Question
My crown of thorns has black spots on the leaves. What seems to be the problem? Thank you.
By Sharon

Answers
May 20, 2014
0

found this helpful
Can crown of thorn cause cancer?
Answer

this Question
My crown of thorns plant is in the ground with full sun. In the past few days at least one fourth of the leaves have turned yellow with black spots.
Can you say why or what happened?
By lin from Stuart, FL
Answers
June 6, 2016
0

found this helpful
Could be a fungus. Keep the leaves as dry as possible. The plant should be kept on the dry side, so don't water it like your grass.
Answer

this Question
I am from India. Can the crown of thorns plant cause cancer? Now a days the news spreads here. Is it true or not?
By anish_j_kings

Answer

this Question
Categories
Pages
More
Categories
Published by ThriftyFun.
© 1997-2021 by Cumuli, Inc. All Rights Reserved.
https://www.thriftyfun.com/Growing-a-Crown-of-Thorns.html