I went in to have my roots touched up blonde. Roots are blonde. Much of the rest of my hair is not! It turned rose-gold. She said it is impossible to remove.
I have to wait until it grows out. So she added highlights! I'm very unhappy!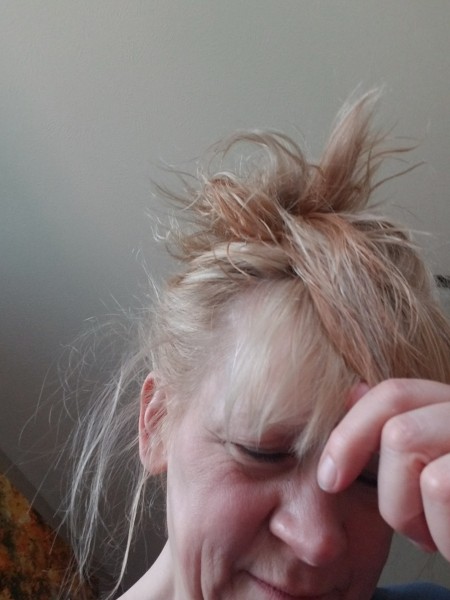 Answers

May 27, 2021
0

found this helpful
Best Answer
I agree with all the other comments about the hairdresser fixing it or refunding you, but you might try some setting mousse with a little color.
I lighten my own hair, and if I leave it on for a minute too long, it will be more yellow than blonde. When this happens, I use Fanci-Ful styling mousse in a color called "Bashful Blonde." It covers the yellow, toning it down, and if you don't like it, it washes out.
There are several different colors to choose from, too.

DianaHM
Silver Answer Medal for All Time! 440 Answers
May 28, 2021
0

found this helpful
Best Answer
All you can do in this situation is go back and explain exactly what you dont like about the color. Usually, this problem requires a quick fix, and most salons wont charge for color correction. I'm sorry that you have such an experience. I dont know how long you went to this hairdresser, but its probably time to do some research and find a new person. Hope you find a really good hairdresser.
And all this is not so catastrophic as to be so upset.

CDC
Bronze Tip Medal for All Time! 59 Tips
May 26, 2021
0

found this helpful
I would definitely let your hair stylist know how unhappy you are. If she cannot fix the problem, then I would ask for a refund....and then I would try to find a hair stylist that is very reputable w/ hair color to fix the problem.

Judy
Gold Post Medal for All Time! 677 Posts
May 26, 2021
0

found this helpful
She made a mistake and she should refund your money. I would find a new stylist if I were you.
May 26, 2021
0

found this helpful
When I went back to show her, she questioned me on it like I did it! She said it just had to grow out. She added highlights and charged me for them.
So I decided to switch hairdressers . Have an appointment tomorrow. Hopefully they can fix it! Thank you so much for all of the input!!

May 27, 2021
0

found this helpful
What a terrible experience.
Your first hair stylist should have offered some sort of compensation, even if it was a 'free' fix after your hair grows out.
Hopefully, your new stylist will have a solution or at least suggestions on how to style your hair as it grows out.
Answer

this Question