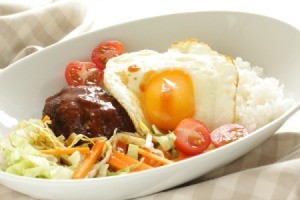 This is a Hawaiian Luau Dish.
Ingredients
1 can (20 oz.) pineapple chunks
1 can (14-16oz) black beans
1 1/2 Cups cooked white or brown rice (not minute rice)
3-4 chicken breasts cooked & cubed
1 green or red pepper-chopped
1/2 cup celery - chopped
1/2 cup green onion - chopped
Fat-free Honey Dijon Dressing
Directions
Combine the first 7 ingredients. Pour the dressing over it all. Toss to coat ingredients. If making ahead of time, wait until the day you serve it to add the dressing. Serve cold.
Makes 8 servings
Source: This recipe was given to me by my mother in law.
By Jenny S. from Springfield, OH
Read More

Comments
I am looking for recipes for Hawaiian foods.
By marilyn from Canada

Answers

June 17, 2009
0

found this helpful
What kinds of food? I live in Hawaii.
Hawaiian macaroni salad
1 med. onion diced small
1 can crushed pineapple drained
1 cup mayonaise
1 16oz box pinwheel macaroni cooked and drained
1 can shrimp
Mix all ingredients and chill.
Chicken Hawaiian Salad
16ox can chunked pineapple drained
1 1/2 cups cooked cubed chicken
1 cup chopped celery
1 cup green grapes halved
1/2 cup chopped walnuts
1/4 cup thawed orange juice concentrate
salt to taste
Combine all ingredients and toss
chill well before serving
Hawaiian Bread
3 cups flour
2 cups sugar
1 teaspoon salt
1 t soda
3 eggs
1 cup crushed pinapple with juice
1 1/2 cup oil
1 1/2 teaspoon vanilla extract
combine dry ingredients mix liquid ingredients
pour into dry ingredients mix well until moist.
Bake in a greased tube pan for 40-45 min in a 350 drgree oven
Hawaiian Banana nut bread
1 cup sugar
2 eggs
1/2 cup chopped nuts
4 bananas mashed
2 cups flour
1 teaspoon soda
cream butter and sugar
add eggs, nuts/ bananas, flour and soda. Bake in a greased tube pan for 50-60 min at 350 degrees
Read More

Answers

In the 1960's my mother used to make the most delicious cold pie she called Hawaiian Pie. It used a prebaked coventional piecrust, and was filled with a layer of bananas and pecans, then a cooked custard filling, then more bananas, pecans and coconut, topped with whipped cream and more coconut.
I have looked for this recipe everywhere and have been unsuccessful. Did she make this recipe up? After my mother's death my stepmother got rid of all her cookbooks as she didn't cook. So I can't ask my mother and can't go through her recipes. I'm lost!
I've looked on the internet, but none of the recipes I've found have been the one. You had to let this pie set in the icebox for a day before eating and I would count the hours. I could eat a whole one by myself. Please, someone out there have this recipe from my childhood!
Susan
Answers
By Shirley (Guest Post)
July 16, 2005
0

found this helpful
The pie sounds sooo good.
Hope you will post it if you find out what it is.
shirley in Ohio

July 16, 2005
0

found this helpful
Found this on the internet. Sound like the one you're looking for?
Hawaiian Pie
2 Baked 9" pie shells
4 md Bananas
1 pk Flaked coconut; (7 oz)
1 1/4 c Nuts; chopped
1 lg Crushed pineapple
1 c Sugar
2 tb Flour
Line cooled pie shells with a layer of bananas, layer nuts, layer coconut. Cook pineapple, sugar and flour until thickened. Cool. Pour over layers. Chill 3 to 4 hours. When ready to serve cover pie with Cool Whip or Dream Whip.

July 16, 2005
0

found this helpful
carolb, that is the one!!!!!!!!!!!!!! I can't believe you found it so fast! I had looked all over and never found the exact one, but the one you found is the one she made. I am forever in your debt. Shirley, please make this pie, but be aware that it is the best thing you will ever eat and you might want to eat the whole pie by yourself! Delicious!
Susan

July 17, 2005
0

found this helpful
Hooray Susan!!!!
Just lucky I guess! I saw alot of other recipes too, but they didn't have the nuts in them. And it really sounds good -- I'll have to try that myself too!!!!
By Gayle (Guest Post)
July 17, 2005
0

found this helpful
I have two recipes:
1st
Frozen Hawaiian Pie
1 14oz can sweetened condensed milk
1 12oz container non-dairy whipped topping
1 20 oz can crushed pineapple, drained
1/2 c chopped walnuts
1/2 c chopped maraschino cherries
2 T fresh lemon juice
2 9" gramham cracker crusts
Additional walnuts and maraschino cherries (garnish)
In a bowl, combine milk and whipped topping. Gently fold in pineapple, nuts, cherries and lemon juice. Pour into the 2 crusts. Freeze until firm, about 4 hours. Remove frome freezer about 20 min. before serving. Garnixh with walnuts and cherries.
2nd
Hawiaan Cream Cheese Pie
1 9" Graham Cracker Crust
1/2 c Boiling water
1 envelope gelatin
1/2 c sugar
1/2 c pineapple juice
1 8 oz pkg cream cheese
whipping cream
Dissolve gelatin in boiling water, stir until completely dissolved. Add sugar and pineapple juice. Cool mixture. Pour into pie shell and refigerate until firmly set. Top with whipping cream before serving. ""
By Holly (Guest Post)
July 18, 2005
0

found this helpful
Am thinking you might want to pretoast the nuts for better flavor.
By barb (Guest Post)
April 11, 2006
0

found this helpful
i a also looking for a pie from the 1960 - 1970 it was called hawaiian cream pie == all i remember was it has half and half , nutmeg flavor and it was a type of custard filling == topped with a whipped cream // anyone having an old recipe that would contain this i would greatly appreciate it you can email me at dispatchermom911 AT yahoo.com thanks so much 4-11-06 barb
By Nellie (Guest Post)
July 2, 2007
0

found this helpful
Village Inn has a great Hawaiian Pie and I am looking for the recipe. It had a cream cheese base in pie shell, coconut, pecans and pineapple and the top layer was strawberries, pineapple and coconut. Does anyone have this recipe?

May 18, 2008
0

found this helpful
Did anyone find the Hawaiian strawberry pie recipe that village inn serves?
Answer

this Question

I am looking for an old recipe from the late 60's to early 70's. It was called Hawaiian Cream Pie. All i remember is it was a custard type pie and had a nutmeg taste and the crust was very thin. The topping had a whipped cream mixed with something else. I have searched every cookbook but I can't find it. My mom used to have an old betty crocker cookbook, it had a red cover. If anyone has this recipe, please let me know.
Thanks so much,
Dispatchermom911 from Mich.
Answers
By gcmom7 (Guest Post)
April 11, 2006
0

found this helpful
You mentioned it was "hawaiian"....what exactly was Hawaiian about it?--do you remember? Did it have pineapple, coconut, bananas or something else like those in it? Thanks~

April 11, 2006
0

found this helpful
There were many "hits" when I googled "Hawaiian Cream Pie" . Go ahead and see what looks good to you or goes along with what you have on hand. Enjoy!

April 12, 2006
0

found this helpful
Try www.cooks.com there are differant recipes for this
By Linda (Guest Post)
April 14, 2006
0

found this helpful
There is a recipe for a coconut cream pie in the BC red cookbook. Nothing in the index listed as "hawaiian cream pie".
Answer

this Question