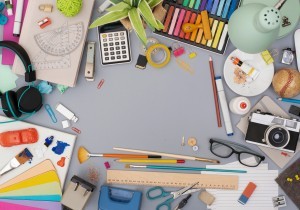 I tried to clean and organize and ended up writing, instead! I hope you who can relate will enjoy, and those who can't will soon!!
HELP! I LIVE IN A CRAFT ROOM
By Sandra Allen

I chuckled at my place today
As slowly I had found
I have a place in my craft room
Not the other way around

So often I have lived in spaces
Too small to change my mind
Without going to other places
Leaving sanity behind

I've heard it called a curio shop
Or you've got a lot of stuff


But do any of them ever stop
To wonder just how tough

It is to fit it all just right
And make it to my chair
To find a place that's out of site
Or tabletop that's bare

With colored ribbon and some yarn
Plus scissors, buttons, and bows
I pretty much just need a barn
For things I make with those

Hooks and patterns abound within
Fabric and threads in tubbies
Held together with a safety pin
Stuffed together in cubbies

I sleep among some tables
Piled high with goodies galore
Mixed in with computer cables
So sure I can't fit any more

But to those who see my stash
They all must remember this
I make just enough of the cash
To keep me in crafters bliss

So judge me not those who dare
To understand my parody
Crafts are so much cheaper fare
Then undergoing therapy

Now I'm off to make something
I know not what just yet
But as I spend less than I bring
I will never be in debt
The start, the middle, but not the end. For I am convinced I will shuffle off this mortal coil, impaling myself with a spoon of Nutella while tripping over a bag of yarn because I was watching a youtube video on a crochet stitch.
Stay Crafty My Friends