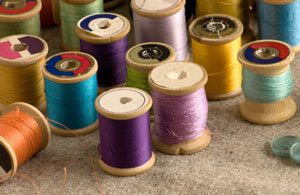 Tips for creating a craft room from the ThriftyFun Community.
Creating Your Craft Room
All of us crafters would love to have a craft room. Some of us are lucky and we have an extra room we can use. Some of us don't and if you are anything like me, I bet your crafts are spread out. But just as a home office is important now a days so is a place for us to be able to relax and craft. Here is my tip.
Go to your local Salvage company and get yourself some big shutters or some old bi-fold doors. Get some big hinges to hinge them together. Paint the doors or shutters a color that will compliment your room. You now have a screen to section off your craft area. Now clean out that clutter corner.
Find a small table, the size depending on your space. Try to make it large enough for a comfy chair if you can. Crocheters and knitters will appreciate having a chair. Above your table install a few hanging cork bulletin boards. These are to hang directions on. If you have room, hang a magnetic tool holder or you can get a magnetic knife holder on the net. These will hold scissors, crochet hooks, beading tools, or any thing with a metal base.
Now find yourself 3 fruit boxes that are the same size. You can get these when the produce man re-stocks at the local grocery. You want the tops to the boxes. Put the top on the bottom of the box so that you have a double strength box. With double sided carpet tape, tape all three boxes together. Cover with Contact paper or Spray Paint. Make as many of these as you will need to store your supplies. These can be stacked or put under your table, they also could be used next to your chair for a handy table. Depending on wall space you could hang some shelves.
Now decorate your little space. Pictures can be hung on your screen as long as they are not too heavy. Throw a pillow in your chair and don't forget get a radio or boom box for some mood music. And if you have kids make a cute "Keep out" or "Only girls allowed" sign. Have fun. It's your space.
By Debra in Colorado
Your Space
In addition to a craft room, it could also be used to make a quiet space for reading or a cup of tea with a friend. A place without a TV, my own little living room. .
By Jayne
Empty Nest
I am just getting started re creating a craft room. I had one in the attic but now that my son is off to college, I have room downstairs. The attic is such a mess i can't do anything up there. Now I can create a craft room and organize at the same time.
My New Craft Room
I am in midst of doing my craft room... I bought some inexpensive shelves, put a pretty patterned valance on the window. I got an idea for a peg board to be able to put a lot of tools on that. The peg board is white and I was looking at the valance material and thought gee if I took painter's blue tape and sectioned it off into 5 or 6 areas I could mix up some paint colors to match the colours in the material to bring the room together. Wow what a difference. I Love It.
Also I got 3 baskets and nailed them to the wall in the corner at different levels with openings facing out. I store a lot of my material in them and they look as if they are decorations. I have a table, serger and sewing machine. I also love to stamp, make cards and quilt.
Scapbooking and Painting
I'm just starting to get a room together. Somewhere that I can do my painting and scrapbooking. I've started by painting the room a sunny yellow color. I've got some slat wall board put up, this will be in 2 different areas of the room, 1 for painting and one for scrappin! There will be hooks on the wallboards for shelving, hanging everything on. I also have a leather love seat in there for when I just need a break and think of my next project. I'll also be painting my own creations on the walls for inspiration!
By K. Smith
Basement Craft Room
We just recently moved to a bigger house and I have a room all for myself in the basement. It's unfinished and I get to start from square one with the basics! Drywall and paint, carpet or linoleum, and there is even an egress window so it's like I'm on the main floor without the traffic! I'm so excited to get started... it'll be my first "craft" project since we moved in 7 weeks ago!
By Roberta
Cork Boards
Cork boards are great! I pin up zippers, appliques, bags of beads, fabric swatches, cut outs from magazines and sketches. Pinning them up makes them visible - I can see what I already have before I head to the store to buy more!
Feel free to post your ideas for a creating a craft foom below!
Comments
Read More

Comments