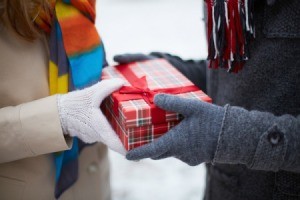 Many people, myself included, have hobbies such as sewing, painting or general crafting. I wanted to post a reality check for these people before the holidays.
The purpose of a gift is to show how much you value the recipient or thank them for something they've done; nothing else. It doesn't have to be expensive; just thoughtful.
It is not, not, not an opportunity for you to show off your hobby, what you believe to be your skills or what you believe to be your "good taste" (as in something entirely different from what the recipient likes).
Unless the recipient already wears the exact homespun style of homemade clothing you create or has actually paid you for paintings; it is not their taste no matter how polite they are in their praise. Someone who never wears wools or knits doesn't want your crochet or knitted items. They might not even be able to wear them due to allergies, etc but they shouldn't have to explain that to you. A gift is meant to be welcoming and thoughtful.
You shouldn't give a gift with the expectation of anything more than a polite thank you. Giving a gift to someone doesn't obligate the recipient to wear whatever you made them or eat whatever you enjoy cooking or use their home as a display of your gifts. Gifts shouldn't be used to lay guilt trips on anyone.
You might love to bake cookies and give out the same dishes to everyone but people who eat healthy or are watching calories/sugar intake simply have no use for them. Consider a group platter instead where you can take your dish home after the gathering.
You might also love to make up little jars of cookie or soup mix but how insulting is it to give one to someone who hates to bake or cook?
My coworker makes pumpkin butter every year. She jars the rest as Christmas gifts which no one in our dept can stand. She hounds people to pick up their labeled "gift" and then pursues them incessantly for the return of the jars and complains for weeks if one gets accidentally broken. Make sure you aren't making what should be a token of appreciation into a hated annual event so you can "use up" something.
You might love your ceramics class but if the person doesn't keep knick-knacks all over their home; the recipient does not want them. Don't try to convince the recipient how great what you like is. They have their own taste and you shouldn't use a holiday gift as a chance to disrespect them.
If someone has pets; understand that they love their pets. Your opinion on how they should keep their pets does not matter. You make yourself unwelcome by dropping hints about how your gifts wouldn't be "trashed" or how you could get them something "nicer" if the recipient would only control their cat or dog.
Make yourself a cherished friend by giving them a pet friendly gift, instead of complaining that the cat has made a pull in the blanket you crocheted to drape over the recipient's couch; accept that the cat loves your gift and your recipient has been kind enough to display it in their home or make the cat a little crocheted blanket or bed of their own.
IF you want to give out your leftovers, garden surplus, etc, understand they are not gifts. Be polite and ask if anyone wants them first. Try to use disposable containers or boxes as much as possible.
Also, having a female to buy for does not mean they automatically like crafts or homespun items!
I have 3 girls and 1 boy. It's been very upsetting for my girls to be asked what they want for holidays only to be ignored and receive homemade clothing (that's never "just like" what's in style) and be made to feel guilty because they will not wear them. My son almost always receives items he actually enjoys and even he has begun to take offense to the grandmother and aunts who use holidays as an excuse to unload their homemade items. (My kids have been taught about asking for very reasonable gifts only IF they are asked.)
Yes, times are tough. If you have limited resources for gifting, you can still be thrifty and creative but above all it should be thoughtful.
Don't ask to just "have gifts for the kids" when others have no children. That's rude beyond measure. In truth you are telling people to just give gifts to your children.
My youngest brother had a tough time when he was in grad school but he always brought the kids gifts they loved; many of which he picked up for free. We gave him gifts but I told him not to give me or my husband anything as it was unfair and he just couldn't afford it. He protested a bit but what are big sister's for?
Also be considerate of larger families. Don't make those kids feel unwanted or unvalued. Try to spend about the same on each child; regardless of how many in a family. Even if you cut down on what you spend per child all around. It will make a lifetime worth of difference in your relationship with those kids.
Finally, the gifts you just don't use are not desirable for regifting. Your postman doesn't want the tie you hate no matter how expensive you believe it to be or what designer it is. But if let's say my daughter started using the purse someone made for me (I never use a purse); take it as the compliment that it is.
Above all, a gift should be thoughtful and personal; making the person feel special and appreciated.
By dh8 from Juneau AK