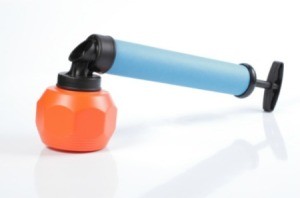 Sitting at my desk this morning, I heard the buzz of an insect. To my dismay, a very large, wasp-like insect was buzzing between the window and the curtain. Not wanting to spray insecticide where I would be working for the next several hours, I grabbed a spray bottle of 25% vinegar/75% water that I use to spot kill weeds. It killed the critter almost instantly, and no toxins for me to breathe!
By Linda L. from Vista, CA
Read More

Comments
Do you have any natural bug spray recipes to share? Please submit them here.

Answers
By Michelle Lozano (Guest Post)
April 22, 2006
0

found this helpful
how do i mix coconut oil and vinegar for bug spray
By K (Guest Post)
September 5, 2007
0

found this helpful
I found this on the web and tried it. It has been working so far on my uninvited indoor 'guests'. The guy said it would kill most any bug. You put it in a sprayer bottle and shake before spraying:
2 parts water
2 parts alcohol
1 part dish soap
It is safe, cheap to make and with ingredients easily found already in the home.
I got the recipe from:
By Christine. (Guest Post)
September 5, 2007
0

found this helpful
Rub a dryer sheet on your skin.
By joan (Guest Post)
September 5, 2007
0

found this helpful
I've had a lot of success using lavender as an insect repellent -- insects hate that fragrance! Put lavender lotion or body butter on your skin. Spritz body splash on your hair to keep the little critters away from your face. You have to replenish these more often than commercial repellents but they cost less (you can often find these products in dollar stores), smell better, and don't have the harmful side effects. One thing: buy "pure" lavender scents. Right now lavender/violet mixtures are popular but the additional scent will actually attract insects.
September 7, 2007
0

found this helpful
I am not sure of the exact recipe but I came across a website that used several essential oils mixed with water. I bet if you searched on Google for "essential oil bug spray recipe" you would find it. Essential oils are great for many things so if it doesn't work for bug spray you are not out any money.
By MADELINE (Guest Post)
September 8, 2007
0

found this helpful
I received an email that went around that said to use Listerine mouth wash in a spray bottle and you spray around your chair or on your skin. Surely it wouldn't hurt to spray something that goes into your mouth on your skin.
September 9, 2007
0

found this helpful
I saw this "receipt" on our local tv station -just mix liquid soap with water, and spray with this mixture to get rid of those little bugs. Don't use too much soap if you use it on the plants (as I do to get rid of those little bugs). Also, don't use this on skin or your pets, as it dry your skin out, and pets have a tendency to lick themselves, which means they'll end up eating the soapy
water
Anna, NYC
Anna
June 29, 2008
0

found this helpful
I mixed half Listerine and half rubbing alcohol with a few drops of dish soap in a spray bottle. A few squirts on HUGE horseflies in the house and they rolled over dead!
Answer

this Question
How do I make a homemade inexpensive spray for flying insects?
By Marion

Answers
August 29, 2014
0

found this helpful
I use pure undiluted Listerene. A friend who has chicken houses here in Arkansas uses it around her home and it is very successful in keeping fies away. I just walk around every few days or so and spray the stuff all around. Especially on outdoor furniture (cloth). If it rains - just spray again. It works!
I also keep a huge litter box in my garage and the flies are relentless. I have not had a single fly since I began spraying around the box and the door to my home!
August 29, 2014
0

found this helpful
I use a cheap can of hair spray. Spray the flying insects and it stiffens their wings so they can't fly! I use this especially on bees or wasps that get in the house. Works every time!
Answer

this Question