Homemade Deep Litter Box
I always had a hard time finding a litter box that was deep enough for my cats. They kicked loads of litter out the side with traditional boxes. Then I tried a covered box and it just made them stinky when they came out. So I made my own litter box.
I simply bought two deep Rubbermaid containers (I think Rubbermaid would be better than Sterilite since Rubbermaid is a little more flexible) and cut two openings in the front of the containers. I had my dad actually cut the openings with a saw, but I think a sharp box cutter (and a little safety precaution) would work, too. This has been the perfect solution for my cats because they only spill litter out the front, and even then it's not very much.
I hope someone finds this tip useful! By Kathy from South Dakota

Answers:
Homemade Deep Litter Box
What a great idea. I am constantly sweeping up the litter my cat kicks out of her box. Did you find that the cats were apprehensive to go into the litter box with the sides. Sometimes my cat likes to sit on the edge of the box when she goes. It sure is worth giving your idea a try. Thanks. (03/03/2008)
By RealtorRose.
Homemade Deep Litter Box
That is genius! I do believe I'm going to give it a try. (03/03/2008)

By Kelly
Homemade Deep Litter Box
Excellent idea, I will also try. Thanks (03/03/2008)

By Zina
Homemade Deep Litter Box
Brilliant! Thanks so much for sharing. This is a terrific idea that I think would work great for my 3 cats. (03/03/2008)

By Christine
Homemade Deep Litter Box
I love this this would allow me to use scoop-able litter with my cats who love to dig and kick out litter. Thank you for sharing. (03/03/2008)

By Arlene
Homemade Deep Litter Box
Well aren't you clever! I love this idea! I bet Rubbermaid will get ahold of it and start selling these! Look out!
:) (03/03/2008)

By kayrayriggs
Homemade Deep Litter Box
The other day I was at a pet store looking at options. I am an animal rescue, right now it feels more like a cat rescue and birthing center LOL.

We were looking at litter boxes since we needed additional ones. For the basic litter box, not hooded, the cheapest option they had available was $8.00. That is a crazy price, not to mention the ones we like that are hooded and larger are about $14 and up.

This solution is far better for many reasons. It is less expensive, better for holding in litter, easy to stack up for when we move homes soon, but also since we fluctuate on cat's in home we can stack and store these very easily when not in use.
This solution came at a perfect time! It was literally two days ago we began the search for a better solution, this fits us perfect. Thanks for the idea!
(03/03/2008)

By Judy Hayes
Homemade Deep Litter Box
That is genius! Especially if you have a cat that is "private" you can put on the lid, or cut a hole in the smaller end. I'll have to pass this on to the director of a rescue place that I am probably going to adopt a kitty from this week! Fantastic! I think I might even try that, then I have have a lidded box without having guests have to look at the poop (my last cat never learned how to cover her business, yech!) (03/03/2008)

By Michawn
Homemade Deep Litter Box
You could place the cut out opening higher up on the wall of the container, which would keep just about ALL of the litter inside. Remember, our kitties have marvelous jumping ability and would have no trouble getting through a higher hole. The only exception would be an elderly, arthritic cat. I did this years ago except I cut an opening in the side of a large, square, plastic trash can with a lid, which I left on. My kitty loved her bathroom :>)! (03/03/2008)

By Marge Mayhew
Homemade Deep Litter Box
This is such an awesome idea! My husband usually jokingly threatens to make our two kitties (older ones) porch kitties because of all the litter our female especially tosses around. Lately, it hasn't been so jokingly. Thank you for keeping my kitties inside! (03/03/2008)

By Comish
Homemade Deep Litter Box
I use a Rubbermaid tote as a litter box for my cat. She has jumped in and out fine since she was a kitten. She still tracks litter out, but at least she doesn't kick it all over the place. (03/03/2008)

By Cresanna
Homemade Deep Litter Box
I have been using this size of litter boxes for many years. In fact, one of mine is even larger!! I have 17 indoor cats. When I had kittens, I fixed up make-shift "stair steps" so they could get in and out of them, until they were able to jump in and out by themselves. They are ideal for minimal litter mess and smell. People cannot believe we have as many cats as we do, when they come to our house, as there is no odor. (03/03/2008)

By Linda
Homemade Deep Litter Box
What a clever idea! But I'm the lazy type, so I think that if it were me, I'd put a box a little bit smaller (possibly with a liner on it) inside the bottom of the larger Rubbermaid box. This way you'd have all the benefits of having steeper sides (not getting litter all over the place) Plus, I'd think you could clean it out much easier if another box with a liner was inside of the larger one. (03/03/2008)

By Cyinda
Homemade Deep Litter Box
I love your idea! I've been using a 'wrapping paper' Rubbermaid type container for a couple of years. I love them because they fit nicely against the wall in my basement, and with two kitties. No smell!

My kitties are a bit modest, and this will be perfect for them! For those of you who like the idea of using this type of container (what could be better? Reuse a container you already have... washable... fits easily in a corner) keep in mind the wrapping paper size, also. It has been great for me, a mom of 2 big kitties.
I am so excited to share your idea with my husband! Thank you! I love this site! (03/04/2008)

By JENNIFER
Homemade Deep Litter Box
I've been using a Rubbermaid storage container for my cat's litter box for years. I use this size, only the one that's half the height of yours. It keeps the litter in, yet is low enough that he can jump in and out with no problem, and it eliminates those occasional times when he aims too close to the edge. They're easy to clean, last forever, come in lots of colors, and work so much better than standard litter boxes. Thank God for Rubbermaid!

I also keep one on my porch for my cat (he stays very close to home). I close the lid when he's inside to keep out both other cats and the elements. Keeps my flower boxes and plants clean. (03/04/2008)

By susan
Homemade Deep Litter Box
I too have been doing this for years. I use 30 quart size containers and cut a "U" shaped opening at the short end. I have 4 of these lined up. One of my cats is a Maine Coon and even the over sized regular litter boxes were not big enough for him. Plus the high sides help keep things neat. (03/05/2008)

By Beth
Homemade Deep Litter Box
Purrrfect! I was presently dealing with coming up with a better solution asap for my 4 cats, so this will surely help me and save money at the same time! I'm also thankful for the tips from a couple of others, mentioning using one that I already own first, to make sure the kitties like it! (03/06/2008)

By freebyrdz
Homemade Deep Litter Box
My neighbor uses a high sided Rubbermaid container with a garbage bag liner with kitty litter in it pulled up over the sides and knotted to hold the bag tight. There is no hole cut in the side of the box at all! Her adult cats started as kittens just jumping up on the corner of the box and perching there with their tails over the litter box - can you believe it? What a wonderful thing! (03/08/2008)

By Cathy S
Homemade Deep Litter Box
This is genius! (03/11/2008)

By Pam
Homemade Deep Litter Box
Your cats must thank you (meow)! (03/13/2008)

By Little Suzy
Homemade Deep Litter Box
I just love this idea. I'm going to Menard's today to buy the containers. No more sweeping up messy litter off the floor. Thank you! (03/13/2008)

By Emma from Michigan
Homemade Deep Litter Box
Brilliant! I have three cats, but the problem is the male cat who invariably shoots over the edge, making the floor a wet stinky mess. Hurrah. This is a great idea and I can't wait to implement this. Thank you. (04/10/2008)

By Sarah
Homemade Deep Litter Box
I'm so doing this! I live in an apt with two cats, and I have the litter box in the hallway. This will probably take up more room for me, but if it saves me from vacuuming up litter every day, I'm doing it!
My Persian sometimes has problems and misses his mark, and I end up picking up poop too. Ew! (04/10/2008)

Homemade Deep Litter Box
Ha-ha! I'm glad someone else discovered the versatility of Rubbermaid Boxes! I have one home made one and one I bought used from a friend (sterilized of course).

My only complaint is that the ridges on the bottom of the Rubbermaid boxes are a pain in the arse to clean, but if I go in with the pet smell enzyme cleaner, put it in a dish soap container and dilute it with water, it cleans away pretty quick. The home made ones are also super easy to clean! (06/22/2008)

By Conure
Homemade Deep Litter Box
What a great idea! From Team Cat (07/29/2008)

By Two Cathy's from Indiana
Homemade Deep Litter Box
Thanks! I can't believe I never thought of that before!! My cat is huge, and even with store bought oversize pans she still never fits! (09/19/2008)

By Noel
Homemade Deep Litter Box
This is what I did. My two cats aren't big, they are actually small, but they love to throw their litter around. So I bought this tub, and gave them a way to get into it. The steps are home-made, using cardboard boxes taped together! (10/24/2008)

By Mary Jo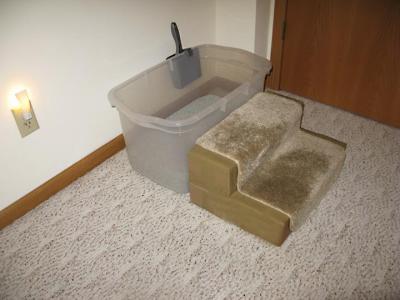 Homemade Deep Litter Box
This is just what I needed! We are going to make two of them! Thanks! (12/28/2008)

By Karen
Homemade Deep Litter Box
Dude! This is the greatest idea ever! We need to Market this!
Thank you for the idea. My First Resolution to clean up the Cat litter in 2009 is Done. Finally a resolution completed!
Thank you. Whoever you are. Off to Wally World to buy a Rubbermaid tub. Kramer (01/01/2009)

By Kramer A.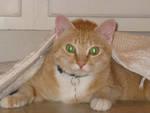 Homemade Deep Litter Box
Wow! What a great idea! Thanks for sharing with us. I think I will try this myself. =^..^= (02/09/2009)

By DVG
Homemade Deep Litter Box
Brilliant! And thank you! Just bought 4 Sterlite (18 lb capacity @ $4.50/ea at Wal-Mart) & cut an opening in the 1st one. I think my guys will like this revamping of their privacy chambers. (02/24/2009)

By Nica
Homemade Deep Litter Box
Thanks Kathy. I found your tip very helpful. I made two boxes over the weekend. It's a great idea. Thanks for sharing. (05/14/2009)

By Linda
Homemade Deep Litter Box
Wow! I was just going to order one of those giant boxes when I saw this. Had an empty container and fixed it right up! This is awesome! I have an older, very large cat who just kept "going" over the side of the box. This should solve the problem. Thanks so much! What a simple fix! (10/20/2009)

By Tricia
Homemade Deep Litter Box
I did this several years ago and they are still going strong. The only difference is I cut the opening on the end, a bit higher up, so the litter is deeper inside, and they can sit side by side and take up less room than one with the opening cut on the side, like yours. My friends laughed at me for using my little Dremel to cut the openings, but they weren't laughing when my cats started using them. They also love to lay on top of them. My cats I mean... not my friends. lol (04/22/2010)

By Jarron
Homemade Deep Litter Box
After my post here last year, I made another 3 of these boxes, for a total of 4, along with a dome litter box I already had. My 6 guys seem happy with this arrangement. Great idea! (04/23/2010)

By Nica
Homemade Deep Litter Box
I've been using this method but my cat is such a high sprayer that he still overshoots the box. I added the lid onto the Rubbermaid but it leaked out the back. I enclosed paper towels in the corner where he does his business but it's still a mess and leaks out. I've considered using a tall garbage can and cutting it down to size but can't imagine cleaning out the groves properly. Any suggestions out there? (07/05/2010)

By Sunblock