I am looking for recipes for homemade Hamburger Helper.
By Kate from Colwich, KS
Answers
February 28, 2011
0

found this helpful
Best Answer
Recipe is a jar mix which you can make at the holiday season.
"Almost Hamburger Helper" Mix in a Jar
2 C. nonfat dry milk
1 C. corn starch
1/4 C. beef bouillon powder
2 T. onion flakes
1 t. dried basil
1 t. dried thyme
1 t. black pepper
2 T. dried parsley
1 T. garlic powder
Mix the ingredients together and store in an airtight jar.
Attach the following recipes to the jar:
Chili Mac:
1 lb. ground beef, browned and drained
1 C. water
1/2 C. macaroni noodles (uncooked)
2 cans chopped tomatoes
1 T. chili powder
1/2 C. mix
Combine all and simmer 20 minutes or until macaroni is cooked.
Stroganoff:
1 lb. ground beef, browned and drained
2 C. water
1/2 C. mix
2 C. uncooked egg noodles
1/2 C. sour cream
Combine all except sour cream. Simmer 20 minutes or until noodles are tender. Stir in sour cream and serve.
Potato Beef Casserole:
1 lb. ground beef, browned and drained
3/4 C. water
6 potatoes, peeled and thinly sliced
1 C. frozen mixed veggies
1/2 C. mix
Combine all and simmer, covered, until potatoes are tender, about 30 minutes, stirring occasionally. Remove cover and cook until excess water is evaporated.
Quick Lasagna:
1 lb. ground beef, browned and drained
1/2 C. mix
1 onion, chopped
2 C. water
16 oz. tomato sauce
3 C. lasagna noodles, uncooked, broken in bits
1/4 C. parmesan cheese
2 C. mozzarella cheese, shredded
Combine all except mozzarella in large skillet. Bring to a boil, let simmer for 15 minutes or until noodles are cooked. Top with mozzarella. Turn off heat and let cheese melt.
Answer

this Question

...
February 28, 2011
0

found this helpful
I am trying to stretch my food budget and am looking for a recipe for "homemade Hamburger Helper". If anyone has any idea how to make your own Hamburger Helper without having to buy the box, this would really help me out. Thank you for any recipes/ideas. Have a good day!
By Rachelle from Denver, CO
Answers:
Homemade Hamburger Helper
As far as I am concerned, "Hamburger Helper" is free-style cooking. The only rules I apply are the same as for all my cooking:
no MSG,
no sugar
no white flour
it needs to have a little bit of fat, so that it doesn't cannibalize muscles
So I start with browning a chopped onion and ground beef. If there is excessive fat, I decant that off, but a few spoons full of it are quite OK. Then I add paprika powder, small flake oregano, basil, hayflowers, and bay leaf, and a spoon full of Watkins Soup & Gravy mix. (That seems to be the only one without MSG).

If I have pasta sauce or tomato paste handy, I add some of that as well. While that simmers, I check the fridge for any veggies that I don't have enough of for a complete meal, and toss those in as well.
For the pasta I use any whole wheat or mixed grain pasta, or I make spaetzle.
Spaetzle are pea sized drops of pasta dough dripped into boiling salt water and then drained. Spaetzle makers are cheap. They are just a board or slide with holes in it, and a sleeve for holding the dough to slide over the board. They are usually a dollar at yard sales, $5 at eBay, $10 at Amazon, $20 at a home hardware store, $60+ at a deli.
Instead of dripping them into salt water, you can of course also drip them into soup. But that is a different topic altogether '-)

Have FUN!
DearWebby
http://webby.com/humor
(08/05/2010)

By DearWebby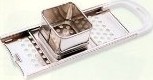 Homemade Hamburger Helper
My mother made this when I was a kiddo and I've made it thought the years. It's relatively cheap, fast, and tastes way better than HH. Recipe: pre-cook about 1/2 to 3/4 of a larger package of pasta, or a full package if you are serving more than 4 people, either noodles, macaroni, or whatever. Brown lean hamburger meat in a pan and drain. Use about a pound, but if you economizing or making for less people, you can use even as little as 1/4 pound. Add chopped onion (optional). When completely cooked through, add a couple of small (or one larger can) cans of tomato sauce and salt and pepper. Then fold in the pre-cooked noodles. Heat on low about 10 minutes or so to combine the flavors. You're done. You can also add mushrooms, green pepper, celery, etc. at whim, but the basic dish, while it doesn't sound like much, is quite tasty. (08/06/2010)
By thriftyvicki
Homemade Hamburger Helper
Almost Hamburger Helper Mix in a Jar
The recipes can be found on the Thriftyfun website! (08/06/2010)

By MCW
Homemade Hamburger Helper
Here's another one. ;-)

Homemade Hamburger Helper Alternative
1 lb ground beef, browned, and drained
16 oz pasta, cooked according to package directions
Drain pasta and combine with ground beef, then add:
2 (10 3/4 oz) cans of condensed tomato soup
1 1/2 cups shredded cheddar cheese
1 tsp. prepared mustard
Cook on low heat until heated through.
(08/06/2010)

By Deeli
Homemade Hamburger Helper
I ran across these recipes while surfing the net one day, I haven't tried any of them though, enjoy

Chili Cheese Hamburger Helper
Chili Mac Hamburger Helper
Lasagna Hamburger Helper
Cheesy Beef Taco Hamburger Helper
Beef Stroganoff Hamburger Helper
Potato Stroganoff Hamburger Helper
Salisbury Hamburger Helper
Cheesy Italian Shells Hamburger Helper
Cheesy Jambalaya Hamburger Helper
Cheeseburger Macaroni Hamburger Helper
http://chickensintheroad.com/blog/2010/01/03/homemade-hamburger-helper/
(08/06/2010)

By trm1224
Homemade Hamburger Helper
I always brown hamburger, chopped onions, chopped bell peppers (not only green, but red and yellow, makes for a pretty visualization). Brown the ground beef, until no pink is showing. I also fix a box of mac and cheese, (directions on box) and take a package of frozen peas and carrots. I blend them and cook for about 10 or so minutes, on low, so the flavors will blend. It tastes great, but so much better the next day, after it has been sitting over night. My hubby likes it. My kids (all grown, by now) used to call it "junk" They would say "we're having "junk" again. (08/07/2010)

By weezy1c
Homemade Hamburger Helper
Homemade Hamburger Helper: Brown your meat. To keep it cheap you can use ground turkey, chicken, or sausage, or hamburger.

Make your cheese sauce: melt two to four tablespoons of butter in a skillet once melted add a spoonful of flour and whisk. Once combined add in another spoonful. If it gets dry add in a touch of milk. Whisk until dissolved and add in another spoonful of flour. Add in enough milk until you reached the amount of liquid you want stirring the whole time. If the sauce isn't thick enough add in flour this way.

Put a spoonful of flour in a cup, add in two or three spoonfuls of hot skillet liquid to cup and mix until dissolved; then pour in skillet. Once sauce is made add shredded cheese. Now add homemade or store bought noodles to meat and pour into sauce along with salt and pepper. You can also add garlic and onion powder and other spices upon preference. Cook until noodles are done.

Eat and enjoy. (10/23/2010)

August 5, 2010
0

found this helpful
How do I make homemade Hamburger Helper?

By Sharon from Lexington, SC
Answers:
Homemade Hamburger Helper
I found some great recipes at chickensintheroad.com. Click on the Cooking tab at the top of the page and scroll down to "See All My Recipes". You will find a basic recipe along with about a dozen variations of Hamburger Helper. (05/17/2010)

By Kcfields
Homemade Hamburger Helper
I do it all the time. Brown your ground beef and drain as usual, then stir in several cups of water and several beef bouillon cubes, and about a 1/2 cup of milk. Stir in dry egg noodles or other pasta, and simmer until water is absorbed and pasta is tender. You may need to add more water as it simmers (I never measure). You can also add a squirt of soy sauce, Worcestershire, ketchup, sour cream, cheese, tomato sauce, Italian seasonings, etc. to your tastes. Almost anything is possible. (05/18/2010)

By mbilar1
May 16, 2010
0

found this helpful
I know there is a really simple recipe for making your own hamburger helper. Does anyone have it handy?

- TT

Answers:
Homemade Hamburger Helper
Homemade Hamburger Helper
Ingredients
1 1/4 tsp. black pepper
1 Tbsp. garlic powder
2 Tbsp. dried parsley
1/3 cup instant onion
3 Tbsp. onion powder
1 Tbsp. salt
1 2/3 cup nonfat dry milk powder
3 1/2 Tbsp. beef bouillon granules
(04/25/2004)
By Deb in CO
Homemade Hamburger Helper
Kitchenmixes.com has loads of recipes (dry) you can make yourself. Below is a mix for hamburger helper and it can be used for both stroganoff and chili mac.
Hope this helps.
kitchenmixes.com (05/04/2004)
Homemade Hamburger Helper
I have a generic recipe for hamburger helper and one recipe to make from it.

Homemade Ground Beef Helper
2 c. nonfat dry "instant" milk
1 c. cornstarch
1/4 c. unsalted chicken or beef bouillon powder
2 Tbsp. onion flakes
1 tsp. dried basil
1 tsp.dried thyme
1 tsp. black pepper
2 Tbsp. dried parsley
1 Tbsp. garlic powder
Mix the ingredients together and store in an airtight container. Use as base mix for hamburger helpers.
Chili Tomato Mac

Brown 1 pound ground beef or turkey, drain off fat. Add 1 c. water, 1 and one half cups uncooked macaroni, 2 (15 oz) cans diced tomatoes, 1 Tbsp chili powder, and 1/2 cup of the "Helper Mix". Simmer covered about 20 minutes or until macaroni is tender. Serves about 4 persons.
(01/23/2005)

By Guest
Homemade Hamburger Helper
1 lb ground meat (I use turkey)
1 onion, finely chopped
1 1/2 cups water
1 jar your favorite tomato sauce (Prego garlic and onion)
pasta - your choice (I like Campanelle)
cheese
Brown the meat, drain the fat, push to the sides of skillet. Brown the onion in the middle. Then combine meat and onion, add the wet ingredients, add some pasta and simmer until done. Top with grated cheese. I love tons of locatelli. (11/04/2005)

By Judi
Homemade Hamburger Helper
I like this:
1# ground beef
I can peas
2 packets brown gravy mix, or 2 cups brown gravy made
2-3 handfuls of egg noodles
salt and pepper
Season ground beef and cook until done. Add the cooked noodles and the gravy mix, or premade gravy and the can of drained peas. Cook through and enjoy. (10/03/2006)

By Sweet Sarah
Homemade Hamburger Helper
Nice site. I checked this out earlier, since I decided to make my own batch. I used the following which was available.
"Hankburger Helper"
1 lb of ground hamburger
12 oz. of bowtie noodles
1 can (10-11 oz.) of mushroom gravy
1 Step Skillet Mac seasoning
Just cook the first three like your normally would, mix 'em up and add the seasoning (3 tablespoons if you like to measure everything). I'm not sure if this seasoning is still being made, but I bought a bunch at a discount store I frequent. It's a blend of garlic, onion, red pepper and Italian seasoning

A few quick notes: 16 oz. pasta would've probably been a better choice, but I like a lot of meat. Also, a can of peas probably would've gone great with the mushroom gravy, but I didn't have any. I'll be trying this next time I make it. (10/13/2006)

By Hungry Hank
Homemade Hamburger Helper
If you are trying to feed a big family, I'd suggest getting some TVP, which is a soy based meat alternative that is very cheap. There are even brown flavored ones that look like beef. Use it plus your meat and you have and the expensive meat goes a lot further. https://www.usaemergencysupply.com/food_storage/texturized_vegetable_protein.htm (07/21/2008)

By Carol
Homemade Hamburger Helper
1-2 lbs. ground beef
salt, pepper, garlic powder, onion powder
1 med. onion, diced
1 can beef stock
1 box mac and cheese dinner mix
1/2 cup milk
Cook noodles according to box. Brown seasoned ground beef with onion. Add beef stock and milk; stir in cheese packet from boxed dinner and cook on med. low heat until thickened, stirring constantly. Add the cooked and drained pasta and serve.
(02/24/2009)

By Bell
Homemade Hamburger Helper
I call it Kevin Helper.
2 cups of egg noodles
1 cup of shredded cheese
1 can of cream of mushroom
4 cups of water
2 1/2 cups of shredded beef
4 bullion cubes
Take the beef and bullion cubes cook on high after 20 minutes, add noodles. Then take noodles and beef and put in square casserole pan. Then mix with cream of mushroom and shredded cheese. Cook for 23 minutes at 350 F. The best recipe; your family will love. (04/13/2009)

By Pariand906
Homemade Hamburger Helper
I received this from Campbell' Kitchen today.

Cheeseburger Pasta from Campbell's Kitchen
1 lb. ground beef
1 can (10 3/4 ounces) Campbell's condensed cheddar cheese soup
1 can (10 3/4 ounces) Campbell's condensed tomato soup
1 1/2 cups water
2 cups uncooked medium shell-shaped pasta
Cook the beef in a 10-inch skillet over medium-high heat until well browned, stirring often to separate meat. Pour off any fat. Stir the soups, water, and pasta in the skillet and heat to a boil. Reduce the heat to medium. Cook for 10 minutes or until the pasta is tender, stirring often.

Serving Suggestion: Serve with carrot and celery sticks with ranch dressing for dipping. For dessert serve store-bought brownies topped with vanilla ice cream.

5 servings (02/01/2010)

By mamastanze