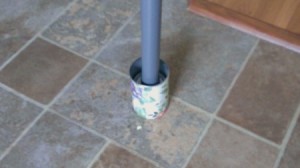 My roommate is in a battery powered scooter. While she tries to keep active, often her scooter has a mind of it's own.
During a recent "Turkey and all the Fixins' Dinner", her power hand lever got caught under the lip of her work table. The scooter nearly dragged and spun the table and food to ruin. It took two of us lifting the table and turning off her chair to stop a disaster.
So, I came up with this idea. I put a smaller can of mushrooms inside a can of veggies.
As you can see, it's decorated and easy as pie to do. You just have to have the correct sizes to fit inside, raising the table so she can still work on it and still clear whatever the obstacle is.
I used veggie cans and little mushroom cans, but you can use vegetable juice cans and large fruit cans upside down inside for utility tables. Each are temporary or permanent, depending on your needs. The "temp" ones are great for picnics or food processing outside.
Now, she can pull in without worrying about spilling a pan of hot food or a big salad on her. Win! Win!