Homemade Valentine's Day Decorations
March 18, 2017
0

found this helpful
Use a new or recycled wreath to display Valentine mementos from years gone by. This is a guide about assembling a Valentine love through the years wreath.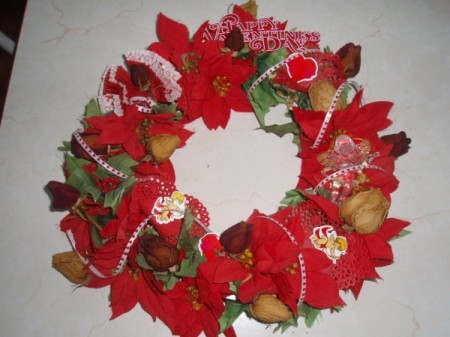 March 17, 2017
0

found this helpful
These pretty, easy to make napkin rings will help you set a romantic Valentine's Day table. This guide contains instructions for making lacy Valentine napkin rings.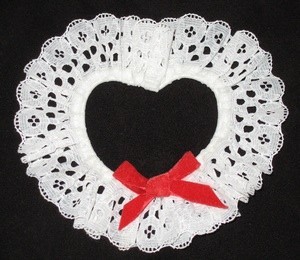 March 1, 2017
0

found this helpful
Recycled craft projects are doubly satisfying, not only do you have a lovely or useful craft item, but your are recycling and repurposing materials that would have gone to the landfill. This is a guide explains how to make a heart garland from recycled milk jugs or other thin plastic containers.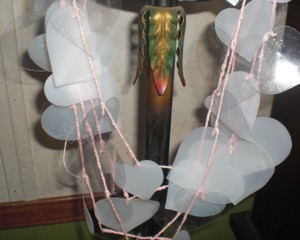 January 28, 2017
0

found this helpful
You can still decorate for Valentine's Day without breaking the bank. This guide contains ideas for budget-friendly decorations for Valentine's Day.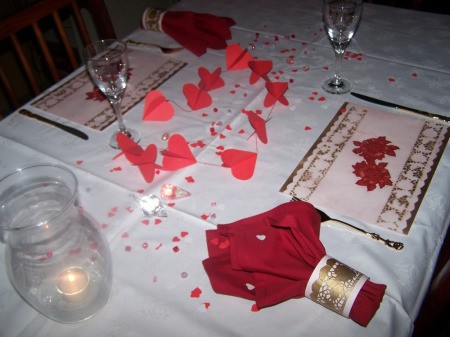 January 8, 2013
0

found this helpful
An attractive, creative holiday decoration you can make is a wreath. This guide contains Valentine's day wreaths.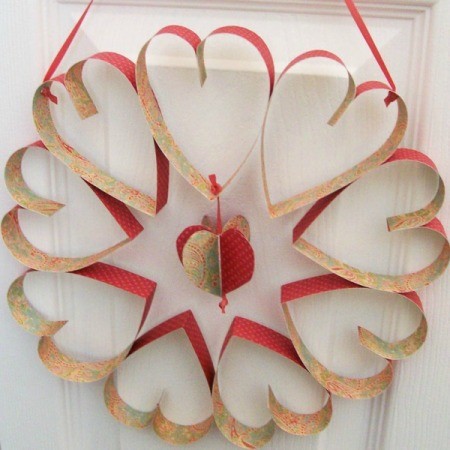 Solutions
Share on ThriftyFunThis guide contains the following solutions. Have something to add? Please share your solution!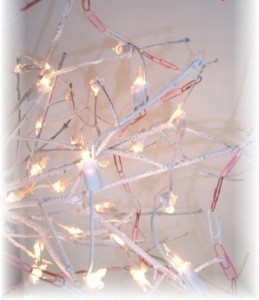 This is such an easy yet pretty craft. These are made from plastic coated paper clips found at the local dollar store.
Approximate Time: 15 minutes
First sort out the clips according to the colors you want in your garland than clip them together alternating the colors. I used red, white and pink in mine.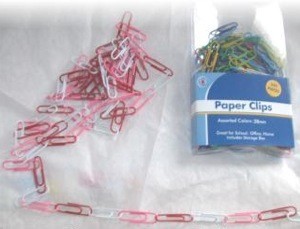 The nice thing is you can make this any size you want. From just one pack of clips I had enough for a 4 foot garland. These would also be great to hang on a window or doorway to hang your valentines or banners with.
I hope you enjoy these.
By Cinnamonrosecottage from York County, PA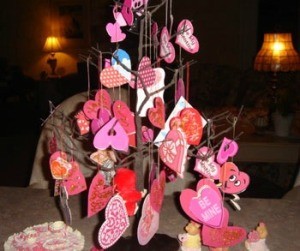 Make your own valentine tabletop tree decoration. I have tabletop tree that I decorate for each holiday. Obviously for Christmas it has small Christmas ornaments; however, I thought it was so cute I wanted to change it for each holiday or season.
For Valentine's Day, I copy and paste valentines on my computer program, duplicate each one and then flip one, so they can be glued together, so that the graphic can be seen on each side. I then put a small string hanger on each of them with a needle and thread. Also punch a hole and put those valentines on the end of the limbs of the tree to provide more color and decor.
By DiAnne from Leesburg, FL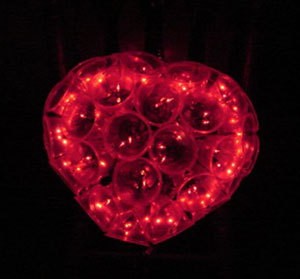 Sparkleheart! I've been experimenting with turning a sparkleball into a sparkleheart for Valentine's Day. So far so good, but if anybody else wants to give it a try, jump in!
By Sparkleball Lady from San Diego

Instead of the traditional Valentine cards for mom, dad, a grandparent or friend, make special banners to send your message.
Crafting Time: 20 - 30 minutes
What You Need:
red or pink crepe paper streamer
yarn
scissors
cellophane tape
red, pink, and white construction paper
markers
glue
ribbon
Directions:
Cut an 18" length of crepe paper streamer and a length of yarn for each banner. Knot the yarn ends together to make a hanger.
To attach the hanger, place a yarn loop at one end of a streamer, fold the top of the streamer down over one section of the yarn loop, and tape the top to the back of the streamer.
Cut the opposite end of the streamer into points to resemble ribbon.
Draw and cut heart shapes, in various sizes from red, pink, and white construction paper.
Write on three of your hearts. Write "I" on the first, "Love" on the second, and "You" on the third.
Glue the hearts to the banner ribbons, spacing the hearts evenly.
Glue additional hearts to the banners above and below the word hearts.
Hearts may be decorated with marker before gluing. Other messages you might want to write: You're the best. You are great. Please be mine. I'm sure you can think of more.
Cut a length of ribbon for each banner. Tie the ribbons into bows and glue a bow at the top of each banner.
By Marie E. Cecchini from West Dundee, IL
Thread some yarn through small paper heart shaped doilies and tie to your chandeliers or light for a pretty accent for Valentine's Day!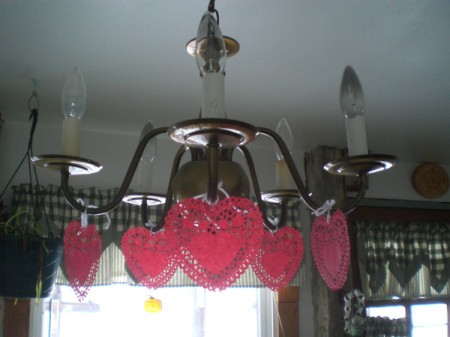 I bought all the supplies at my local Dollar Tree store. I used a small gift box with lid included. I used small square floral Styrofoam inside the box. I cut the stems of the silk flowers and arranged them to make this beautiful silk floral Valentine arrangement.
Read More...
February 3, 2009
0

found this helpful
For Valentine's Day deco, I punched out hearts with one of my heart punches (about 2 inches long and 1 inch wide) out of red paint chips and glued skewers onto the back of them.
Read More...
Related Content