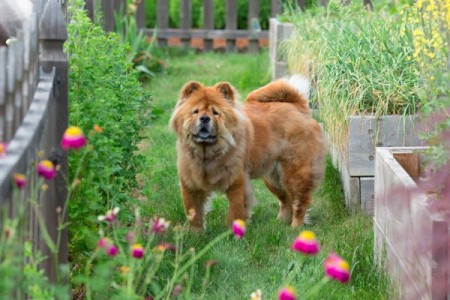 Your Pet's Age
8 years
Your Pet's Breed
Chow Chow
How and when did you get your pet?
We were looking for a family dog and liked the personality of my mom's Chow mix, Maggie. She suggested we contact the NW Chow Chow Rescue for a possible adoption. Honey was part of a large rescue operation at a "puppy mill" type breeder in Oregon. She was just a puppy so was relatively unscathed by the situation, but that was not true for most of the older dogs, who were overbred and unhealthy.
We had not planned on adopting a puppy because we knew that older dogs had more trouble finding homes. However, finding safe homes for purebred puppies is also a challenge and the rescue thought we would be a good fit for one of the little balls of fluff. There was one named Natasha that was particularly friendly and my boys decided to call her Honey instead.
We agreed to have her spayed as soon as she was old enough. She would also need some sort of eye surgery as she grew, for entropion, a common ailment in Chows and other breeds. It causes the eyelashes to grow inward, scratching up the eye and causing irritation or infection. She got a eye tuck as a puppy and a more serious operation when she was fully grown. Thank goodness, my cousin is a vet and was able to defray some of the costs, but it was still quite a bit of money.
Keeping Chows groomed and brushed is very important as their long hair sheds constantly and is prone to tangles and mats. Honey has been a pretty healthy dog, but we have had to deal with skin infections and hot spots over the years. We have shaved her coat off entirely more than once. I find if we keep her flea medication up to date, we have less problems with her coat.
What does your pet like to do for fun?
Honey is pretty mellow. She doesn't really like to chase balls. She does have a couple of toys that she enjoys playing with. We gave her a stuffed raccoon at Christmas time. Honey will pick it up and carry it with her. She will toss it up and then pounce on it, like a cat might.
Honey is a sun dog, she loves it when the sun is shining and she can wriggle around on the grass with her legs up in the air. Often, she will make little yips or even barks of happiness. Her joy and contentment at these time is infectious.
Do you have anything else to share about your pet?
Honey is a very protective dog. This seems to be a breed characteristic. She spends a lot of her time guarding me as I work. She will strategically place her body between any perceived danger and her people. Sometimes she will herd us where she wants us to go. At night, Honey sleeps in the hallway near all our bedrooms. She will bark at someone walking past or at the door until they go away or are determined a friend. It does make me feel a bit safer to know that no one could enter the house in the night without waking her up.
Add your voice! Click below to comment. ThriftyFun is powered by your wisdom!