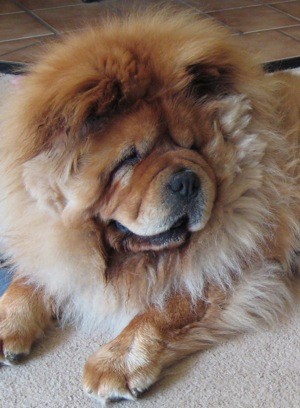 Rocco (Chow Chow)
Rocco is nearly 5 years old. He was a rescue from a puppy mill, along with many others of all ages (38 in all), all Chow Chows in February of this year. It took a lot of time to get all of the dogs away from where they were, get them vet care and transport them where they wanted to go. So many people helped in all phases to find better lives for these dogs.
Luanne Alomair from the Northwest Chow Rescue was looking for foster homes for a lot of dogs. She knew that I wanted a male to go with Maggie (who really doesn't like girl dogs) so thought of me. I hadn't really planned on adopting a dog right then but he really needed a home and there he was. I said I'd foster him for a while but, after a very short time, knew he was a keeper.
When I picked him up, he had stitches all over the place. He was very scary looking and when nervous makes a growly sound, just breathing really, but it sounds pretty scary if you don't know it's normal for him. We called him Franken Rocco for a while.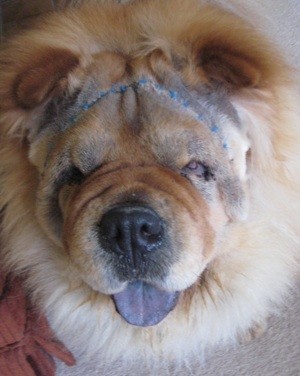 After he was rescued, a vet had taken all of the dogs and given them needed care. He was neutered, had entropian surgery on his eyelids and had a forehead lift (2-4 inches were taken out and his forehead pulled up) plus all of his shots. He had fur and skin hanging down over his eyes and luckily he didn't go completely blind.
He had lived his life in a cage except a once a day potty break according to one of the rescuers. All of the dogs were in an apartment house of cages, one stacked on another. He was used as a stud dog and with the entropian, heavy forehead and an elongated palette, he passed on those traits to the offspring. Please choose carefully if you get a purebred dog. Most pet shops buy from puppy mills and most are caged and the bloodlines are not considered.
He didn't know what to do with all the new freedom to move. The first couple of nights he slept in his crate but after that he just wanted to be able to stretch out on the floor. He didn't have any accidents in the house nor did he chew up anything. We didn't know what to expect, especially with the cats, but other than showing interest in them, he learned quickly to leave them alone.
Since I received him he has had another entropian surgery. He had scratched out his stitches while staying over night at the vets so had to have a few put back in and wear a "satellite dish" for two weeks while his stitches healed. We called him Spaceman Rocco during this time.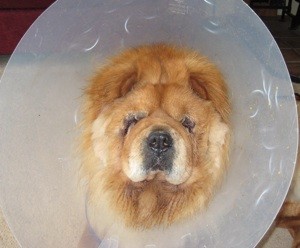 You can see how much he has improved since we got him. His eyesight is better, he can chase a ball and will bring it back. He has a lot of toys which if we put them back in the basket, he takes out one by one and lays them around him. Our other dog, Maggie just loves him. She licks his eyes and feet and tries to get him to play with her. She's a lot faster and has a lot more energy than he does. With little exercise for most of his life, he is still building endurance.
All in all, he's a lovely dog. He is sweet, forgiving and very friendly to everyone, cat, dog or human that he meets. Now he's just big fuzzy Teddy Bear Rocco.
Luanne is still working on placing dogs, she has worked tirelessly for 5 years and has rescued and placed 300 dogs in that time. If you are interested in helping, here is the link to her rescue.
Susan from ThriftyFun
We have lots of posts about Maggie:
http://www.thriftyfun.com/tf99124340.tip.html
http://www.thriftyfun.com/tf28947112.tip.html
http://www.thriftyfun.com/tf48090828.tip.html
http://www.thriftyfun.com/tf386452.tip.html
Answers:
Rocco (Chow Chow Rescue)
Wow, what a good thing you did. It makes me absolutely sick to know that dogs are treated like that. I am surprised he doesn't have residual problems since he was in a cage all that time. My son and DIL got a dog from the humane society and they said he had been in a puppy mill. He did not trust anyone for a long time except my DIL. Now he is pretty good with most everyone. (07/22/2008)

By Elaine
Rocco (Chow Chow Rescue)
He is a beautiful, sweet boy and I would love to give him a big hug and kiss! It is wonderful that some of those puppy mill dogs have been rescued and given a new life, like Rocco. I know you both are blessed by his joining your family. My personal menagerie includes (in order of acquisition): Miss Kitty (a solid black female who had been neutered and declawed on the front paws before I got her) who adopted me by coming up on my patio and refusing to leave; Missy, a dachshund/beagle mix female who was 12 and 1/2 years old when I adopted her a little over a year ago (her mistress had died and the family no longer wanted her and dumped her at the humane society); Goldy, a golden retriever/? mix male who was picked up by the dog catcher and taken to the humane society; Zorro, a bird dog/? mix male who came up in my yard and, when I took him to the humane society, they asked if I would agree to foster him until he was adopted; and, last but not least, Casper (who lives up to the name of Casper the Ghost), a great pyrenees/? mix male who was also picked up by the dog catcher and whom I also agreed to foster. Because Casper truly acts like a ghost and won't let any human get near him, I doubt if he will ever be adopted, but, given the chance, Zorro will make some child a wonderful, loving pet. Our local humane society is a no-kill society, and the pets are housed at people's homes until such time as they can afford to build a proper boarding area for them. Again, I think it's wonderful that you and Rocco met and bonded. Thanks for sharing him with us and God bless you. (07/22/2008)

By tedsmom
Rocco (Chow Chow Rescue)
Bless you! (07/22/2008)

By cookwie
Rocco (Chow Chow Rescue)
Bless you for your love and rehabilitation of Rocco. Glad he has a good life now. (07/22/2008)

By Nance
Rocco (Chow Chow Rescue)
Your love and caring is beaming out from that gorgeous face. A rescue is the bestest dog of all! (07/23/2008)

By solus
Rocco (Chow Chow Rescue)
My thanks for you for adopting this poor animal. I cannot believe puppy mills are still legal. We have a chow/lab mix that we adopted from a shelter. He is also a sweet guy, can be a little aloof, but there is a big heart inside. He had 3 homes in the first year of his life, so it took him a while to figure out this is his forever home. We love him dearly and he gives it back. I congratulate you on taking on this dog and all his problems. You won't be sorry! (08/06/2008)
By Marfette
Rocco (Chow Chow Rescue)
I love this story, and the little darling is priceless!
I adopted many years ago a senior dog that had been rescued from a puppy mill. She was a female black lab named Jenny. She was the sweetest little old girl. We took her home to let her live out her last days in peace. She had been bred continuously and was treated with negligence but still this dog would see children and "smile". So the shelter asked me to foster the dog. It wasn't two weeks before she crossed the rainbow bridge. I petted her and loved her and had a good time with her. She never left my side. What a memory. Thanks for reminding me how wonderful these dogs are! Robyn (04/29/2009)

By Robyn Fed