How to Fix Dye from Jeans that Transferred to Other Clothing in Wash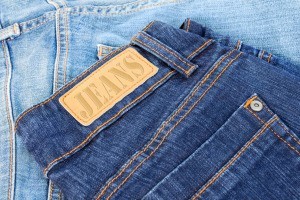 The blue dye in jeans is notorious for transferring to other clothing in the wash. It can be difficult to remove especially if the other clothing is not able to be bleached. This is a page about
how to fix dye from jeans that transferred to other clothing in the wash
.
9 Questions
Ask a QuestionHere are the questions asked by community members. Read on to see the answers provided by the ThriftyFun community or ask a new question.

My son's new black with a red over wash jeans were washed with my blue jeans and shorts now all have a pink tinge to them. I re-washed them with cold water and they are all still pink.
If I boil them with the bleach added as I read here will they all become white? How can I get my blue jeans back to their faded old blue?
Answers

September 27, 2016
1

found this helpful
Best Answer
Try to soak the dye clothes for around an hour in 1/2 bucket cold water with white vinegar mixed in it.
Answer

this Question

I usually wash different colored jeans separately, but didn't this time. I washed a new pair of black jeans with bleach-washed blue jeans and now the blue jeans have black dye on them everywhere.
Anyone have any great tricks to remove the black dye from the blue jeans? I am trying hard to save them. Thanks.
Answers

Iceskater
Silver Answer Medal for All Time! 320 Answers
June 28, 2020
0

found this helpful
Best Answer
I've heard that soaking the affected garment in cool water with OxiClean for 8 hours (before re-laundering) can help remove the transferred dye stain.

June 30, 2020
0

found this helpful
Best Answer
Hopefully you have not put the affected jeans in the dryer - if you have - it may take longer to clear up the stains - or maybe never..
Sometimes you can help a few stains with Pghgirl's solution from another question (I tried it and it worked).
"I have had luck with covering the stain with a thin layer of baking soda and adding a few drops of white vinegar until it bubbles up. Then rub in a few drops of simply Dawn dish soap. Not the x power or any but the original. Sometimes it takes two treatments but usually works for me. Wash in cold once stains are gone to get rid of vinegar smell."
If there are stains all over I have mixed blue Dawn with a little Oxiclean in warm to hot water in the smallest wash setting and left it to soak overnight. Just use 1/4 cup or less of Dawn and a tablespoon or so of Oxiclean; turn on machine to mix and soak overnight; then wash as usual.
Do not place in dryer - dry outside if possible but air dry.
Check for stains - you may have to treat your jeans twice no matter what treatment you use.
Answer

this Question
I put a white jumper in with jeans by mistake. It came out all blue. How do I get it back to white?
By Gaynor

Answers

November 8, 2015
1

found this helpful
Best Answer
I just bought my daughter a white gymnastic's shirt she had to have and I washed it with her jeans and it turned it blue! So momma to the rescue, I mixed half a cup of Gain detergent, I'm sure any brand would work, and a big splash of 70% alcohol I'm sure any % would work and a big splash of white vinegar any brand.
I used Walmart brand and it's pure white again. I washed as normal on a cold or tap cycle and dried it and she does not even know it wa ever blue!
Answer

this Question

So I got these lovely pink jeans and I threw them in the wash stupidly with my blue jeans and this is how they came out with a purple stain from the blue jeans :/ I love the colour so much and now I feel they are ruined. I've tried soaking them in Resolve stain remover and Oxiclean overnight but the stain is not going away. I also didn't see the stain until after they dried. Any ideas?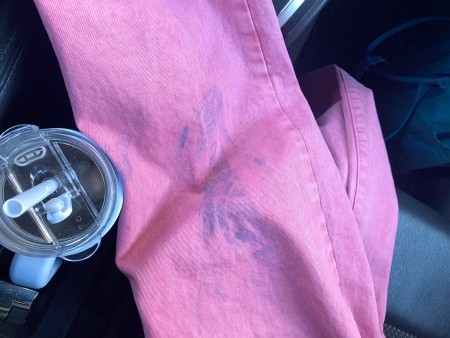 Answers

December 1, 2021
0

found this helpful
Best Answer
Try mixing vinegar, baking soda, dawn dish soap and water. You will mix about 1/4 cup vinegar, 3 tbls baking soda, 1/4-1/2 cup dawn dish soap and approximately 1-1 1/2 cups of water together, if mixture is a little on the thicker side add just a little bit more water and 2-3 tsp of vinegar. You want the mixture to be fluid and not real thick. You put it into a spray bottle and the spray it on the area you want to remove the dye from let it set for about a half an hour or so use a tooth brush to work it into the really tough spots rinse and repeat on any spots that are still being stubborn and won't come out all the way.
This also works to remove calligraphy ink from carpet if spilled on it.
After you have mixed it, sprayed it and let it set you will want to rinse the item thoroughly after using a small brush to work the mixture into the dye or ink you are trying to remove. If there is still dye repeat until it is all out of the item.
Answer

this Question

My fiance never separates the darks with the colors. It makes me so mad. Last night he washed my brand new dark pair of jeans with his brand new t-shirts. One is purple and the other is yellow. After taking them out of the dryer and folding them I saw that there are many blue spots all over them, making it look so dirty.
I asked my mother and his father if there was anything I could do to get the stains out of his shirts and they both told me there was nothing I can do, they were ruined. I remember that last year I went on the computer to find a way to get crayons out of clothes, so I decided to go online to search for a way to get rid of these stubborn stains. A lot of people are saying to use the bleach with boiling water method. I'm just afraid to bleach the shirts. Please help! I don't want to throw his shirts away.
By angel from PA
Answers

January 31, 2011
1

found this helpful
Best Answer
Try using Shout Color Catcher Sheets, available in the detergent aisle in the supermarket. Wash the shirts by themselves with several sheets. This product has worked for me.
Answer

this Question

I got this Adidas hoodie a few weeks ago it is white, but I washed it with jeans and it has a blue tint on the outside. And the inside is full on blue . What do I do to recover my $68 hoodie? It is the only one I have and I am having a panic attack.
Please help!
Answers

poehere
Bronze Post Medal for All Time! 105 Posts
April 2, 2020
0

found this helpful
You can try soaking the sweatshirt in cold water to see if the dye transfer comes off before washing it again. if this is not helping add some oxygen-based bleach to the water.
This should not soak for very long and you should keep an eye on this. After the stains are removed wash it right away in your machine with your soap.

Ana
Bronze Post Medal for All Time! 140 Posts
April 3, 2020
0

found this helpful
There is a product called Rit dye removal. Its good for bleeding dye and color bleed removal!

April 5, 2020
0

found this helpful
Sounds serious but be patient and only try one suggestion at a time and give it time to work it's magic.
One important factor is the material your hoodie is made of. Usually they are cotton and if that is yours, you'll probably be able to bring it back to normal - especially since it is white. Mixed materials may be more stubborn.
Most important - do not place it in the dryer until you are absolutely sure all stains have been removed. Air dry after each method - outdoors if possible.
Here is a link that gives some of the suggestions mentioned but also others to try.
www.thespruce.com/remove-dye-transfer-stains-2146658
www.thespruce.com/how-to-remove-dye-bleeding-stains...
www.thriftyfun.com/How-to-Fix-Dye-from-Jeans-that-Transferred...
As a last resort - You might also want to try 'Color Run Remover' as it can be bought online.

April 5, 2020
0

found this helpful
This may be a little more difficult than all cotton as some materials just cling to dye transfer more than others.
Powered bleach for all materials may be something to try.
I know how it is to have absolute favorites and see them 'messed up' but I think because this is white you will be able to restore it.
We all wish you good luck and let us know how things work out so others may learn from your experience.
Answer

this Question

I washed my curtains and forgot I had a pair of black jeans in the washing machine. Now they have gone like a grey colour. How can I get them back to the right colour?
Answers

Lizzyanny
Bronze Feedback Medal for All Time! 226 Feedbacks
June 17, 2015
1

found this helpful
Best Answer
Try Rit color remover dye (if they were white)
Answer

this Question

A few of my husband's tall white socks and white under tees were accidentally mixed in with a load of denim. This load contained at least 4 pairs of new dark-wash jeans. He is embarrassed at work for people to see them. They are brand new, so I cannot just trash them. I have tried bleaching the dickens out of them a few times in a few loads of whites. So far- no luck :(
Answers

February 13, 2015
1

found this helpful
Best Answer
Well, in our house those would become my t-shirts and socks. Keep washing them with the whites and bleach-and line dry them in the sun. It will take a few times, but they will lighten up. You can also speed up the process by using Rite dye remover. Don't use the dryer-heat sets dyes.
Answer

this Question
Archives
ThriftyFun is one of the longest running frugal living communities on the Internet. These are archives of older discussions.
I washed new jeans with a silk/cotton sweater, needless to say, there are now stains on the sweater. Any idea on how I can remove them?

By Tiggerlover68 from Pittsburgh, PA
Answers:
Dye from Jeans Transferred to Other Clothing in Wash
Try soaking the silk/cotton sweater in a light mixture of bleach water and when the blue effect is gone, rinse well several times. Or, try using Oxiclean to soak it in again rinsing well. (12/30/2010)

By Myrna
Dye from Jeans Transferred to Other Clothing in Wash
The bleach thing or there's those color remover packets by Rit that they sell at Walmart in the laundry soap isle. I just saw a commercial for these cloths things that you put in the wash to help absorb colors so they don't spread. (12/31/2010)

Dye from Jeans Transferred to Other Clothing in Wash
Try washing the sweater by itself with a Shout Color Catcher sheet, available in the detergent aisle of the supermarket. This is one product that really works. (01/01/2011)

By jean leiner
Published by ThriftyFun.
© 1997-2022 by Cumuli, Inc. All Rights Reserved.
https://www.thriftyfun.com/How-to-Fix-Dye-from-Jeans-that-Transferred-to-Other-Clothing-in-Wash.html