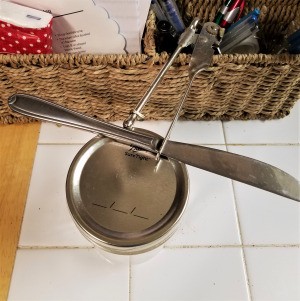 I know from experience that jar lids get used just once, unless it's for a craft. But I figured out how to keep the lid from getting bend and needing to be flattened. Sometimes the lid needs to be really flat, and once you use it it has that little "lip" on it.
Here's how:
You need a kitchen dinner knife and a manual can opener.
Set the knife, straight edge away from you, on the lid. Get your opener ready, and slide it over the knife edge and gently lift it. The lid will stay flat, and your jar is opened just as if you bent it like most of us do.
If you get good at this, you can use it for all kinds of things. N-JOY!!