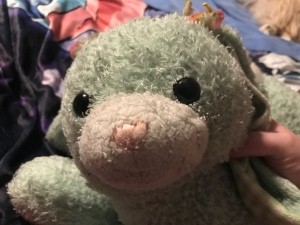 Can anyone help me identify this bunny? I was gifted her on Easter when I was pretty young. I believe I was 2 or 3. I'm 21 now, so that was anywhere between 17-20 years ago.
She is primarily made of eyelash fabric, with the plaid on her feet and ears made of minky, her carrots on her bows made of velvet, and her tail and muzzle made of some fuzzy fabric. The bows have since begun to fall apart, as they're the almost meshy type. But I believe they used to have pink flowers on them. I remember the white fabric used to be fairly poofy. Her nose is thread, and she does have a little v shaped thread mouth that's hidden under the fur. I don't believe she ever had pupils, but I could be wrong. She has beans in her feet, loose, not in little pouches. I tore her tag off so long ago that I can't even try to remember what brand she is, and I have done reverse image searches many times with no dice.
If it helps, I live in Michigan (US) and my aunt got her for me. She lives in Indiana, but she could've also gotten her when she was up here for Easter. I think I remember my mom saying she got her at Walmart, but I'm not too sure on that.
She's held up very well over the years and many wash (and dry) cycles. Although her fur is heat damaged, she hasn't popped any seams or gone thread bare at all, so I assume she's some type of name brand to be holding up so well, but I could be completely wrong. I'm trying so hard to find her, in hopes that I can get my hands on another. Not as a replacement of course, but just to see what she used to be like.
Any help is appreciated!