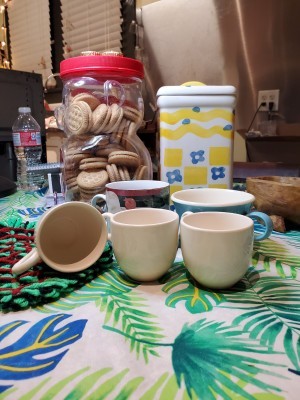 Are these cups McCoy? The reason I ask is that many McCoy items I have and have seen are just marked USA, but then some are also marked with the McCoy along with the USA. These cups were found many, many years ago at a flea market due to the fact that I have a huge fondness for demitasse cups.
I had many of my grandmother's different sets, but back in 1984 I was blindsided by a tornado which almost destroyed everything I own. I was only left with a bare minimum of my grandmother's bowls, china, crystal, and demitasse cups; just to name a few. I think that hurt worse than losing my home! It was devastating because that was all I had left of her and my other grandma. They had both been my heart and soul for my entire childhood until the age of 29. Both my grandmothers were big mentors in my life and I loved them so deeply and that's why still to this day, at age 61, I treasure anything of theirs and items from their time of life. I think they're so beautiful, amazing, and just simply gorgeous. They don't make things like that anymore. Thank you for listening to my rambling and I appreciate you looking into these cups for me.
Thank you.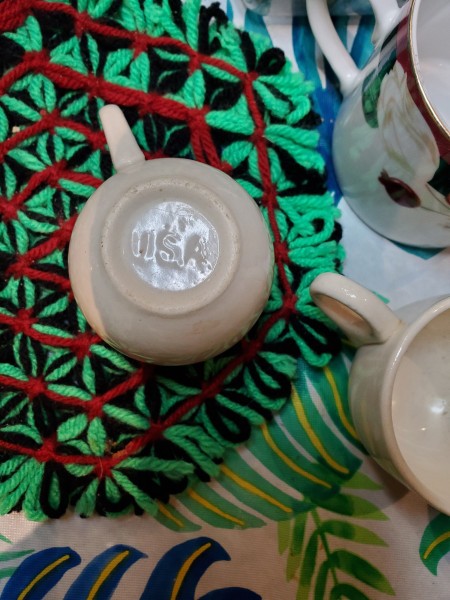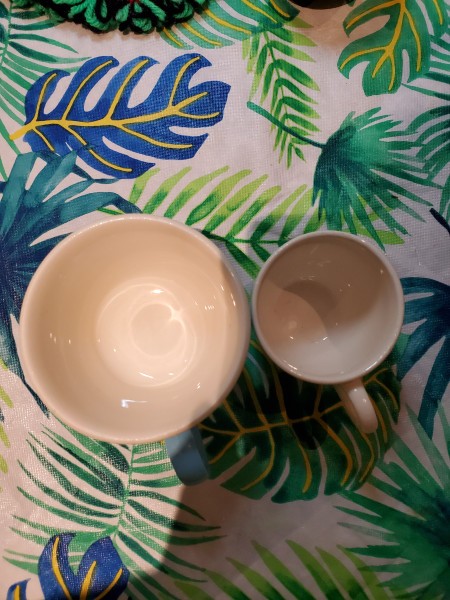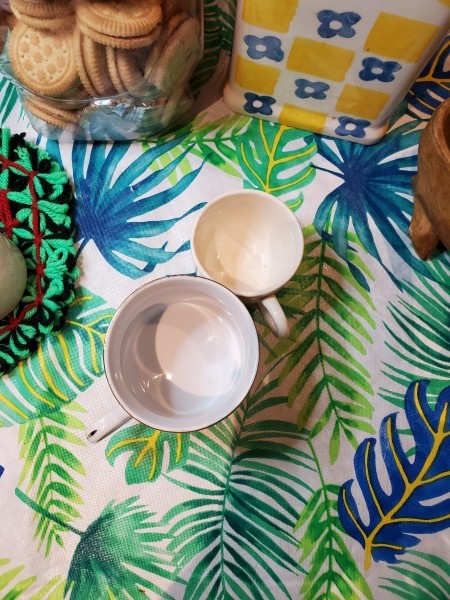 Answers

April 14, 2020
1

found this helpful
Best Answer
McCoy had a lot of different markings but I'm not sure that I have seen a genuine McCoy with just USA but I am diffidently not an expert so do not go by this.
There are so many excellent McCoy sites and forums that I feel sure you can find out (for sure) from asking on one of these sites. Show good individual pictures with no clutter because these members are truly collectors and like good clean photos as well as size.
Here is a link to some markings:
www.google.com/search?q=mccoy+pottery+marks&tbm...
This is a really great site for all kinds of information:
www.mccoypottery.com/mark.html
For me - this is the best forum to ask your questions (not value).

Pghgirl40
Bronze Feedback Medal for All Time! 196 Feedbacks
April 14, 2020
1

found this helpful
Best Answer
Thanks for the additional pix! That was helpful. I think, not 100%, but pretty sure these are Homer Laughlin pieces. Maybe from a restaurant line in the 1940-1950s.
The HL and McCoy are often mixed up. There are several Homer Laughlin groups on Facebook and a few folks there specialize in the restaurantware type pieces. I would ask to join and follow their posting rules. It's all about the handles and these are inline with the HL vs McCoy.
Post back what you learn. These are great pieces no matter who made them and that they have sentimental value is the best!!

April 14, 2020
0

found this helpful
I know how you feel and that is the reason I never mention value as you already know the 'value' that is important to you.
The forums are easy - just join - all are free and these nice people will help you with posting and adding pictures and value is of no interest to most of them.
I have one small cup that is many years old - no value to anyone but me but I can look down inside and find long ago happy memories - how can anyone put a value on that?
Good luck and stay safe/
Answer

this Question