October 8, 2018
0

found this helpful
The reason you got them so cheaply is because they are mass-produced dolls that go for $10 to $25 max
October 9, 2018
0

found this helpful
I was hoping to know about the dolls, the names of them and when they were made.
Thank you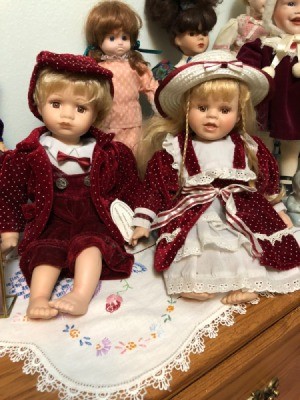 October 9, 2018
0

found this helpful
There is no way to find out the information you are looking for other than to do research on eBay, Etsy, Google as these dolls are all mass produced and there are several hundred Knightsbridge dolls listed on different sites everyday.
Some styles are gone on any given day but others appear so it would be a continuous search. You may get lucky and find dolls like yours but if they do not have the original paper tags that came with the dolls they will probably not know anymore than you.
These companies made thousands of each style doll and that is the reason there is no information pertaining to just one of their dolls.
You may be able to post your question on this doll forum site and sometimes these doll people may recognize a doll so why not try that. You will need a couple of pictures and pictures of any markings on their back, neck, head to help them identify your dolls. You should also give measurements.
www.tapatalk.com/.../index.php
October 9, 2018
0

found this helpful
Thank you
October 9, 2018
0

found this helpful
This brand of dolls was quite popular in the 1980s. If I remember correctly they were made in England.
This site has a bit of history on the 1980s doll market:
dollreference.com/porcelain_collector_dolls.html
If you are asking for resale value, the brand's dolls are all over the place on eBay with few if any selling over $30, they average in the $15 range.
That said, I see none of your exact pair listed or sold, so until you can find an exact pair on eBay sold you will not have the market value for today.
Market value will change based on supply and demand and generally there is a huge supply of dolls, which sadly keeps the values down.
Add to that, if you sell them online, your profits will be much less than the value as you have to pay all of the fees and that eats a chunk of your money.
Let me know when you find an exact SOLD pair (I will keep looking also) then you will know their value. Never use ACTIVE auctions as people can ask the world, but sold tells you exactly what someone is willing to pay!