November 7, 2019
0

found this helpful
Best Answer
I do not believe this is a remnant of any of the regular Homer Laughlin patterns and the numbers are not like the normal pattern numbering on their china.
I originally thought it was the official Navy pattern that has blue trim with anchors but this pattern has a different marking on the back.
www.etsy.com/.../homer_laughlin_navy
It is possible this piece was from a set that had blue trim but was used by the crew instead of the officers table and a lot less expensive.
We could tell more if you post a picture of the front of the piece.
You might ask your question on Replacements but you will also need a picture of the front.
www.replacements.com/contact-us.htm
Just in case someone would like to know more about Camp Dealy (like I did):
paleric.blogspot.com/.../camp-dealey.html

November 8, 2019
0

found this helpful
Camp Dealy had an officers' section and a non-commissioned section - even two separate "swimming holes." It had a mess hall as part of the camp. It was a camp for Navy submariners to get some R & R.
For years, pieces of this pattern have been washing up on shore. Here are some more images. Thanks for your interest and information.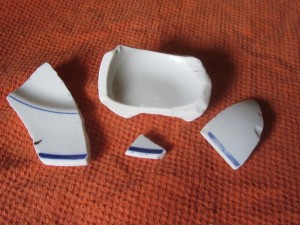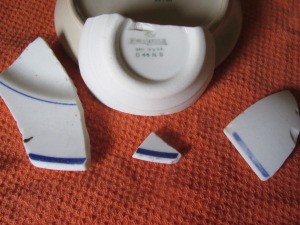 March 21, 2020
0

found this helpful
I have to disagree with cybergrannie. According to my research this is a Homer Laughlin piece. The stamp is for dating the piece and telling where it is made. The D 44 N 6 tells the date and plant the piece was made.
The D is for April; the 44 is for 1944 and the N tells where the piece was made which is Newell, West Virginia; 6 tells the plant number

June 27, 2020
0

found this helpful
I just read that the code means: D =April , next # is yr; N is for Newell Va and last digit is plant #

February 24, 2021
1

found this helpful
This is an original Homer Laughlin
D = April
44 = 1944
N = Newell Wv.
6 = Plant Number

Pghgirl40
Bronze Feedback Medal for All Time! 196 Feedbacks
November 7, 2019
0

found this helpful
Can you please post the front of the piece? Maybe I can help if I see that! Thanks!

November 8, 2019
0

found this helpful
Here are a couple of more photos. Thanks.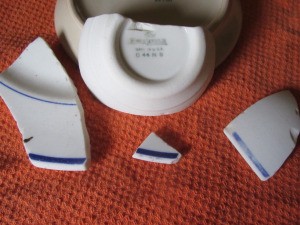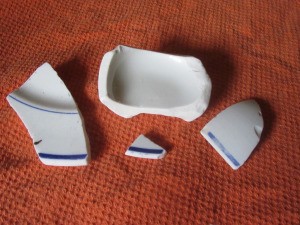 November 9, 2019
0

found this helpful
Best Answer
Thanks for the additional pictures.
These convince me they were probably more 'robust' pieces that were especially commissioned for the non-commissioned personnel as I have found that even the china for the officers was made at different times and has several different markings.
This is interesting as the pieces you are finding could be from broken, discarded dishes while the crew was out or just from some discarded on shore but still was used many years ago.
One day you may find some pieces with an anchor and that could mean they were left over from the mess hall on this base.
Only finding pieces? No cups or whole pieces? Did they completely dismantle the base when they pulled out?

poehere
Bronze Post Medal for All Time! 105 Posts
November 8, 2019
1

found this helpful
More than likely this was on a ship that went down at sea. The piece was made in the USA according to the bottom of the bowl. I would say that this was used on a navy ship or even a submarine.
It is hard to say but the piece does say it was made in the USA.