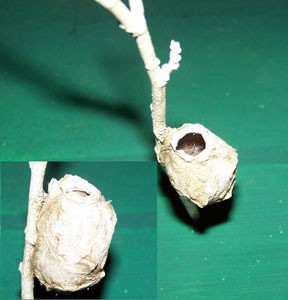 We always have a swarm of hummingbirds, every year they return the first week of May. Last year quite a few seemed to congregate around a row of "rose of Sharons". It wasn't until clipping the bushes did I realize why. I accidentally clipped a nest they had in the bushes. Now I know what they look like.
By Peggy from Cortland, OH
Read More

Comments

I have a question about hummingbirds. I have a small birdhouse that I put on a branch near our house. I was cleaning it out recently and noticed a nest in it that looked like it was abandoned. It had two tiny white eggs in it. The nest was made of moss, hair, feathers, and lichen. I looked it up in my bird book that has all the information about where nests are built and what they are built with, etc. The only bird that fits the category is a hummingbird!
My question is do hummingbirds use bird houses to nest in? I read in the book that they make their nests in the crooks of trees. I don't think it is a hummingbird since they haven't arrived here yet. They usually show up around the beginning or middle of May (it's only May 7th). The bird wouldn't have had time to build the nest and lay the eggs in less than 2-3 days, could they?
I'm thinking that it might have been abandoned from last fall before they left for the winter. The bird house has a small hole that looks like it was chewed by a chipmunk trying to get in for the winter to stay warm. I thought that it was that kind of nest.
The box is suppose to be for either bluebirds or wrens, but the house sparrows sometimes get in. I was totally surprised and felt kind of bad that when I pulled out the material I found 2 little eggs in it! Anyone that has any information on this problem please let me know. Or if there is anyone I can e-mail that is an "expert" on hummers cause I would like to know what kind of bird that was. I think I fixed the house by adding a small plastic tube in the hole to make it smaller so sparrows can't get in (the hole is less than 1-1/2 inch).
Thank you for anybody who can answer my question.
By Linda Delcamp from Brighton, MI
Answers

Suntydt
Bronze Feedback Medal for All Time! 109 Feedbacks
May 8, 2013
1

found this helpful
Hummingbird eggs are really small. Like smaller than a peanut. And they make the smallest nests as you said, in the crux of tree branches. So I would say something else made it to your bird house and had the eggs. And you are probably right, they were left over from the previous year. More than likely the bird responsible was found by a cat or other predator (in my area that would be a hawk or falcon).
Sparrows like to eat birds eggs so it is good you have made an effort to make the hole smaller to keep them out.
The only advice I can give you to determine what kind of bird it may have been is if you still have the nest and eggs take them to a local national forest.
One of the rangers may be able to identify what kind of bird may have made it and laid the eggs.
June 17, 2015
0

found this helpful
Hummingbirds don't always make their nest in the leaves of trees. I have one two feet away from my front door , right above your head. My bathroom window is no more than a foot away from it and it is at eye level! I can sit and observe everything from building the nest, laying the eggs, feeding the babies, teaching them how to feed their selves and fly. Ma-ma built the nest in just a few hours securing it tightly to the wire hanger using Spider Webs.
Then eighteen days later the kids popped open. With the Mailman, a quite a few other people along with me coming up to my door and so close to her nest, I am surprised she did not just leave the nest eggs and all. But she didn't. That is why it just doesn't sound like a hummingbird who left the nest and eggs in your little house.
Hummingbird Eggs are even smaller than a jelly bean. About the size of a small navy bean.
I would do as much as I could on the computer for your search. Reason being if you take the nest and eggs to the forest ranger, you could be fined up to $200,000. They are Migratory Birds and protected by law. You can not even have a Hummingbird Feather because you might be fined. That is why one morning , one of my baby Hummingbirds fell out of his nest and it's leg got caught up on some of the spider webs. He was dangling upside down by it's leg and couldn't free it. I promised myself I was not going to intervene at all but then I got my ladder, and put the baby back in the nest. Oh so tiny! Now Ma-ma is having another batch and I wished she would have moved it elsewhere.
Answer

this Question
Even if you are not an avid bird watcher it is fun to identify these garden visitors. Noting size & shape, color pattern, behavior, and habitat can help.
There are books for your region and apps for your phone available to assist.