Identifying a Legacy Porcelain Doll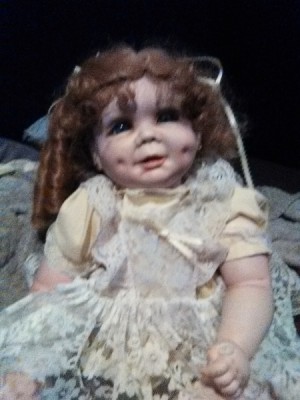 How do I identify the exact Legacy porcelain doll I have? It is stamped Legacy Doll Inc. on the nape of her neck. She has blue eyes, dimples, real eye lashes, painted nails, and creases around knee and elbow areas. She also has strawberry blonde hair in two ponytails with spiral curls. She is wearing citrine colored stud earrings, a yellow dress with a lace apron style overlay, and white socks and leather lace up baby booties.
Add your voice! Click below to answer. ThriftyFun is powered by your wisdom!
September 11, 2017
0

found this helpful
These are mass-produced dolls and have no real value, even when never taken out of the box.
September 13, 2017
0

found this helpful
This company made several types of dolls but none were ever really popular. eBay and Etsy are the largest doll selling sites in the world so this is where you might (one day) find a doll like yours. Most of the dolls listed will have a COA which gives the name and number of the doll. Since your doll does not have this paper it will just have to be a searching item for you unless you ask your question of an experienced doll collector.
It appears that your doll may belong to the collection designed by artist Terri De Hetre but I cannot tell for sure since you have no papers and this company does not put markings on their dolls other than their company name.
There are several Legacy dolls listed on eBay ranging in price from $9.99 to $200. Asking price does not mean very much as there have been no sales of this brand doll on the eBay site in the past 6 months.
Sellers list dolls on these sites and keep reposting them for months and months and many times never sell them, even at a very low price.
Dolls are also expensive to ship and a lot of trouble packing them safely.
Here are a couple of links that show similar dolls presently listed on eBay and the sellers asking price. Truthfully, there is no way to tell if these dolls will sell or not but the chance is slim.
As far as identifying your doll, you will have to do your own research but eBay does have a very experienced seller who does doll appraisals for a
very low cost so you might want to use her services. http://www.ebay … sal/214680910019
If you are interested in selling your doll then I would recommend listing it on your local Craigslist with pictures and since your doll can be seen and does not have to be shipped it is possible it would sell for $30-$50 especially near Christmas.
September 23, 2017
0

found this helpful
Identifying a doll.
Add your voice! Click below to answer. ThriftyFun is powered by your wisdom!
Related Content