May 12, 2020
0

found this helpful
Best Answer
You may be missing a leather top for your piece or a glass top.
The turned legs look 1950s-1960s. The studs the same genre. The challenge is they still make repro pieces like this (if it is a stool...which I am not 100% sure it is):
www.walmart.com/.../456215949?wmlspartner=wlpa&selectedSellerId...
This is a newer piece Walmart sells. Yours has a 1950s vibe to it but repro and new are hard to deleniate sometimes.
There is also an off chance that those notches on the top held stops that a glass top rested on making this a coffee / end table. I have seen those but of course, I can't find a catalog photo when I want it to confirm.
What does the underside look like? How tall is it? It looks too short for a bar stool. Although with a top that may be what it is.
Such a curious piece? Looking forward to hearing more. Where are you located? That may offer a hint to what this is!
Not Egyptian at all by my guesstimate. More Amish than anything.
May 12, 2020
0

found this helpful
I believe the veneer and knobs were meant to be shown. No glass as this is a 1' 5" tall and 1'7" across the seat, curved saddle. Veneer dates back centuries and was considered a difficult art form, but in saying that this may be a vintage piece. The bottom looks older though. I was also wondering about Amish too. I'm in Ellensburg, WA.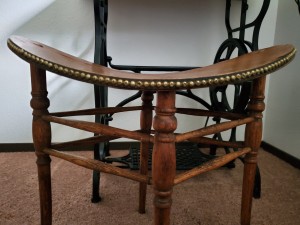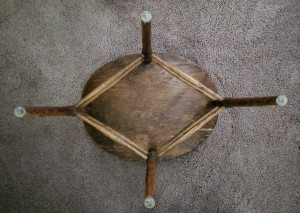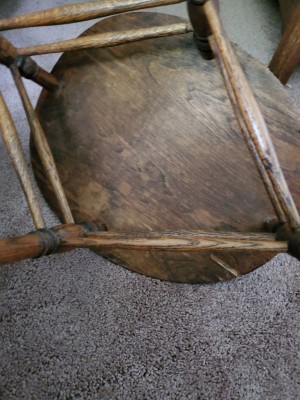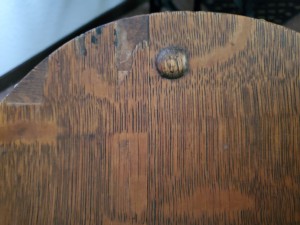 May 13, 2020
1

found this helpful
Best Answer
This is a real curiosity but your later pictures and information make this item a lot clearer than the first pictures.
The problem with doing research on an item like this is that the majority of people who might have something similar may not have any idea as to what to call it.
If you research 'saddle stool/chair' you will probably not find that your stool matches what anyone describes. I do not believe most antique/vintage 'saddle stools' were this fancy so that is a problem for me. In doing just normal research you may find this style listed under any of the following:
Stool/chair/bench
Saddle/milking chair or even a birthing chair (?)
Most sellers do not list the height in their heading so this makes it even more difficult.
I traveled with my father when I was young (late 30's) and I remember seeing similar stools being used by shoeshine people in higher end hotel lobbies so who knows for sure what this was originally made for?
I do not believe it is Amish as I have never seen Amish use the fancy studs that are around the edge but I know very little about their style other than it is usually very plain.
I also believe it is probably from the 50-60's but that is just a guess on my part.
You can look at this one and see that when describing this 'stool' they do not really know what to call it.
www.ebay.com/.../184267446711?hash=item2ae73219b7...
You may want to ask your question at one of the inline forums:
www.antique-shop.com/.../index.php?board=2.0
If you want to know more about your stool you can always try using the free appraisal sites but many will not give an appraisal if the item would be valued at less than $500 and without knowing more about your stool I would have no way to guess at its value.
Here is a site that lists people who give free appraisals.
www.whatsellsbest.com/.../antiques.html
This site charges $20 but usually well worth the money:
www.valuemystuff.com/.../antique-furniture
May 13, 2020
1

found this helpful
Best Answer
Yes, thank you so much for the additional photos! I have been puzzling over this since the original post, and with these new photos and more info, I am thinking differently.
I thought the things on the top were holes and that there were metal or wood pieces that went in there to set the glass on or that held down an upholstered top. They did not look like pegs, but since I see from the other picture, yes, they are, I totally agree that pegs are meant to be seen.
I totally missed that the legs had detail to them and the studs. The legs just looked turned to me, but I see now they have detail to them so that (and the studs) rules out the Amish.
I had thought shoe shine, but they usually have a drawer;, cow milking, but they are usually very simple; and farrier, but most stand (stood) plus you would not want a fancy stool to get damaged by an angry horse.
I went through birthing stools, but they usually have something to hold on to so the woman could push (ouchies).

It would not be comfortable to rest legs on, so that may rule out an ottoman--unless there was some special reason to have one like this for an injury or recovery, but that probably would not have fancy stud work.
My final wonder and the one that seems to be logical to me, is it is a custom piece made for a lady's vanity. Although again, those usually have a plushy top, but perhaps this was custom made for the lady of the house.
Men's valets usually had a place in the back to hang things, so I sort of ruled that out.
I do agree, that looking at the underside, it may be older than I thought, it looks like dowel construction (and more hand hewn/assembled) at least that is what I can kind of get from being on a bigger screen.
If it was mine, I would take it around to some of the bigger antique stores in my area and get their bead on it.
It is a lovely find!! Please post back what you learn!!
Thanks for posting more photos!!
May 13, 2020
0

found this helpful
Thank you for that appraisal site! I do have pieces I'm curious about in value, like a set of nesting tables. Thank you for your reply it was very interesting and informative.
May 13, 2020
0

found this helpful
I live in a small town that doesn't have very knowledgeable antique shops.
May 14, 2020
0

found this helpful
Since you live in smaller city, I do hope you will try the online appraisal sites. As I said, some may not provide a service if the value is less than $500 but for $20 a paid appraisal is still a bargain.
Just be sure to include several good pictures as this piece is difficult to see from all angles.
I agree with Pghgirl that you have an interesting piece and I hope you will post back what you learn about it.
Since you say it is only 17" tall it has to have been for something special and the workmanship looks superb from just seeing the pictures.
I do not think it could been for a lady's vanity because that would be too low - unless I got the height wrong and somehow it just doesn't look very 'feminine' to me but if you loved horses maybe it would suit a young lady.
You do not say how you came to own this neat piece or if it is from your area but be sure to state any provenance you may have when asking for an appraisal.
Thanks again for all your return responses.
May 14, 2020
0

found this helpful
It is too short to sit on for an adult and maybe a little too fragile or delicate. So a young lady or a leg rest are reasonable ideas.
I live by quite a few German Amish in this town. I acquired this as a trade for an early 1900's working farm table I had from an old outbuilding on a farm.
May 14, 2020
0

found this helpful
Actually, this is the height of several vintage 'saddle stools' that i looked at so this could have belonged to a young lady.
Thinking about where you live do you remember seeing any of their work with the fancy studs or anything like that?
Sounds like you may have an opportunity to come across really neat items!
May 15, 2020
0

found this helpful
It's also an ESPN Rodeo circuit town, lol.
Probably lots of items with studs...?