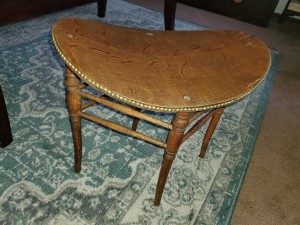 So I have this chair. The only thing that I have found similar to this saddle stool is Egyptian Revival, but it is the wrong shape. It has a chipped veneer top and a string of studs. I am not sure of the age or style. Any information would be greatly appreciated.
Thank you!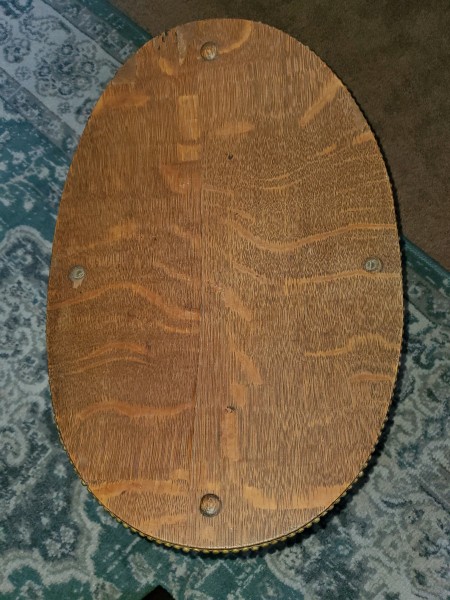 Answers

May 12, 2020
0

found this helpful
Best Answer
You may be missing a leather top for your piece or a glass top.
The turned legs look 1950s-1960s. The studs the same genre. The challenge is they still make repro pieces like this (if it is a stool...which I am not 100% sure it is):
www.walmart.com/.../456215949?wmlspartner=wlpa&selectedSellerId...
This is a newer piece Walmart sells. Yours has a 1950s vibe to it but repro and new are hard to deleniate sometimes.
There is also an off chance that those notches on the top held stops that a glass top rested on making this a coffee / end table. I have seen those but of course, I can't find a catalog photo when I want it to confirm.
What does the underside look like? How tall is it? It looks too short for a bar stool. Although with a top that may be what it is.
Such a curious piece? Looking forward to hearing more. Where are you located? That may offer a hint to what this is!
Not Egyptian at all by my guesstimate. More Amish than anything.

May 13, 2020
1

found this helpful
Best Answer
This is a real curiosity but your later pictures and information make this item a lot clearer than the first pictures.
The problem with doing research on an item like this is that the majority of people who might have something similar may not have any idea as to what to call it.
If you research 'saddle stool/chair' you will probably not find that your stool matches what anyone describes. I do not believe most antique/vintage 'saddle stools' were this fancy so that is a problem for me. In doing just normal research you may find this style listed under any of the following:
Stool/chair/bench
Saddle/milking chair or even a birthing chair (?)
Most sellers do not list the height in their heading so this makes it even more difficult.
I traveled with my father when I was young (late 30's) and I remember seeing similar stools being used by shoeshine people in higher end hotel lobbies so who knows for sure what this was originally made for?
I do not believe it is Amish as I have never seen Amish use the fancy studs that are around the edge but I know very little about their style other than it is usually very plain.
I also believe it is probably from the 50-60's but that is just a guess on my part.
You can look at this one and see that when describing this 'stool' they do not really know what to call it.
www.ebay.com/.../184267446711?hash=item2ae73219b7...
You may want to ask your question at one of the inline forums:
www.antique-shop.com/.../index.php?board=2.0
If you want to know more about your stool you can always try using the free appraisal sites but many will not give an appraisal if the item would be valued at less than $500 and without knowing more about your stool I would have no way to guess at its value.
Here is a site that lists people who give free appraisals.
www.whatsellsbest.com/.../antiques.html
This site charges $20 but usually well worth the money:

May 13, 2020
1

found this helpful
Best Answer
Yes, thank you so much for the additional photos! I have been puzzling over this since the original post, and with these new photos and more info, I am thinking differently.
I thought the things on the top were holes and that there were metal or wood pieces that went in there to set the glass on or that held down an upholstered top. They did not look like pegs, but since I see from the other picture, yes, they are, I totally agree that pegs are meant to be seen.
I totally missed that the legs had detail to them and the studs. The legs just looked turned to me, but I see now they have detail to them so that (and the studs) rules out the Amish.
I had thought shoe shine, but they usually have a drawer;, cow milking, but they are usually very simple; and farrier, but most stand (stood) plus you would not want a fancy stool to get damaged by an angry horse.
I went through birthing stools, but they usually have something to hold on to so the woman could push (ouchies).

It would not be comfortable to rest legs on, so that may rule out an ottoman--unless there was some special reason to have one like this for an injury or recovery, but that probably would not have fancy stud work.
My final wonder and the one that seems to be logical to me, is it is a custom piece made for a lady's vanity. Although again, those usually have a plushy top, but perhaps this was custom made for the lady of the house.
Men's valets usually had a place in the back to hang things, so I sort of ruled that out.
I do agree, that looking at the underside, it may be older than I thought, it looks like dowel construction (and more hand hewn/assembled) at least that is what I can kind of get from being on a bigger screen.
If it was mine, I would take it around to some of the bigger antique stores in my area and get their bead on it.
It is a lovely find!! Please post back what you learn!!
Thanks for posting more photos!!
Answer

this Question

I would like to know the history behind this chair or maybe the metal plaque on the back of this chair?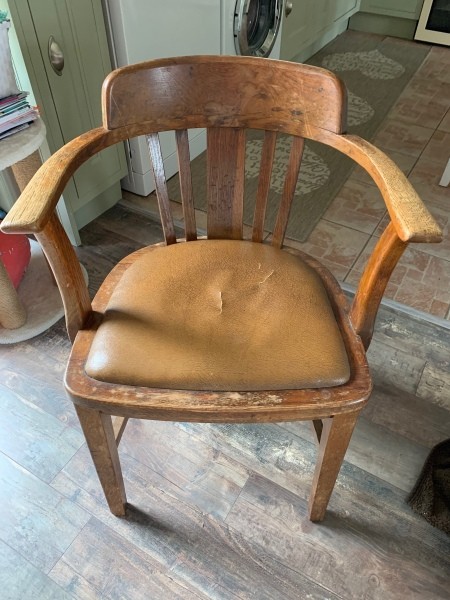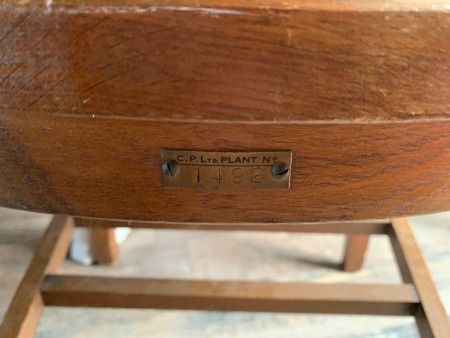 Answers
haydemon
Gold Answer Medal for All Time! 617 Answers
March 13, 2020
0

found this helpful
Best Answer
This is a marvelous English Captain's chair, looking to be 'the real deal', looking to date from the early 1900's, judging by the condition and the plaque. The manufacture looks to be Christopher Pratt:
"After about 1900 Pratts sometimes fixed a small metal plaque on their furniture and paper labels incorporating the monogram 'C.P.S.' start to appear. When they became a limited company in 1913 the abbreviation 'Ltd.' follows their name. One instance of the impressed initials 'C.P' have been noted on the seat rail of a chair known to have been made by the firm c.1905. During the 1920s a label inscribed simply 'Pratts of Bradford' may be encountered." www.achome.co.uk/.../furniture_research.htm
The fun part is these people are still apparently in business: cpratts.co.uk/

March 16, 2020
0

found this helpful
Best Answer
I would call the company to have them authenticate what you have. The plaque sounds right in theory to be a Christopher Pratt chair, but I am not positive the screws look authentic (almost impossible to tell that from a photo) and I am also not sure the look of the piece fits his most well known style (see below).
He is known for pieces which were done in the Arts and Crafts style...which have a specific look to them...they are very simple lines with very simple decorations on them...maybe a turned leg or a decorative frieze. This chair is very simple (like pre-arts and crafts), so it is possible it is one of his very early pieces. The arts and crafts movement is typically thought of as between the 1880s to 1920s...depending on where it was made. This company was around then so that would be extra cool if it was an original or first generation pieces!
I am guessing you are in Europe somewhere because these pieces rarely are seen the US.
There are Pratt pieces in museums so that would be neat if you had one of his pieces.
Please post back what you learn!! It is a neat piece, none the less. It looks like a banker or lawyer's chair from the early 20th century.
Thanks for sharing! Always love seeing neat and different items on this site!!
Answer

this Question

Does anybody have any information about this chair? There are no markings on it. It swivels. I am curious about its age and maker.
Also, any ideas on value would be appreciated.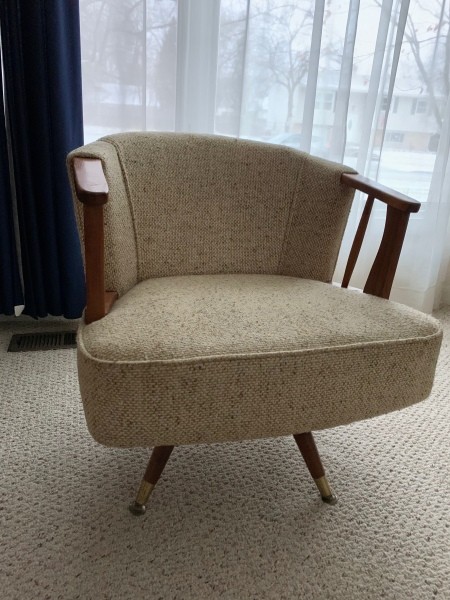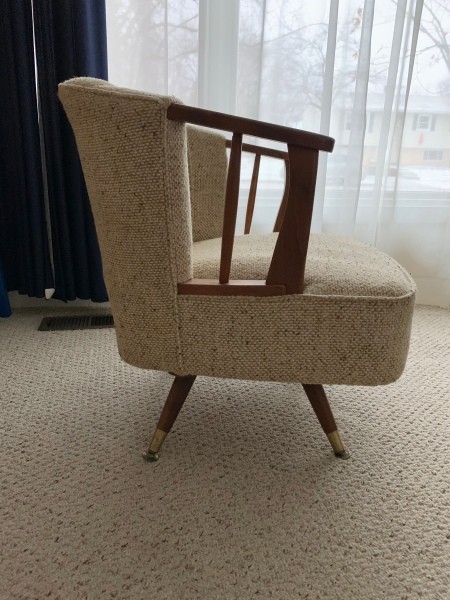 Answers

March 2, 2020
0

found this helpful
Best Answer
Cool! I found what looks like the same chair for sale in a store in Baltimore. attic-dc.com/.../wishbone-reserve. Maybe they can give you more details... unless of course this is yours and they knew nothing.
I peg it at a 1950s or a nice repro. I love the splay legs and barrel back. I call it a club chair, but there I another name I can't pull from my brain to describe it.
There were so many companies that made similar pieces it is hard to say who made it. Kroehler was one big brand, but the lines are not quite right. Not a Baughman either, I don't think. It could be a store brand, or it could be a modern piece by Kohl's or from Wayfair. I would need to see it in person to better figure it out.
Why I go back and forth is the upholstery almost looks too new, but the feet do have the old patina, so it may have been redone or it may be a repro that someone aged the feet to give the impression it is mid century modern.
It is a very yummy look!! Love this style!!
I would have a reputable vintage furniture seller look at it in person to figure out what you have. It is hard just from photos. Once you know real or repro then you can ask about value. Mcm is hot at the moment, just starting to wane. Value is very regional, so it is important to know your market!
Post back what you learn! Thanks for sharing!!
Answer

this Question

Would someone be able to assist me in the identification of this chair? There is one marking present, on the underside of the seat stamped into a brass plate.
The marking reads BT. 51766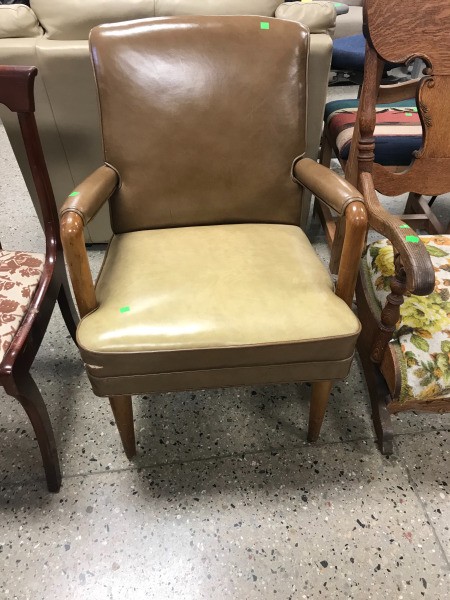 Thank you for your help.
Answers

April 15, 2019
0

found this helpful
Best Answer
That mark does not sound familiar. What do they want for it?
If it is under 20 I say scoop it up if the answers to the questions below follow suit:
1. Does the brass plate seem like an original? How and where is it affixed--underneath on the leather or on the wood? Is it possible that the rest of the name is worn off?
2. Is the damage to the front an easy repair? I can see the damage, but the angle of it makes repair potential hard to determine.
3. Is all of the wood in good shape?
4. Does it pass the sit test (no wobbles or creaks)?
5. No bad smells?
MCM like chairs are hot right now, so if it was cheap enough, and you could fix the damage, this may be a lovely flip piece!
Post back what you decide!!
Answer

this Question