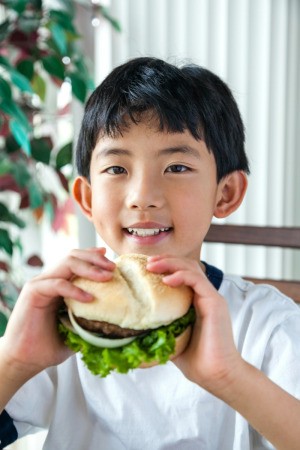 I have 2 boys, ages 6 and 8. And, for the summer, I'm now babysitting my neighbor's 2 sons as well; ages 3 and 8.

I've been trying to come up with some ideas to help me stretch my pennies while feeding all these kids. (Breakfast, Lunch, & snacks). I prefer quick and simple foods, but most the time, that's not the cheapest route. Even though I buy everything store brand or even use coupons, it's still way over my budget. There's got to be other things besides corndogs, hotdogs, pizza, chips, little debbies, fruit snacks, etc.
I also would like some ideas for any activities for us during the day to keep them active and structured. (like games, not video games, contests, arts & crafts, projects, etc.)
Thanks in advance for any advice you offer!
~Jo in TN
Answers
By Steph in MO (Guest Post)
June 27, 2005
0

found this helpful
As the mother of two boys I know how picky they can be. Some of their lunch favorites include quesadillas (cheese and tortillas), spaghetti, tortilla roll-ups (sneak some veggies in there), mac and cheese with broccoli, grilled cheese and veggie soup, french toast cut into dunkable strips, egg burritos, chicken and rice and english muffin pizzas. They like to eat things that they can help to make like the pizzas, pudding, brownies and smoothies. Also try a "toothpick" lunch where you cube all of the items to eat with a toothpick. Or a "dunkable" lunch with dips. Let them "fish" for goldfish with pretzl rods and peanut butter.
This summer we are trying themes. I gather all their dinosaurs for play one day and read a book about dinos, color a picture and then play with the toys on the table. If you have a video camera let them re-enact a favorite story for the camera. Scavenger and treasure hunts are always popular.
Have fun with those boys!
By Jennifer Russell (Guest Post)
June 27, 2005
0

found this helpful
When I make Banana Bread I usually make 2 loaves- I cut them in half and freeze 3 halves... Everyone Loves a piece of toasted and buttered banana bread for a snack... and it is very filling if you can add a handful of finely chopped walnuts. ( I buy them from Sam's Wholesale to get a bunch for less money)
DELICIOUS MOIST FRENCH TOAST: Basic recipe: 1 well beaten egg, 8 ozs. milk, few drops vanilla all mixed together. White sugar and cinnamon mixture (I make my own-so inexpensive) White bread (the thicker the better). This basic recipe makes 4 pcs; multiply as needed. Soak white bread in egg nog mixture till moist but still together enough to get it into the preheated fry pan (med. heat) with melted margerine (DO NOT LET MARGERINE GET BROWN)
Cook over med. heat till one side browns (don't let it dry out) flip with spatula. While other side is cooking sprinkle cinnamon mixture on top ( heat helps sugar to melt and you will use less. Can use maple syrup with or w/o the sugar mixture. My kids (40 & 38) still like me to make these cause I'm so careful to keep them moist. Makes all the difference in the world.
By Mary (Guest Post)
June 28, 2005
0

found this helpful
Handle both problems- what to feed them and what to do with them- at once. Let them cook (with you,of course) I work with two autistic boys aged 10 and they love cooking. We've made cookies, jam muffins, grilled cheese sandwiches, mashed potatoes, mac and cheese, cake .. one of the boys is VERY fussy, but if he's had a hand in making it, he'll try it.
Lots of time what we were going to cook was determined by the food in a book we found in the library. When we read "More Spaghetti I say" we made spaghetti. You can also have them make play dough or fingerpaints... lots of recipes on the web
Banana and Peanut Butter Sandwiches or just plain banana sandwiches on white bread. We often had banana sandwiches for a light Sunday supper when we were kids.
Cooked elbow macaroni with butter on it and a piece of fruit.
By (Guest Post)
June 28, 2005
0

found this helpful
PB & J, tacos, bean burritos, carrot and celery sticks (cut from whole vegies), brocolli, jicama, bell pepper strips, maybe with a ranch dressing dip, grilled cheese, ramen noodles with frozen vegies mixed in, jello or pudding made from a mix, refridge biscuits and cheese, pancakes or french toast, egg salad or scramblked eggs and toast, seasonal fruit

June 29, 2005
0

found this helpful
We have our version of quesadillas...called cheese triangles (how original huh?). We dip them the the child's dip of choice...ranch, pizza sauce, miracle whip, etc. I use various cheeses, but the wrapped slices seem to ooze too much. Just layer a flour tortilla, cheese and another tortilla in a dry skillet and toast slowly until the cheese melts.
Toast side two and turn onto a paper plate. Cut with a pizza cutter into triangles, flip on half onto the other and drop a dollop of dip on...you're good to go!
As for fishing for goldfish with pretzels and peanut butter...we fish for raisins and the kids love it!
By Allison (Guest Post)
June 29, 2005
0

found this helpful
"There's got to be other things besides corndogs, hotdogs, pizza, chips, little debbies, fruit snacks, etc."
These are all highly processed convenience foods. Convenience foods are the most expensive foods in the store--no wonder you are going over budget.
I would suggest that you make your own convenience foods. There are recipes online for soup mixes, bisquick, and all sorts of things. In addition, you could find a cookbook (or look online, again) with instructions on how to make and freeze meals so they can be reheated quickly later.
You might also want to get a crockpot. You can put food in for lunch early in the morning and it will be ready by lunch time, or put food in for dinner at lunch and it will be ready at dinner time.
I know this all sounds like more work than zapping bagel bites in the microwave, but saving money does take work. The key is to rearrange the work so that you use your time efficiently.
A good way to stay motivated when doing extra work is to calculate your "hourly wage." Divide your estimated savings by the time spent to determine how much you "made" per hour. You might be surprised at how much you are paying yourself by cutting back on convenience foods.
By KLS8800 (Guest Post)
July 3, 2005
0

found this helpful
There is a CD out at wal mart, called one million recipes. It sells for $9.99, and has TONS of recipes, some even no bake or no cook, and kid friendly recipes, as well as some recipes for crafts, such as clay. I have the original version (teal blue-green cover). There is a second version out, it has a purplish cover on it. As for activities, why not visit a homeschooling site online, get some of the funner lessons, and make your own versions of the lesson with diced fruit as rewards.
As for Mary, who is a guest post here, PLEASE contact me. I have a four year old son who is autistic, and would love to get more ideas from you.
There is also an autism support chat on AOL. When you contact me, I'll give you the link if you are interested.
My Email addy is the same as my signature and I am on AOL.
Thanks.
Just put 'autism' in the subject line so I can recognise you. Thanks again.
By Becki in Indiana (Guest Post)
July 8, 2005
0

found this helpful
plain old sandwiches -- pbj, tuna, egg salad, whatever -- can be cut into shapes using cookie cutters, which makes them LOTS more fun! Homemade soup is cheap and filling, but not as appealing on hot summer days, I suppose. Grilled cheese and its many variations are popular with kids. Eggs are also cheap and can go far -- make a big pan of scrambled eggs with a small amount of ham and chees mixed in, and call it an inside-out omelette!

Carrie
Bronze Feedback Medal for All Time! 174 Feedbacks
December 20, 2005
0

found this helpful
First, buy in bulk, at the local WalMart, Sam's Club or Costco.
Hot oatmeal with raisins is a filling breakfast. Add butter and brown sugar on top.
Let's get away from the high fat things like cheese sandwiches.
Start with a salad, the ultimate finger food. Chop: romaine lettuce (no iceberg), cucumbers, celery, carrots, jicima, turnips. Do this once or twice a week for the week. Refrigerate in plastic container. When you make salad, chop tomatoes, open can of julienne beets or pineapple, water chestnuts. Add walnuts, croutons, sunflower seeds, raisins, etc.
Just make up each salad before serving. Great finger food first course.
For sandwiches, use sliced chicken, turkey, ham, beef, if you can get it in bulk. Any left over fish you canmake into fish salad, like tuna salad. All of the meats make prepared salads just like tuna for sandwiches.
Vegetable soup you can make if you store leftover vegetables from prior meals. Just add buillion or stock from bones. Skim the fat. You can make soup up in advance just like the salad greens on your "cooking" day.
Have the kids help make snacks. Celery stalks with peanut butter in them. Bananas rolled in coconut. Sliced red and yellow bell peppers--they're so good when they are cold on a summer day. Sliced apples, too.
Some of the other ideas above sound yummy. Banana bread--invite me over.
O.

Carrie
Bronze Feedback Medal for All Time! 174 Feedbacks
December 20, 2005
0

found this helpful
I forgot.
You can check games out from most libraries with a children's section. Ask the librarian for other ideas, since there usually is a summer program for kids.
Check the local paper for schedules of recreational activities, like swimming, day camp, etc.
By Carl (Guest Post)
December 16, 2007
0

found this helpful
I have 4 kids between 5 and 11.
One of the most inexpensive things I make that the kids love, is the following.
Any pasta, small amount of garlic, olive oil to make noodles moist. Sprinkled with Parm cheese. It is great served nice and hot and has lots of flavour. If you are feeling rich you can added some diced Roma tomatoes and black olives. Even with the Tomatoes and Olives it feeds our family of 6 a great meal for about $4 total cost. A side salad or fresh bread can add a alot to it as well.
Answer

this Question