April 1, 2017
0

found this helpful
Looks like Thrifty Fun has a thread for Recipes for Homeless!
- Tuna sandwiches
- Beans
- Potato Salad
- Sloppy Joes
- And so forth.
Reference,
April 1, 2017
0

found this helpful
Rice and beans is a cheap, complete meal. You want to stay away from expensive cuts of meat, chicken tenders, and fish fillets. Canned salmon is also a good choice. What about spaghetti and meat sauce?
April 2, 2017
1

found this helpful
Since you will be doing this on an on-going basis I have offered several suggestions (most all suggestions have been used by my group at one time or other).
We usually try to go with cheap but easy dinners so many times that means HoBo dinners. These are so easy and you can add almost any vegetable available and you can also add variety by using different ingredients. Just use a black marker and note one or more different ingredient on the outside of packet.
Here are a couple of links just in case you are not familiar with making hobo dinners (you may have to expand on ingredients to the number you need):
http://www.rada … il-recipe-video/
http://busycrea … com/hobo-dinner/
Here is a site that we use a lot for getting ideas for large groups:
http://www.ange … sfiftyindex.html
Here are some ideas (actual costs may not be correct) but some ideas we use:
http://www.thes … irt-cheap-meals/
Here is a great recipe for something a little different:
CHICKEN NOODLE SOUP FOR 32 PEOPLE
2 1/2 gallons water
8 oz. chicken base
4 oz. butter
3 lb. chicken
2 lb. medium noodles
2 tsp. parsley flakes
4 oz. chopped pimento
1 tsp. celery salt
1 tsp. salt and pepper mix
Bring water to boil. Add chicken base, butter, and cut-up chicken to water. Cook approximately 35 minutes. Add noodles, parsley flakes, pimento, celery salt and salt and pepper mix and cook approximately 30 minutes (until noodles are tender).
Serves 32 9-ounce portions.
April 3, 2017
0

found this helpful
Soups, stews, chicken dumpling soup :) If you want to get fancy, you can make large amounts of curry and rice for very little money:
Ingredients
2 cups uncooked instant white rice
3 3/4 cups water
1 tablespoon vegetable oil
3 teaspoons curry powder
1/2 teaspoon salt
1/4 teaspoon ground cumin
Dash ground red pepper (cayenne)
1 small onion, coarsely chopped (about 1/3 cup)
1 clove garlic, finely chopped
6 small red potatoes, cut into 3/4-inch cubes (2 cups)
2 medium carrots, cut into 1-inch pieces (3/4 cup)
1 extra-large vegetarian vegetable bouillon cube
1/2 medium red bell pepper, coarsely chopped (1/2 cup)
2 tablespoons all-purpose flour

Cook rice in 2 cups of the water as directed on package.
In 3-quart saucepan, heat oil over medium-high heat until hot. Add curry powder, salt, cumin and ground red pepper; cook and stir 1 minute. Add onion and garlic; cook and stir 1 minute longer.
Add potatoes, carrots, bouillon cube and 1 1/2 cups of the remaining water. Heat to boiling. Reduce heat to medium; cover and simmer 10 minutes.
Add bell pepper; cover and simmer 4 to 6 minutes or until vegetables are crisp-tender.
In small bowl, mix remaining 1/4 cup water and the flour until smooth. Add to saucepan; cook and stir over medium heat until mixture boils and thickens. Boil and stir 1 minute. Serve over rice.
(Above is a recipe for 4)
April 5, 2017
0

found this helpful
Spaghetti with meat sauce is cheap, accompanied with garlic bread made from regular loaf bread. Find each on sale and use coupons along with sale price.
April 7, 2017
0

found this helpful
Chili, speghetti, chicken and rice soup, baked potato bar, potato soup, mac and cheese, mac and tuna casserole.
June 15, 2017
0

found this helpful
My ministry, www.RadicalLoveMinistry.com, offers two meal shares weekly in our community, each serving 40-60 guests. The Wednesday meal is planned by me and usually consists of richly flavored ethnic foods with an emphasis on good protein and vegetables. The meals I offer usually cost about 60 cents a person, which I think is an excellent price. Money for the meals comes from my church and members of the community. Local school gardens supply us with fresh greens for weekly salads, as well as fresh herbs and other garden gifts. We also receive other donations of meat, canned tomatoes and olive oil which we use frequently.
I have learned from working closely with our friends who are homeless that many are in poor health, suffering from conditions like diabetes. They are made even more ill by the cheap, starch heavy foods they are often served. Foods full of starch and sugar raise blood sugars incredibly high. Diabetics who don't have access to necessities for good foot care are put at even greater risk by being fed with these unhealthy foods. It is important to avoid cheap starch and to focus on nutrient dense foods that genuinely support health.
There may be a temptation to add water to soups to make them go farther. Remember, however, that it does little good to send people away with bellies full of water. that water will soon be gone and they will be hungry, again.
Today, someone actually suggested to me that I serve my guests baby food and send them away with bags of cooked rice. He said it was "better than nothing". I think we can do better than better than nothing. We can feed people with love, dignity and respect. We can feed them with foods that taste like they were made with love by a friend for a friend. That is what Radical Love strives to do.
If you would like me to share some of my recipes I would be glad to do so. You can reach me though www.RadicalLoveMinistry.com.
Peace, erika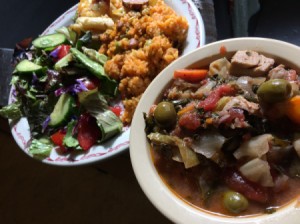 August 30, 2017
0

found this helpful
Erika, I loved your post, everything made with that special ingredient- lurve! I feed up to 50 mixed nationalities in southern Spain,choosing recipes are sometimes difficult because of this mix.
Sometimes I receive gifts of food, amazing fresh vegetables and chicken breast etc., other times I can get handed a box of out of date dry goods-because that is what they think our friends are worth and they cannot bring themselves to admit they buy too much- salves a conscience! However, nothing is wasted- chickens dont mind out of date grains and they give lovely eggs to make bread pudding with.. hahaha. xx
July 16, 2017
0

found this helpful
The inexpensive brands of canned salmon are very nutritious and one can will feed several people when mixed with crackers, milk and egg, then fried as cakes. Also, spaghetti noodles can be stretched with less pasta sauce and mixed.