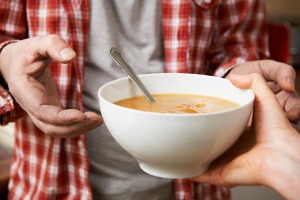 I am looking for recipes that are easy to prepare and can serve approximately 50 people. I have a youth group that is going to be cooking meals at a homeless shelter.
By Julie Barwick from Ottumwa, IA

Answers:
Recipes for Feeding People at a Homeless Shelter
I cook for about 25-30 people at my local senior center. This month I made a turkey bake. I layered stuffing on the bottom, topped with green beans, sliced turkey, gravy and then garlic/cheese mashed potatoes sprinkled with additional cheddar cheese. Then I baked it at 400 degrees until the cheese was browned.

This was a cooking class which was based on what to do with leftover turkey. I made two very large baking dishes filled to capacity. I had about 25 people eating and we had almost an entire pan left over. (11/23/2009)

By Linda
Recipes for Feeding People at a Homeless Shelter
As a post note, I did put the recipe for the turkey casserole on my blog at www.pcheflm.blogspot.com. I hope you enjoy it! The seniors loved it! (11/23/2009)

By Linda
Recipes for Feeding People at a Homeless Shelter
Here is a recipe for 96
Takes about 20 minutes to prepare and 1.5 hours to cook
Sloppy Joes for 8 Dozen
15lbs beef
6 med onions chopped
1 gallon ketchup
3/4 cup Worcestershire sauce
1/2 cup packed brown sugar
1/2 cup prepared yellow mustard
1/4 cup white vinegar
1 tbsp chili powder
96 hamburger buns, split
In two soup kettles over med heat, cook and stir beef and onions until meat is no longer pink; drain. Stir in the ketchup, Worcestershire, brown sugar, mustard, vinegar, and chili powder. Bring to a boil. Reduce heat; simmer uncovered, for 1 hour to allow flavors to blend. Spoon 1/3 cup onto each bun. (11/23/2009)

By Suntydt
Recipes for Feeding People at a Homeless Shelter
This is a good dinner by itself, but would make a good breakfast meal as well.

Hash Brown Casserole
2 lbs. country sausage (hot, mild or other; preference)
2 cups shredded cheddar cheese
1 can (10 3/4 oz) cream of chicken soup
1 cup sour cream
1 (80z) container of French onion dip
1 cup chopped onions
1/4 cup each green and red bell pepper
salt and pepper to taste (we found it to be salty so be sparing on salt)
1 (30oz) package frozen hash brown shredded potatoes, thawed
In a skillet, cook the sausage until brown. Drain well. In a huge mixing bowl, combine the cheese, chicken soup, sour cream, French onion dip, chopped onion, bell peppers, salt and pepper. Fold in thawed hash brown potatoes. Mix well.

Spread 1/2 of the hash brown mixture over the bottom of a 9x13 inch greased baking dish. Spread 1/2 of the browned sausage over hash browns. Repeat layering second 1/2 of hash brown mixture. Top with remaining sausage. Bake at 350 degrees for about one hour or until casserole is golden brown.
Servings: Serves 9 to 12 depending on portion size.
Optional: Serve with scrambled eggs to make more servings.

Helpful Hints
Make it easy: prepare casserole ahead of time, cool and freeze. When ready to serve simply that and reheat in oven.
Make it zesty: substitute a container of jalapeno cheese dip for one cup cheddar cheese.
Make it lighter: substitute 1 cup of non-fat or low-fat plain yogurt in place of sour cream.
Make it personal: bake casserole in muffin tins. Let muffins cool, then freeze until ready to use. When ready to serve, simply thaw and reheat in the oven.
Note - mother had it with a fried egg on top and loved it. (11/23/2009)

By Suntydt
Recipes for Feeding People at a Homeless Shelter
Talking that last recipe over with my mom we both agreed on the following. Add cooked chicken, chopped up (cooked in like a slow cooker or whatever is easier for you). This would increase serving portions. Put it with the sausage when you put the casserole together. (11/23/2009)
By Suntydt
Recipes for Feeding People at a Homeless Shelter
This can be assembled on site. Just don't forget the can opener. Take one or 2 very large cans of whole kernel corn, a pack or two of frozen onion and bell pepper seasoning mix, some parsley and some Italian dressing. Put the corn and seasonings in a large bowl, mix and pour the salad dressing over it. (11/23/2009)

Recipes for Feeding People at a Homeless Shelter
A great casserole that I have had consists of: a layer of cooked turkey in the casserole dish, some veggies of your choice, the gravy poured over and this is all topped with biscuit mix that has cranberries added to it. Everything is cooked already except the biscuit topping, so it's just a matter of heating it through and getting the biscuits fluffy and golden.
With ham, mum used to make scalloped potatoes with slices/pieces of ham, all layered with cooked onions and topped with cheese in a casserole dish. Good luck with it and good for you for doing something like this!
Julie (11/23/2009)

By Julie Andrea
Recipes for Feeding People at a Homeless Shelter
A good one is cheeseburger macaroni. 50 people:

approx 12 lbs of hamburger
6 lbs of macaroni
approx 6 lbs of Velveeta or generic like cheese
approx 1 to 2 lbs butter
half gallon of milk
<l>salt and pepper
You make it to taste, there is no wrong way to make it. You can add onions and mushrooms, you can make it stove top or bake it with a crushed cracker topping. Our kids were so picky we just made it straight. Very filling meal. (11/24/2009)

By Amy Higdon

I need ideas for cheap meals that are tasty to feed the homeless. I am feeding 35 people, mostly men at a shelter that our church works with presently. I need ideas for cheap entrees and desserts. Thank you so much.
By Dottie from Orlando, FL
Answers

Joan
Bronze Feedback Medal for All Time! 186 Feedbacks
November 7, 2010
1

found this helpful
Best Answer
Goulash, stew (using hamburger instead of stew meat), sloppy joes and potato salad. Casserole dishes can be made using considerably less meat than called for. For dessert cake will do the job. If a group like Ladies Aid or Circle is doing this the group could decide on one type of casserole and dessert, and every member could be assigned to bring either the casserole or dessert, and there should probably be some type of bread and margarine. One member could bring those items.

November 12, 2010
6

found this helpful
Best Answer
My late mother once worked at a conference centre that was situated in the country. Very simple fare and inexpensive foods. The kitchen typed out and copied some of the recipes they would make so I've got a bunch of them. I'll type one out for you and then give you a list of the others. If you are interested in the names of some of the recipes let me know and I'll type them out for you too.
Meat and Noodle Casserole
Serves 56
8 pounds ground beef
3 large green peppers, diced
4 large ribs celery, diced
3 medium onions, chopped
4 packages medium noodles
8 cans (10 ounces each) tomato soup
4 cans (10 ounces each) cream of chicken soup
4 cans (10 ounces each) cream of mushroom soup
Brown meat, add pepper, celery and onion. Cook noodles, drain and add to meat mixture along with soups. Pout in casseroles and bake 30 minutes in medium oven.
Other recipes include:
Meat Loaf (serves 50)
Ham Casserole (serves 50)
Chili Con Carne (serves 50)
Tuna Casserole (served 55)
Salmon Loaf with Sauce (serves 48)
Home Baked Beans (serves 20)
Angel Food Cake Surprise (serves 48)
Cherry Delight (serves 48)
Chocolate Dessert (serves 20-24)
Jello Supreme (serves 45)
Pineapple Coleslaw (serves 48)
Jellied Salad (serves 48)

June 3, 2016
2

found this helpful
Best Answer
I have served as lead cook at the local homeless shelter for men. We usually serve about 40 guys. Here are two doable dessert recipes that were a big hit. You don't have to be a cook to make them and they are great comfort food.
Peach cobbler - make this in a couple of big hotel pans. Ingredients below serve 40.
6 sticks butter, melt 3 sticks in each of 2 pans
Make batter as follows.
6 C flour
2 tsp. salt
3 Tbsp. baking powder
6 C whole milk
5 C sugar mixed with 2 tsp. cinnamon
Mix batter until smooth and pour directly over the butter, dividing batter between 2 pans.
5 cans sliced peaches (29 oz.) in heavy syrup, do not drain.
Pour peaches directly over the batter, dividing between the 2 pans.
Sprinkle 1 C sugar over top, dividing between the 2 pans.
Bake at 350 degrees for 40 to 60 minutes. Baking time will vary depending upon the width and depth of your pans.
Serve warm with vanilla ice cream.
Crescent roll apple dumplings. Will serve 40. As with the peach cobble, no cooking expertise is required.
5 large granny smith apples, peeled, cored and cut into eighths.
5 packages refrigerated crescent roll dough
Wrap each of the 40 apple wedges in each of the 40 crescent triangles, pressing to seal. Place in hotel pans in single layer.
Make sauce as follows:
In saucepan mix
4 C sugar
2 1/2 C butter ( 5 sticks)
2 1/2 tsp. cinnamon
Pour sauce over dumplings.
48 to 60 oz. mountain dew.
Pour mountain dew over top.
Oven 350 degrees. Bake 45 minutes. Magic happens while they bake. Serve warm with vanilla ice cream.

June 3, 2016
2

found this helpful
Best Answer
Here is a recipe called picante chicken. It has two ingredients: boneless skinless chicken breasts and picante sauce. The breasts are simmered on top of the stove for about 25 minutes in the picante sauce. Use about 1/3 C of picante per breast. This works best if the chicken is room temperature before dropping into the picante. I did this for 40 guys at our local shelter and it was easy and they liked it. I served with Spanish rice, so the extra picante was spooned over the rice on request.
Answer

this Question

My church feeds a homeless mission in our area. We are small and money is tight. I need some ideas on how we can feed between 50-60 men once a month.
Answers

15mhhm15
Diamond Post Medal for All Time! 1,298 Posts
April 1, 2017
2

found this helpful
Looks like Thrifty Fun has a thread for Recipes for Homeless!
- Tuna sandwiches
- Beans
- Potato Salad
- Sloppy Joes
- And so forth.
Reference,

Judy
Gold Post Medal for All Time! 677 Posts
April 1, 2017
1

found this helpful
Rice and beans is a cheap, complete meal. You want to stay away from expensive cuts of meat, chicken tenders, and fish fillets. Canned salmon is also a good choice. What about spaghetti and meat sauce?

April 2, 2017
2

found this helpful
Since you will be doing this on an on-going basis I have offered several suggestions (most all suggestions have been used by my group at one time or other).
We usually try to go with cheap but easy dinners so many times that means HoBo dinners. These are so easy and you can add almost any vegetable available and you can also add variety by using different ingredients. Just use a black marker and note one or more different ingredient on the outside of packet.
Here are a couple of links just in case you are not familiar with making hobo dinners (you may have to expand on ingredients to the number you need):
Here is a site that we use a lot for getting ideas for large groups:
www.angelfire.com/.../Servesfiftyindex.html
Here are some ideas (actual costs may not be correct) but some ideas we use:
Here is a great recipe for something a little different:
CHICKEN NOODLE SOUP FOR 32 PEOPLE
2 1/2 gallons water
8 oz. chicken base
4 oz. butter
3 lb. chicken
2 lb. medium noodles
2 tsp. parsley flakes
4 oz. chopped pimento
1 tsp. celery salt
1 tsp. salt and pepper mix
Bring water to boil. Add chicken base, butter, and cut-up chicken to water. Cook approximately 35 minutes. Add noodles, parsley flakes, pimento, celery salt and salt and pepper mix and cook approximately 30 minutes (until noodles are tender).
Serves 32 9-ounce portions.

attosa
Diamond Post Medal for All Time! 1,246 Posts
April 3, 2017
0

found this helpful
Soups, stews, chicken dumpling soup :) If you want to get fancy, you can make large amounts of curry and rice for very little money:
Ingredients
2 cups uncooked instant white rice
3 3/4 cups water
1 tablespoon vegetable oil
3 teaspoons curry powder
1/2 teaspoon salt
1/4 teaspoon ground cumin
Dash ground red pepper (cayenne)
1 small onion, coarsely chopped (about 1/3 cup)
1 clove garlic, finely chopped
6 small red potatoes, cut into 3/4-inch cubes (2 cups)
2 medium carrots, cut into 1-inch pieces (3/4 cup)
1 extra-large vegetarian vegetable bouillon cube
1/2 medium red bell pepper, coarsely chopped (1/2 cup)
2 tablespoons all-purpose flour

Cook rice in 2 cups of the water as directed on package.
In 3-quart saucepan, heat oil over medium-high heat until hot. Add curry powder, salt, cumin and ground red pepper; cook and stir 1 minute. Add onion and garlic; cook and stir 1 minute longer.
Add potatoes, carrots, bouillon cube and 1 1/2 cups of the remaining water. Heat to boiling. Reduce heat to medium; cover and simmer 10 minutes.
Add bell pepper; cover and simmer 4 to 6 minutes or until vegetables are crisp-tender.
In small bowl, mix remaining 1/4 cup water and the flour until smooth. Add to saucepan; cook and stir over medium heat until mixture boils and thickens. Boil and stir 1 minute. Serve over rice.
(Above is a recipe for 4)
Read More

Answers