Pghgirl40
Bronze Feedback Medal for All Time! 196 Feedbacks
October 12, 2020
0

found this helpful
Best Answer
Thanks for the additional photos and the photo of the scale. The scale is very cool! They sell in the 20-30 range online! That was an especially nice find.
I doubt the doll and the scale are related by year.
I believe the doll is a kit doll also. Which one is a challenge because many of them had no markings or were marked like yours with a single letter.
The snaps on the clothing do appear to be older than the doll--maybe 1960s snaps so perhaps the owner used a real child outfit on the kit doll made at a later time--maybe for that child's child in the 1980s or 1990s.
Kit dolls like these gained huge popularity from the 1970 through the 1990s and even in to the early 2000s. I would place yours 1980s ish.
Why I believe it to be a "newer" kit doll is for a number of reasons... the head/neck is very cleanly crafted--a true antique doll head is (usually) very roughly made and the neck has wear. Also many of the very old dolls had rooted hair (usually real or mohair).
The body also looks very new (and clean), machine made.
The stuffing is also newer. Old dolls were often stuffed with a sawdust mixture or straw or rags.

I belong to a number of Facebook groups where there are gals and guys who have specialties and someone may be able to pinpoint the maker or give you more info. You cannot ask value there, but I can help with value if they can give you more specifics. I can give you lots of general info.
The group is called Porcelain doll collector's + accessories buy and sell. You have to ask to join and then you can upload all of your photos and ask if anyone can confirm the maker.
Looking forward to learning more. Post back what you learn and thanks again for the additional photos. Good luck with the scale also!

poehere
Bronze Post Medal for All Time! 105 Posts
October 12, 2020
0

found this helpful
Best Answer
After reading your second description of the doll and how it is made this doll is made by a kit. I fear that the person had the kit stored for several years and that is why the body looks older than the stuffing. the stuffing in the kit could have gone bad and that is why they purchased new stuffing to stuff the doll with. Considering the legs and arms are hand sewn on the body of the doll indicates again this is from a kit. You normally sew the body of the doll, then stuff the parts, and hand-sewn them to the body of the doll before you finish the doll. When my daughter was in grade school she had to do a report and make a doll to go with her report.
I ended up buying the different parts at a hobby store to help her make her doll. We did have to modify a lot of the stuff I bought because the doll was a history doll to go along with her report. I know the body of the doll is exactly as you are describing here and these types of bodies always came in a kit. My mother has some very old dolls that are around 80 years old and the construction of these dolls is very different even though they have soft stuffed bodies.

Pghgirl40
Bronze Feedback Medal for All Time! 196 Feedbacks
October 11, 2020
0

found this helpful
Can you show the mark?
You stated the body is cloth. Can you tell if it is stuffed with cotton or sawdust or something else?
Can you tell if the hair is real or mohair or synthetic? Synthetic feels slippery and real human hair feels rough, as does mohair.
Before I comment I want to be sure what I am seeing.
Also are the clothes machine or hand stitched and can you show the doll unclothed so I can see how the arms and legs attach?
Hopefully with more info, I can go down the right path! Thanks!

October 11, 2020
0

found this helpful
Yes ma'am, I will take some more picures this evening and post them. I think I can possibly answer some of your questions though... I'll try to answer them in order. 1) the body seems to be re-stuffed with polyester. I say that because the stuffing appears newer while the cloth is pretty "old". 2) the hair is painted over the molded hair.
There is no real hair, mohair or the like... Just paint. 3) the stitching is by hand and the arms and legs are "sewn into" the body- somewhat loosely I might add as the stitching is pretty worn. I will take many more pictures tonight in an effort to show what you have asked. I cannot thank you enough for your help. Have a good night.

Ana
Bronze Post Medal for All Time! 140 Posts
October 11, 2020
0

found this helpful

Ana
Bronze Post Medal for All Time! 140 Posts
October 11, 2020
0

found this helpful
To add to the link I sent, this doll appears to be a kit , that you can personalize to your liking. It looks to be more newer than older. Here are the many kits that are offered to create your own - www.bing.com/.../search?q=bisque+doll+kits%3f&qpvt...

October 11, 2020
0

found this helpful
i don't know if this matters, but the doll was in a garbage box with this baby scale. i am familiar with this one, i believe. it is an actual 'baby scale' so that people could track their baby's weight at home. it was made by the Paragon Furniture Company in the 1930's... I'm guessing, at some point, to be banned from the shelves. I don't know if it has anything to do with the doll, but they were found together.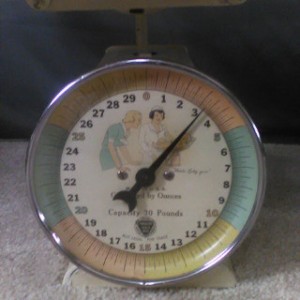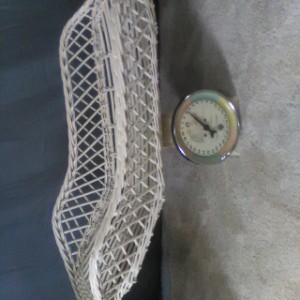 October 12, 2020
0

found this helpful
i cannot begin to thank all of you enough for sharing your knowledge and experience. i came here knowing virtually nothing about dolls, hand-stitching or that there such a thing as a kit-doll. i am leaving here a much smarter man. i'm glad i 'took the plunge' and got the nerve to post a question here. please, keep doing what you're doing what you are doing,... the world needs more people like you. thank you again. take care.

October 13, 2020
0

found this helpful
I also believe your doll was made from a kit but still looks to be nicely preserved.
Most likely, someone really enjoyed making this doll and was most likely made for someone special. Sad that it almost ended its life in a dumpster.
So much information has been provided already so there is no need to duplicate it.
If you're still interested in digging a little further you can always ask your question on one or more of the doll forums as these members can usually identify almost any doll - even kit dolls.
One of their requirements is having several good pictures.
They always want pictures of the full figure (front and back) with clothes and without any clothes (front and back) and closeup of face/hair with no bonnet.
They also want pictures of any marks so this is a little trouble but they usually provide a lot of information and sometimes show links to similar dolls that are listed for sale or sold.
www.facebook.com/.../
www.tapatalk.com/.../
www.facebook.com/.../
www.facebook.com/.../