I found this antique doll in the trash. I have been searching for weeks trying to identify it but to no avail. It is a 16-inch, bisque head/arms and legs, a cloth body, painted hair, and obviously the clothes.
There are no markings, except inside the head and one of the legs is an "etched" letter 'B'. There are no tags on the clothing. Can anyone please help me find what this is?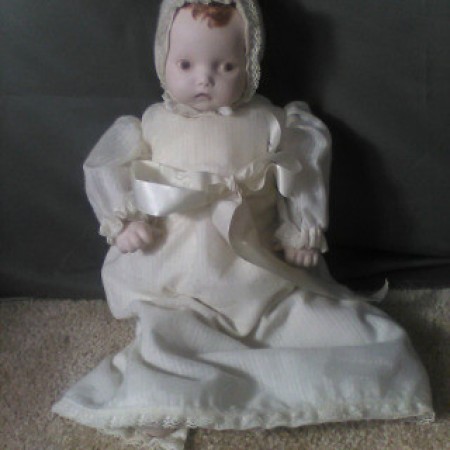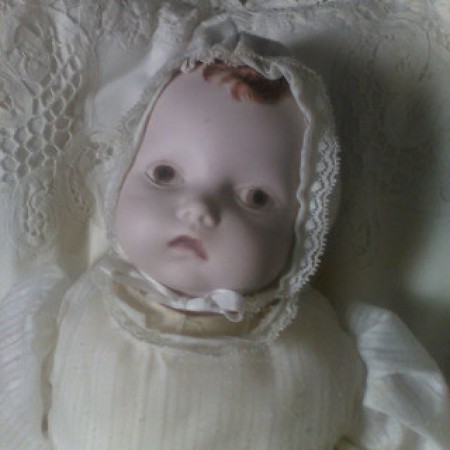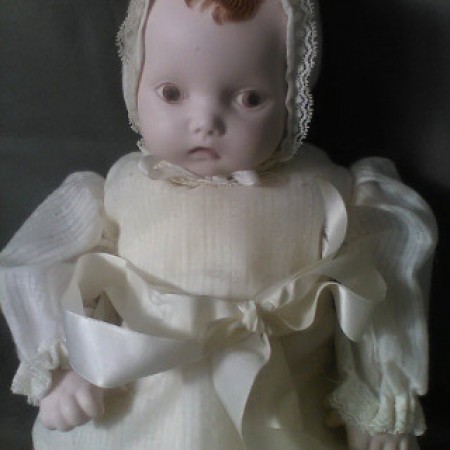 October 12, 2020
0

found this helpful
Best Answer
Thanks for the additional photos and the photo of the scale. The scale is very cool! They sell in the 20-30 range online! That was an especially nice find.
I doubt the doll and the scale are related by year.
I believe the doll is a kit doll also. Which one is a challenge because many of them had no markings or were marked like yours with a single letter.
The snaps on the clothing do appear to be older than the doll--maybe 1960s snaps so perhaps the owner used a real child outfit on the kit doll made at a later time--maybe for that child's child in the 1980s or 1990s.
Kit dolls like these gained huge popularity from the 1970 through the 1990s and even in to the early 2000s. I would place yours 1980s ish.
Why I believe it to be a "newer" kit doll is for a number of reasons... the head/neck is very cleanly crafted--a true antique doll head is (usually) very roughly made and the neck has wear. Also many of the very old dolls had rooted hair (usually real or mohair).
The body also looks very new (and clean), machine made.
The stuffing is also newer. Old dolls were often stuffed with a sawdust mixture or straw or rags.

I belong to a number of Facebook groups where there are gals and guys who have specialties and someone may be able to pinpoint the maker or give you more info. You cannot ask value there, but I can help with value if they can give you more specifics. I can give you lots of general info.
The group is called Porcelain doll collector's + accessories buy and sell. You have to ask to join and then you can upload all of your photos and ask if anyone can confirm the maker.
Looking forward to learning more. Post back what you learn and thanks again for the additional photos. Good luck with the scale also!