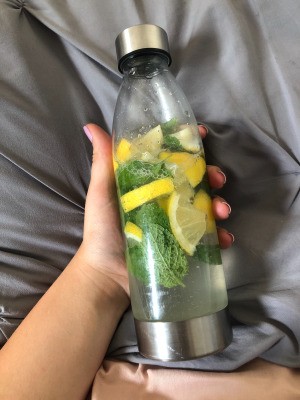 I used to had horrible horrible acne. And after help from a dermatologist, I became mostly clear, but there was still discoloration and a dullness in my skin that wasn't worth the money to fix. That's when I started making detox water. This CHANGED my skin.
One, it is very delicious. Two, it makes you drink lots more water. And three, it helps clear your skin, make it glow, and aids in weight loss. How easy!!
You will need a reusable water bottle, 1/2 of a lemon, and 5-10 mint leaves.
This will make 1 refillable bottle for the day.

Cut the 1/2 lemon into slices, then cut those slices into 4 pieces.
Remove the lemon seeds so you don't have to deal with them when drinking the water.
Add 5-10 mint leaves, or however many you prefer.
Add ice, if you want.
Add water and shake for 20 seconds.
Enjoy! Refill using the same fruit and leaves as many times as you want throughout the day.