May 12, 2013
0

found this helpful
It is hard to tell by looking. You have a darling little sweetie pie there!
May 13, 2013
0

found this helpful
Here is his mom. I cant get my pups picture. These are his sister and brothers.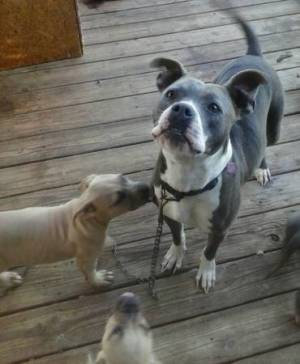 May 14, 2013
0

found this helpful
How much Pit do you think he might have in him?
May 16, 2013
1

found this helpful
Alix, it's hard to say. Looking at all of the pics you've posted it looks as though Mum has at least one Boxer grandparent, or possibly a parent with at least half-Boxer in the mix. She looks as though she is the result of one or both parents having Boxer genes in there+breed back with Pit or American Staffordshire Terrier.
Dad having the same sort of gene pool might easily result in a throw-back puppy with that Boxer head.
Without seeing the pups in person it really is hard to say what the split is but as a former US breeder of AKC registered Boxers (40+ years) I'm going to take a chance and say the mix is probably 3/4ths Pit or Staffie and 1/4 Boxer. Might be as much as 3/5ths Pit or Staffie and 2/5ths Boxer, though.
The mix can be important for all sorts of reasons-mainly because so many locales are now legislating against certain breeds as dangerous; I think it's safe to say you have a Boxer-Bulldog mix and need to be aware of the laws and requirements in your area about these kinds of dogs.
You should consult with a canine vet who will observe, identify as much as is possible, and advise if he/she feels the Pit or Staffie bloodlines are going to be dominate. You'll also be best off if you check with your local animal control office for any laws requiring specialty insurance, protective fencing, lead and muzzles in public, etc.
Even if the Boxer characteristics are going to dominate (highly likely with that darling knobby head), you should still do some research regarding laws in your area as some US towns and states are now considering Boxers as dangerous.
LOL (but it wasn't really funny) when I moved to Georgia in 2005 my ancient Boxer was refused lodging at 'pet friendly' hotels, and finding a place to rent long-term was next to impossible because that area of GA considered Boxers 'dangerous dogs'. The only danger he presented was if he sat on you-he'd either squish you or drown you with his drool, but as his owner I had to carry specialty insurance, fence the yard of the home I bought, and always keep him leashed and muzzled in public.
I live in the UK now and it is the same here regarding 'dangerous breeds'.
I will say this, your puppy is gorgeous, and with proper training will be a wonderful companion. Boxers, and Boxer Bulldogs make fantastic companions if training is done early, is lifelong, and humane. I hope you'll keep this page updated with the progress.
If you decide this is a mixed-breed pup you aren't able to cope with owing to the training and potential legal requirements, I hope you will find a breed rescue group who can rehome the little love to a home well-versed in giving a high quality life to a Boxer-Bulldog.
May 16, 2013
0

found this helpful
I dont want to get rid of him. I bought for protection.
May 18, 2013
0

found this helpful
Well, if protection was the main reason for choosing this particular puppy, you've chosen very well! All three possible breeds in his gene pool (Pit or Staffie and Boxer) are excellent natural bodyguards.
Boxers especially make fantastic family protectors because they are super-intelligent and wonderful at being able to very quickly determine if someone or something presents a potential threat to his/her family. (But then again, I am especially pre-disposed to Boxers, lol, so take that bit with a grain of salt:)
The important thing then is to be sure that you start your puppy's training now. He's not too young at all to begin being socialised (to avoid indiscriminate 'protection' behaviours that unfortunately can be misunderstood as 'aggressive'), and obedience trained.
Obedience training is especially important with these breeds-the dog must be trained to obey you instantly no matter what distraction he is presented with.
Depending on where you live you should be able to find a training programme through either your local tax supported public recreation services or through a private training company.
A public recreation services programme will focus on training your dog to be a 'good citizen' and protective family companion; the private companies will have specialised focusses that can range from the same sort of training that the public programmes do to training the dog to be strictly protective.
Private training programmes need to be carefully chosen-not only are they very pricey, there is an unfortunate trend lately for a lot of the private companies to use inhumane training routines that primarily utilise fear reinforced with what most loving dog owners recognise as physical abuse.
Sorry it took me a couple of days to reply, I set this to be followed but didn't get a notice you'd posted again.
February 15, 2019
0

found this helpful
I had a boxer for years, he recently passed, but he was a very gentle and great guard dog! We always went for walks and one day another dog walked up behind me and was getting ready to attack me but my Brutus jumped in and stopped it! He didn't hurt the other dog at all and I was so surprised at how fast he could be if needed lol. Brutus was an old feller and I miss him so much! I just wanted to let you know boxers are a great breed! I now have two pitbull/boxer pups. They are brother and sister and just a little over 3months old. I'm working with them and I must say my female(Charlie) is a feisty one! Her brother(Tank) is the sweetest and loves to be held. When I got them I was told they are pit/boxer but with Charlie I can't tell anymore! She kinda looks like the photo above with the tan puppy. That's what brought me here when I seen it. Any thoughts??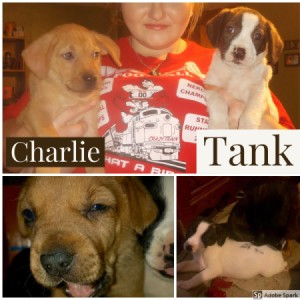 May 18, 2013
0

found this helpful
OK my puppy is 4 months old. I'm still trying to learn how to train him. None of those are my puppy, but he came from that litter.
May 19, 2013
0

found this helpful
Four months is the perfect time to begin training, good luck to you both!
May 20, 2013
0

found this helpful
Where can I learn how to train him?
May 21, 2013
0

found this helpful
Training programmes can be found through your local tax payer supported parks and recreation services, the fees are usually reasonable and the dogs learn to be 'good citizens'.
Professional dog training companies can be found through your local business directory (phone book or business registry). These are expensive and you have to be careful the programmes don't use fear and physical violence as part of the training programme.
You can also use your preferred search engine to run a search for free online training information. I like the following site for good, humane training tips:
dogs.about.com/.../Dog-Training-101-Essential-Steps...
The other pages at that site are fantastic for all kinds of great tips on being a good dog owner. Plus there is a free-to-join forum so you can 'talk' to other dog owners about every aspect of being a good dog owner.
Please update and let us know how you both are getting along in your new life together:)
August 13, 2017
0

found this helpful
Looks like he has black mouth cur in him. But still his a very good dog. Red nose pit and black mouth cur make awesome dogs
August 14, 2017
0

found this helpful
Feed him!