Japanese Chicken Curry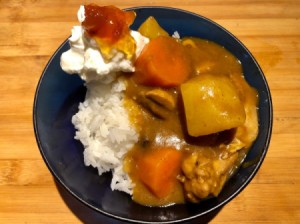 Japanese curry is different from Indian curry because it's more of a hearty stew. It tends to be much less spicy and has big soft chunks of veggies and meat. This is the way I make it when I'm in a rush to make a lot of food in a short amount of time. A dollop of cooling yogurt and a drizzle of citrus preserves make for the perfect accompaniment for this dish. I hope you try it!
You can find the curry sauce mix at most stores now in the international section. This one in particular is S&B Curry Sauce Mix. It's also available on Amazon and many other online shops. I used half a box of the sauce mix in this recipe for 6 people. This recipe doubles perfectly when you use the entire box. All the veggies and meats are cut into bite-sized pieces.
Prep Time: 10 minutes
Cook Time: 50 minutes
Total Time: 1 hour
Yield: 6 servings
Ingredients:
1 large onion, peeled and chopped
1 inch piece of fresh ginger, peeled
1 apple, peeled
1 lb raw boneless chicken, chopped
1 carrots, peeled and chopped
2 potatoes, peeled and chopped
5 large mushrooms, quartered
3 1/2 cup water
4 ounces curry sauce mix
1 Tbsp Worcester sauce or tonkatsu sauce
1 tsp curry powder
steamed white rice
yogurt
citrus or apricot preserves for drizzling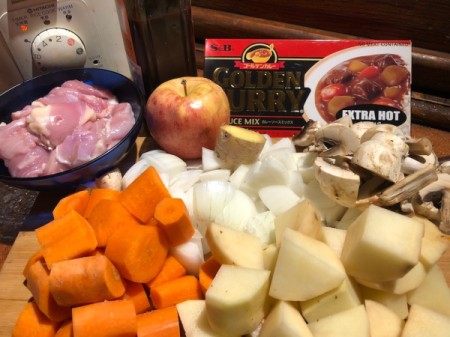 Steps:
Fry onions in a bit of oil in a large pot over medium heat for about 5 minutes, stirring frequently.

Grate ginger into the onions.

Grate the 4 sides of the apple into the pot. Discard the core. Cook everything for a couple more minutes, stirring frequently.

Add the chicken and cook until lightly browned.

Add carrots and potatoes. Cook for a few minutes, stirring frequently.

Add water to the pot and bring to a boil over high heat. Reduce heat to low, cover and simmer for 40 minutes until the meat and veggies become tender.

The sauce mix comes in two pouches, 4 ounces each. You'll just need one pouch.

Remove the sauce mix blocks and chop into smaller pieces.

Drop them into the pot and stir well.

Add Worcester sauce and curry powder. Mix well.

Allow to simmer 10 more minutes, uncovered.

Pour curry over steamed rice. Serve with a dollop of yogurt and a drizzle of preserves. I used my mum's homemade kumquat jam. Delish!
Add your voice! Click below to comment. ThriftyFun is powered by your wisdom!

June 20, 2018
0

found this helpful
Toosa - 10 minutes prep time? It will take me that long to chop the onions!
This does sound good (even if it takes me longer prep time) as I like curry but not quite as many spices as most recipes call for so this looks like I could follow your guide all the way.
Maybe I'll hit my son with it on Sunday as he likes "new" dishes also.
Gotta go - make my list for shopping tomorrow.
thanks - again.

June 21, 2018
1

found this helpful
Betty! I feel like I should share my tips on how to chop veggies and meat super quick? I thought I had it down well most of my cooking life, then my mum made it all the faster recently. When I can get one of my "photographers" with me for my next chopping session, I'll post some tips!
I do hope your son likes this. Remember that the yogurt for cooling as a topping is a HUGE key. Sometimes if I have all the ingredients to make this handy, but I don't have yogurt in arm's reach, it's a no-go! ;)

June 21, 2018
0

found this helpful
I love Greek yogurt so that is usually always available and I will remember.
I will be looking for your tips on chopping vegetables (and anybody else who wants to jump in) as I am a slow-poke with this "chore".

June 27, 2018
0

found this helpful
Sounds & looks delicious. Need more detailed info on the curry sauce mix. Brand & where to buy it. Also, is there a substitute?
Thanks for sharing

June 29, 2018
0

found this helpful
Hi Evelyn! The info on the curry sauce is in the second paragraph of this recipe :) Here is some more info for you. This one is S&B Curry Sauce Mix. I've seen it in many grocery stores in the Asian/International section, but you can also get it at some Targets, Walmarts, and Amazon (but Amazon's is more expensive) Here is a link:
www.amazon.com/.../B0011UGYLM?th=1 (Affiliate Link)
There are other brands. This is another good one that's a bit more "rounder" in flavour:
www.instacart.com/.../189970-house-foods-hot-vermont-curry...

likekinds
Gold Post Medal for All Time! 523 Posts
June 28, 2018
0

found this helpful
You outdid yourself with this one, Sweet Cheeks. I think you missed your calling. Shall I put in a good word for you at Maxim's?

Stella
Silver Post Medal for All Time! 254 Posts
July 1, 2018
0

found this helpful
Really looking forward to trying this recipe! My friend makes this often but I still haven't snatched the recipe off of him. I think he likes to keep it to himself so we have a reason to come visit him. ;)

July 2, 2018
0

found this helpful
I love this brand of Japanese curry and have used it a few times but not as hot as the one you pictured. Thanks for some more ideas on what to cook soon. Pinning it!
Add your voice! Click below to comment. ThriftyFun is powered by your wisdom!
Published by ThriftyFun.
© 1997-2022 by Cumuli, Inc. All Rights Reserved.
https://www.thriftyfun.com/Japanese-Chicken-Curry.html