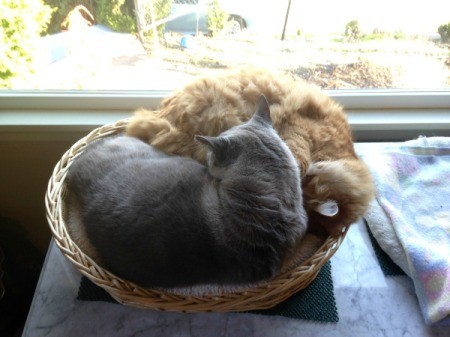 Your Pet's Age
They are both approximately 8 years old.
Your Pet's Breed
Karma appears to be a Maine Coon and Numi is a Lilac Point Siamese mix.
How and when did you get your pet?
We got Karma from the local animal shelter. He was about 2 years old at the time. There he was, pressed up against the cage door talking away. Although I did not want a longer haired cat, he won us over with his sweet, gentle self.
Numi came a bit later when we decided to get a companion for Karma. Everyone, including our vet, suggested we find a female. When we met Numi in the pet room at the Cat Adoption Team facility in Portland Oregon, we knew he was the one. There was no need to separate them, or conduct lengthy introductions. We released Numi from his carrier and they have been fast friends ever since.
What does your pet like to do for fun?
Karma loves to play with his soft foam balls, the laser light, and to cuddle with his catnip carrot and mice. Numi likes spools, balls, the laser light, and getting into trouble.
They wrestle and chase each other through the house, leaving orange Karma tuffs in their wake. And of course when not playing and meowing for food they nap.

Do you have anything else to share about your pet?
I call these guys, especially Karma my puppy cats. They are as loving as any dog, greeting you at the door when you come home. Numi and our Belle (Xoloitzcuintli) loved to play and chase each other through the house. Numi missed her for quite a while after she passed.
Add your voice! Click below to comment. ThriftyFun is powered by your wisdom!