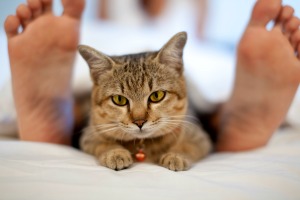 With a king sized bed, washing bedding is a major task - and washing blankets and comforters sometimes necessitates a trip to a laundromat to use the high capacity machines.
Having two cats sleeping (and shedding) on the bed does not make this any easier. I have a duvet cover for my comforter, but even that takes up an entire load on its own, and in the summer we don't use the comforter at all.
I simplified my life, and reduced my laundry expenses, by buying a few flat sheets that coordinate with my bedding and decor. When I make the bed, I spread the flat sheet across the top of the bed (I usually turn it sideways so it hangs nicely - but each sheet varies a bit in dimensions). When I change my sheets, I just grab this sheet also - throw them all in the wash together - and then I have a hair free bed topper and less bulk in my laundry.
By Regina from Rochester, NY
Read More

Comments
How can I keep cat hair off of my bed? (Notice that I didn't ask how to remove the fur.) I "could" keep a blanket over it all the time, like I do now, but then what was the point of getting such a pretty bedspread? Any tips? Solutions? Also, does anyone know how much it typically costs to have a comforter dry cleaned?
By Jennie from Tempe, AZ
Answers
September 10, 2010
0

found this helpful
If you're wanting to prevent cat hair from ever getting on your bed in the first place, the only way I know is to keep the cat(s) off of the bed. Besides using a throw to protect it. If I wanted to make sure my cats don't get on our beds, I'd have to keep the bedroom doors closed all the time.
September 13, 2010
0

found this helpful
Every time you see the cat on the bed shoot it with a spray bottle of water. They hate that and will learn really fast. Be sure to close your bedroom door when you leave the house. They are not stupid.
September 14, 2010
0

found this helpful
I understand that you want your cats on the bed. after all, they are of ancient royalty. Simple rubber dish gloves are what the pros use when they come into your home to shampoo your carpet and furniture. Just put them on and rub the hair right off. It just rolls right off the fabric into the glove. Amazing. Try it.
September 14, 2010
1

found this helpful
If I want my cats to be able to snooze on a piece of furniture but don't want the upholstery or, as in your case, bed covers, inundated with fur, I find a light-weight throw or make one that's easily removed and washed. I found a thin cat-themed quilt at Sears that I use to cover my recliners. I bought several of the same design so I can replace one when I wash it. I got pillow cases to match, and we have covers for our back pillows, as well. My experience with a large pride of rescued cats is that there's really no getting away from fur. Half the time if I cover a piece of furniture, they like to burrow under it and use it as a cover. My "smart" solution is inevitably defeated. Last time I had a queen-sized comforter cleaned it cost around $12.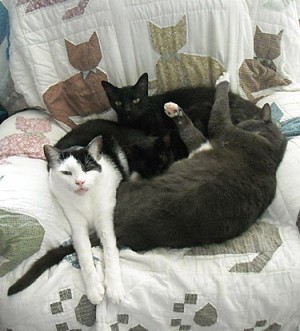 September 14, 2010
0

found this helpful
I have a room ionizer but that does not seem to help me since I have so many cats, however it could be part of your plan. Also, how about a sheer bed throw; your pretty quilt will show through and the sheer will catch some of the fur, though not all.
September 14, 2010
0

found this helpful
You can't. I have the same problem. Since my cat sleeps with me I keep a king size sheet over the top cover. I do the same in the spare bedroom where she sleeps in the morning. If company is coming I remove the sheets. She sleeps in the afternoon on the couch. I have a throw folded at one end and she thinks I don't want her on it so she sleeps there. It is just part of having a cat.
September 14, 2010
0

found this helpful
One way to "train" the cats to stay off is to put tin foil on the bed, they won't jump on it after they see how uncomfortable and noisy it is! Try it!
September 14, 2010
0

found this helpful
The price to clean a comforter varies according to size and from cleaners to cleaners. Call around. Also, there are often ads for a discount in the Penny-saver. I, however, wash my comforters and dry them in the dryer. The washer load may become off balance so you may need to re-shift the comforter a few times. I put a few old tennis balls or clean canvas sneakers in the dryer, which keeps it fluffy and not matting the fill.
Read More

Answers