Cyinda
Bronze Post Medal for All Time! 213 Posts
May 21, 2010
0

found this helpful
Best Answer
It's possible your cat has allergies to its food. You might want to use a grain-free cat food for a few weeks to a month to see if it will help. It's kind of pricey, but I recommend Evo Herring & Salmon. Cats LOVE it (even picky eaters) and it has 50% protein and NO grain!
Also, if your cat has really dry skin, try adding Salmon oil to its diet.
ALSO: Here is a phone number for a high-end pet store near me (it's like a health-food store for pets) & they REALLY know their stuff. Call them and ask about your cat. They are super-friendly & open 9:AM to 9:PM PST.
MUD BAY PETS:
360-459-9200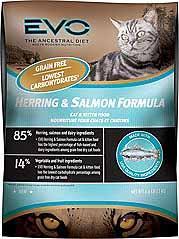 Robyn Fed
Silver Post Medal for All Time! 398 Posts
May 21, 2010
0

found this helpful
Best Answer
Here is what I would do if I had this as one of my fosters.
First I would take away the spray with tea tree oil in it since cats can be harmed by tea tree oil.
Second, if the cat has a long coat, I would trim it, and then look for pustules or sores under the cat's coat.
All allergies, most of the time show up through the skin.
Buy a can of mackerel at the Dollar Store or Dollar General and give it a little each day.
Don't buy cheap cat food. Moist food is better than dry.
I would look for meat and not meat by products as a first ingredient.
Does the cat let you bathe her or him?
If the answer is no, then I would take a rag each and every day and have it wet with water, but not dripping, and go over the skin, softly, to the bottom of the skin where the hair starts to grow.
When you find sores, and you probably will, take a dosage syringe that you can buy at the drug store to give kids their RXs with, and fill it with peroxide.
Quickly feel for a sore or bump and squirt it on the bump. Quietly with no fanfare, keep the cat near, if possible, make sure it doesn't lick the peroxide. After a minute or even less, wipe the peroxide off with a wet rag.
Never use a flea collar on a cat. They are nasty.
Do get a drop of olive oil and give it to the cat, maybe by putting it on it's paw.
I would also look into buying fish antibiotics and giving him or her a round of those, if you can't afford the vets. I will look up the dosages for the cat after you let me know what size and weight it is.
I would use Drs. Foster and Smith, in their fish supplies and get cephalaxin. I wish they sold z paks, but they don't.
I would do a kitten formula with two drops of infant vitamin added:
evaporated milk mixed with water
water
glop of mayonnaise
2 drops of infant vitamins
Tell me how t his works if you like.
Robyn