I have a 10 year old male Staffy and a 2 year old female Staffy who had puppies by the male 7 months ago. These two dogs loved each other until she gave birth. We kept one pup. The two adults now hate each other, with especially the male showing a lot of aggression towards the female.
They have had a number of seriously bad fights, with the female breaking the nose of the male twice and once almost killing the male. The male is stronger by far and is the attacker (female is very scared of him), but does not last long in a fight due to his age. I have neutered both four months ago, but it did not help. I have separated them, one in the back of the house and the other at the front, but the moment you put them together they immediately fight with blood all over the place. I literally have to separate them with a long iron pole as they will simply not stop.
What is going on here? We are not aggressive people, they are very good to the kids and used to love each other a lot, but since giving birth it is war in this house. If I take them for a walk they are OK with each other, but the moment they are back home they fight. Any one with some ideas?
Answers

coville123
Silver Post Medal for All Time! 433 Posts
October 18, 2017
0

found this helpful
Best Answer
Dogs fighting.
The female hormones from her pregnancy can elicit fights.
Testosterone in males can cause males to be aggressive.
Usually one dog tries to rule things one dog usually is the boss of the other dog's.
They may fight over food,toys,bones,attention from their owners,and places they sleep.
If the lower ranking dog does not back off the higher ranking dog this could cause a fight. Example if the lower ranking dog refused to stay away from a bone or owner etc.
You can go to the ASPCA'S breaking up a fight for more advice here is the link pethelpful.com/.../-Why-are-My-Dogs-Suddenly-Fighting
A younger dog who has reached social maturity may not give into the other dog any longer causing fights.
It is highly recommended you call in a professional dog trainer.
Read the page of the link I gave you to understand more about why your dog's are fighting.
I have had dog's that fight and it can be dangerous to intervene.
October 18, 2017
0

found this helpful
Best Answer
It sounds as though the female went into an protective state because of the puppies, a lot of the time males will kill offspring. She was more than likely just keeping them safe in the beginning.
Now it sounds more like they are being possessive over territory. They both feel like they have exclusive rights over where the other one may be. You mentioned you kept one pup, that you separated the adults on different ends of the house. Where does the pup stay?
I'm wondering if in separating them you may have unintentionally isolated the male and now he has to fight to remain in other areas of the house. If they once were a happy pack and they have no problems outside of the home while on walks it really sounds territorial to me.
Answer

this Question
I am the owner of 3 Pit Bulls, a mom and her two daughters who are now almost 2 years old. I think I am having a pack issue. Well the girls are fighting like crazy I have already spent close to a grand in vet bills. I am not sure that any obedience training will do any good. Since the first really bad fight happened it has only escalated. Now I have to keep them separate. I have a close friend who is willing to take one of the girls, but it just breaks my heart. Help!
By Darlene V.
Answers

November 1, 2011
0

found this helpful
With no disrespect it will break your heart when these three females kill each other. Even if the parent animal and off-springs are de-sexed they will fight for domination and do you really want to see them tear each other to shreads. You have a "fighting breed" to start with and have escalated the problem by having three "same sex" animals together.
For God's sake in the best interest of the Dogs keep the mum (if you must) and surrender the two daughters to the RSPCA. your Vet will not be happy to lose on-going finance and can't understand their attitude in all of this.

Robyn Fed
Silver Post Medal for All Time! 398 Posts
November 1, 2011
0

found this helpful
Hi There,
I have the utmost respect for all pit bull owners, I love the breed myself. I have found no better resource on pit bull behavior and getting along then this rescue out of Seattle. I wish we had a program here like they have. If you go here you will find a lot of wonderful information!
www.bullseyerescue.org/
Good luck and give them all a pat!
www.bullseyerescue.org/
Blessings,
Robyn

(Guest)
Gold Post Medal for All Time! 846 Posts
November 2, 2011
0

found this helpful
For goodness sake, if your friend is willing to take one of the girls just do it! Why should that break your heart? You'll still be able to visit her! The longer you allow this to go on the larger this problem is going to grow and it could cause permanent negative behavioral problems. And as FARSTAR mentioned, your heart is going to break a whole lot more when (and it will eventually happen) one of them kills the other.
I mean no offense but your selfishness is harming both those girls in one way or another and maybe even the mom too.
I also hope you've already had all three of the females spayed and, if not, do so as soon as possible. There are already enough unwanted and abused dogs in this world. :-(
Answer

this Question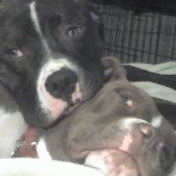 I have 2 Pit Bulls, Ricco who is a year and 3 months and Ace Boogie, who is a year and 2 weeks. For the most part Ricco is very dominant over Ace, but Ace has been fine with that (Ace weighs about 14 more lbs that Ricco).
Today and about 2 weeks ago, they had the worst fight over a bone. They would not let each other go and there was a lot of blood and punctures. The only thing that got them off each other was a pitcher of water that I had in the fridge.
Two minutes after I separated them, they were back to normal, licking each others wounds and playing nicely. I am worried that these fights are going to keep happening, and that one of them will get really hurt. Please do not suggest I give them up or keep them separated, this is not an option I am willing to accept. Thank you.
By yessy from Bossier City, LA
Answers

Robin
Diamond Post Medal for All Time! 5,887 Posts
December 25, 2009
0

found this helpful
First, if your dogs are not neutered, then you definitely need to make sure that is done. Also, it is not uncommon for 2 dogs of the same sex living in the same household to have a problem with the dominance issue. Cesar Millan has some great books. I would read them and I will contact a behaviorist before one of your dogs kills the other. With pit bulls, believe me, they are more than strong enough to kill each other.

December 27, 2009
0

found this helpful
First, it is good to understand the background of a dog and the purpose for which it was intended. Pit bulls where bred to fight to the death other dogs for sport. This is bred into their nature.
I have a boxer, which were bred to go out into the fields, etc, to chase down wild boar, etc. They were to hold them down until a hunter arrived. Now, I love to fetch with a dog. However, it is not in my dog's nature to fetch. I would have to teach him to fetch. If I didn't wish to teach a dog to fetch, I would have a lab, whose intended purpose is to go out and bring back a duck (fetching).
That being said, due to the nature of what a pit has been bred for, I would suggest that you contact a good dog trainer in your area. He/she would be able to advise you and help you train your dogs to be able to get along.
Because of the fact that this is a life-threatening issue (of your dogs), I would not attempt to read a book and train on your own. Then, your last resort would be to rehome one of the dogs. At least you could have the piece of mind knowing that you did the absolute most you could to to preserve the situation. Good luck!
Answer

this Question
My friend has 2 German Shepherds, 3 years old and 1 1/2 years old. She has had the 3 year old from the age of 8 weeks. The second dog is a rescue dog. Jackson the 3 year old, did not have a problem with Max at first. However, Max has no social skills, he has bitten a couple of people, workmen that have come into the house, and barks until the people leave.
Max got castrated about 4 weeks ago, since then Jackson has been very jealous. He attacks and taunts Max, until it ends up in a full blown fight, attacking each other and biting each others throats. Blood has been drawn and I am afraid that they are going to seriously harm each other.
Sharon does not want to give Max back, as he is a lovely dog, but she is afraid that the dogs are going to seriously hurt each other, maybe ending in a fatality.
Please help. Thank you.
By Alison E
Answers

August 23, 2012
0

found this helpful
In the best interest of both Dogs you need to surrender Max to the German Shepherd Rescue/RSPCA before both animals seriously injure each other (or worse) If Max came from a registered pet resue by law he has to be de-sexed irrespective of age. And in any case it is not a great idea to have two male dogs together. Through no fault of his Max may have been removed from his Mother and siblings before eight weeks of age.
Had no one who had owned and understood the Breed so his attitude is I'll get you first before you get me. And legally you are responsible if he attacks a person or another Dog I really do feel sorry for you because you are trying to give this poor animal a good home.
Have bred/shown/trialled German Shepherds all my life and give you full credit but please seriously consider talking to registered German Shepherd breeders about this troubled boy. Good luck please keep us all informed.
Answer

this Question