February 22, 2017
0

found this helpful
The people who sell Benjamin Moore paint help you with this. I took a sample of my carpet and a single vertical blind and they did a wonderful job advising me
February 23, 2017
0

found this helpful
Thanks but they only gave me a handful
of swatches. I'd rather have people's input from this site or if there's an expert on color or decorating.
February 23, 2017
1

found this helpful
The second one would bring out the black/grey tones of your counter top and contrast your cupboards. Happy remodeling.
February 23, 2017
1

found this helpful
I lean toward the warmer, more welcoming colour, but I've also found that visitors tend to spend more time in my kitchen / dining area (which is fine, of course). I guess it depends where you want to do most of your entertaining?
February 23, 2017
1

found this helpful
I like the darker of the flooring and would go with a color a shade or two lighter or darker than the cabinets. I do like the samples you have picked!
February 24, 2017
0

found this helpful
Thank you I think I'll go with the greys for a more modern look, see pic below. If I do go with the orangy wood floor I would have picked a lighter wall color, see pic attached the light wall is muslin and the grey is weimeraner both benjamin moore.
The rest of my house is more transitional and I thought maybe go with more modern kitchen? I just thought the orangy floor would make it look more traditional? I ro have an orangey wood floor in my hallway living room right off the kitchen, what do you think?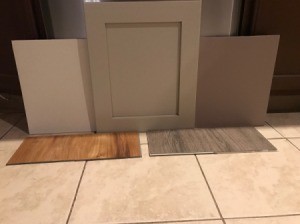 February 24, 2017
1

found this helpful
You seem to have very well thought out plans for your kitchen and that may be the reason no one offered you any "advice". If these color swatches were the ones they gave you then it seems they have your color scheme on target as either of the flooring colors would look great as either one would blend/bring out the gray/black/beige in your counter selection.
So - do you want to bring out a warm feeling or would you prefer the more sophisticated and less used grays?
Whatever you decide maybe you will still have curtains to further enhance your ideas of your dream kitchen "look"?
It appears you have given this project a lot of time and thought and I wish you much success with your final plan.
February 24, 2017
0

found this helpful
Yes it took me weeks, I picked out the 2 schemes I liked best. I have decided to go with the darker floor and ha e painstakenly finally found a paint color, benjamin moore Weimeraner! See pic attached. I will also wait until countertop gets installed and then pick the backsplash and may go with a light stone as in pic attached the stone on the right in the swatch or a 16 tile in pic attached with a rust colored grout to bring out the rust color in the granite.
What do you think? I will also have led under cabinet lighting, thanks for your help and will post pics when its done.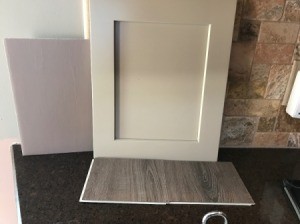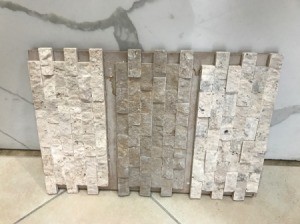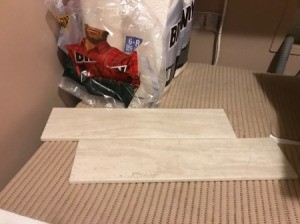 February 26, 2017
1

found this helpful
You have made an excellent choice! Those colors really bring out a striking quality in your kitchen. That granite contertop is fantastic and the floors are marvelous.
February 27, 2017
1

found this helpful
As mentioned before - you have great "imagination" and a well thought out plan. I am glad to see you like the more modern colors and your idea for a back splash should bring even more coordination to your color scheme.
I know it may be a while before your project is completed but please remember to post pictures as I'm sure we would all love to see your final concept or you could decide to give us a "blow by blow" as you complete your designs.
May 15, 2017
0

found this helpful
I posted pics of the completed kitchen!
April 22, 2017
0

found this helpful
Ok kitchen done!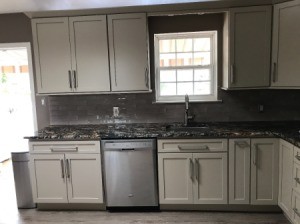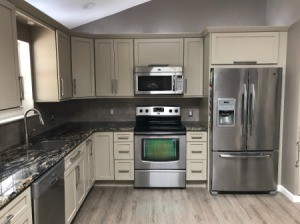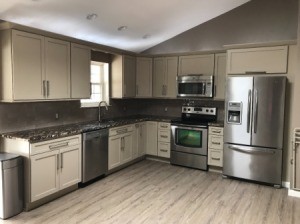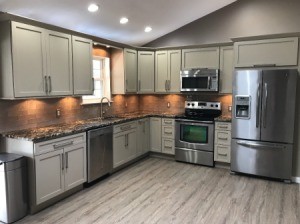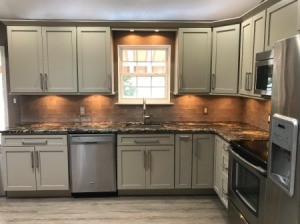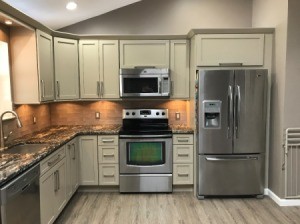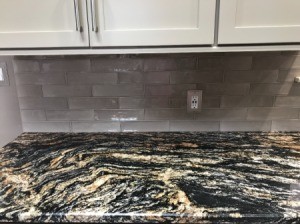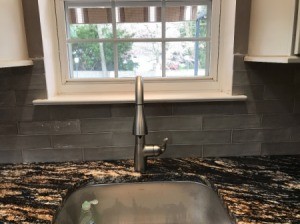 May 19, 2017
0

found this helpful
Wow, looks beautiful! I love the lights under the cabinets.