Labeling Electronic Cords
Solutions
Share on ThriftyFunThis guide contains the following solutions. Have something to add? Please share your solution!
We have numerous cell phones and small devices that all use the same charging cords. I can never find any of my charging cords. I end up buying new ones or it always seems like the kids miraculously have one when mine goes missing. So recently I took the time to hunt down and locate every single cord. Then I took my handy label maker and made labels identifying what each cord went to or whose it was. Each car now has a labeled cord, my iPad has one, and so does my iPhone for in my room. Now when someone has swiped it I will know. :)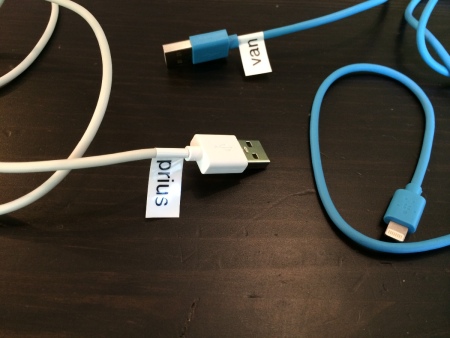 I found an inexpensive way to mark the multitude of wires behind my computer. I had read about using colored tape at each end of the cords, to trace which plug belongs to which accessory (printer, modem, etc) but I didn't want to go out and buy several different colors of tape.
So I used the small round colored pricing stickers I had left over from my last yard sale. I wrapped matching colored stickers around each end of each peripheral that I needed to identify.
Even if you don't have the stickers, buying a pack of them for about $2 is a lot cheaper than buying 4 or 5 rolls of tape to use a few inches of each!
The same method could be used for TV/Home theater systems with surround sound, DVD and cable box setups.
If you have more items than colors, you can use two or three color combos when you run out of different colors.
By Mary
Have lots of cords for your electronic devices, computer equipment, etc. and constantly forgetting which cord goes to what? I was until I came up with this simple solution.
I take the stick on labels that they sell to label your files with. Very inexpensive and easy to work with. I write what the cord is for on a small piece of the label, cover the label with tape. I use the clear plastic packaging tape because it's bigger and also sturdier--- and fold it over and secure it onto the end of the cord that plugs into the wall.
To make it easier, I use bright green ones for all my computer cords. Also, to make it easier to break down and re-plug in everything on the back of my computer tower, I put a label on the end of the cord that plugs into the tower, plus one on the other end that plugs into the device, and one on the tower itself and on the device where the cord goes in, plus a 4th label identifying what the cord goes to. All 4 of these are labeled with a number. This way, when I go to re-plug everything in, I know what cord goes to what and how and where to plug everything back in.
It used to be really frustrating for me whenever I had to take the tower in for repair or whatever, but now it only takes me a couple of minutes to set everything back up again when I get it home!
By Cricket from Parkton, NC
Behind my entertainment center you will find a variety of cords running to power bars. Pulling the wrong one when changing something can start a chain reaction of having to reset everything.
Read More...
All of my AC adapters are black and all belong to different items. I purchased a white permanent marker and wrote on each one (i.e. cell phone).
Read More...
I take single labels and fold them in half over the cord close to the end that goes into my device and label it.
Read More...
We all have those "rechargeable" appliances. Sometimes the cords all look the same. I could not match up cords to appliances when we relocated.
Not only was it frustrating to match, but also time consuming and expensive to replace.
Read More...
November 7, 2017
0

found this helpful
This is a guide about marking electrical plugs. Do you ever find yourself fumbling with an electrical plug, trying to get it in the right way? If you mark the side that should be up, it will go in quickly and easily every time. This is especially helpful when you can't see the outlet.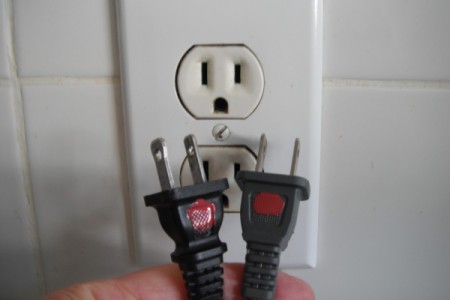 When moving electronics, I find it helpful to mark my cords so that when I am ready to set them back up, the cords are not a tangled puzzle. I mark each cord with a different colored dot of nail polish.
Read More...
Related Content