Want homemade lasagna in a fun new QUICK presentation? Try these lasagna roll-ups!
Ingredients:
1 box lasagna noodles
Drop or two olive oil
2 jars store bought or homemade spaghetti sauce
8 oz. mozzarella cheese
1 egg
1 pkg. Italian sausage, pealed out of its casing
1 (16 oz.) container Ricotta cheese
Directions:
Preheat oven to 350 degrees F. Spray 9x13 inch glass baking dish with cooking spray.
Boil lasagna noodles in a large sauce pot. Add a drop or two of olive oil to help keep the noodles from sticking. Boil until the firmness you like. Remove from heat and drain water. Add cold water to the pot and let it sit to cool.
Peel Italian sausage out of its casing, brown in a skillet, and drain off the oil. In a separate bowl, mix ricotta cheese, egg, and the cooked sausage, and stir well.
Take one noodle out of the pot and place on a plate. Spray the bottom of the cooking dish. Add several spoonfuls of the cheese/egg/sausage mixture down the center of the lasagna noodle, almost down to the end, and gently roll. Place in the dish seam down, and continue with the rest of the mixture. You will end up with around 10 rolls - I usually run out of mixture before the noodles, so if you want more, mix up more mixture!
Pour the sauce over the noodles and sprinkle the cheese over the finished product. Save some cheese for when you are serving (we call that "bonus cheese" at my house!). Bake covered at 350 degrees F for 25 minutes. Serve with a salad and bread - delicious!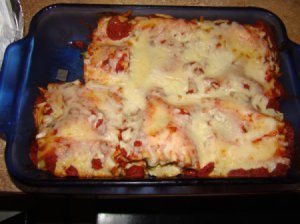 I love vegetable lasagna and decided to try my hand at lasagna rolls. Converting my recipes into rolls actually cut down on the amount of sauce and cheese I used and I increased the amount of veggies per serving significantly. The kids loved them and they had no idea that they were eating so many veggies.
Ingredients:
10 lasagna noodles
fresh baby spinach leaves
2 large carrots
2 cups broccoli florets (cut small)
1 cup cauliflower
1 container (8oz) ricotta cheese
1/3 cup Parmesan cheese
1 small onion (chopped)
1 Tbsp. diced garlic
1/4 tsp. salt
1/4 tsp. pepper
olive oil
1 jar spaghetti sauce
1-2 cups grated mozzarella cheese
Directions:
Preheat oven to 350 degrees F.
Boil lasagna noodles according to packaging.
Heat a small amount of oil in a frying pan and saute the onions and garlic.
In large saucepan combine broccoli, cauliflower, and carrots. Boil approx 5-7 minutes until tender but not too soft. Drain.
Mix the onions and garlic with the cooked vegetables.
In a bowl combine the ricotta and Parmesan cheeses with the salt and pepper.
Lay cooked noodles on a flat surface and spread the cheese mixture onto the noodles, leaving about 1-2" on either end with no cheese.
Cover cheese with a layer of spinach leaves.
Spoon vegetable mixture onto the spinach leaves.
Bring one end of the noodle up and over the filling, then bring the other end up and overlap the ends, making a roll.
Spray the baking dish with nonstick spray and then spoon some of the spaghetti sauce into the pan and spread around.
Place the rolls, seam side down, into the pan.
Spoon the remainder of the spaghetti sauce over the rolls, making sure that some of the sauce goes down the sides.
Sprinkle the mozzarella cheese on top.
Cover with foil. Bake at 350 degrees F for 30 minutes, then remove foil and bake for another 10 minutes.
I have been hungry for lasagna rolls and am looking for a really good (and easy) recipe for these. Thank you in advance for your help!

jmz2005 from illinois
Answers
March 1, 2006
0

found this helpful
Best Answer
Lasagna Rolls II
Ingredients
1/2 lb. mild Italian sausage (casing removed)

1 cup mushrooms (chopped)

1/2 cup green pepper (chopped)

2 1/2 cups cocktail vegetable juice (divided)

1/2 tsp. oregano

1/8 tsp. pepper

2 Tbsp. cornstarch

1 container ricotta cheese

2 cups mozzarella cheese (shredded)

1 egg (slightly beaten)

1/2 lb. lasagna noodles (cooked and drained)

1/4 cup Parmesan cheese (grated)

Directions
In a 2 qt. saucepan, over medium heat, brown sausage, stirring frequently to separate. Remove meat and set aside. Add mushrooms and green peppers to drippings. Cook, stirring occasionally, until vegetables are tender. Stir in 2 cup of the vegetable juice, the oregano and pepper. In cup, combine remaining 1/2 cup vegetable juice and cornstarch. Add to saucepan. Cook, stirring constantly, until sauce thickens. Cook 5 minutes longer.
Preheat oven to 375 degrees F. In a medium bowl, combine sausage, ricotta, mozzarella and egg; mix well. Spread 1/3 cup mixture on each noodle. Roll up jelly roll fashion. In a 9x13 inch baking pan, spread 1 cup of sauce. Place lasagna rolls, seam-side down in sauce. Top with remaining sauce. Cover; bake 30 minutes or until hot and bubbly. Uncover; sprinkle with Parmesan. Bake 5 minutes longer.
By Robin
Answer

this Question

...