Leaving a Cat Alone While on Vacation
Questions
Ask a QuestionHere are the questions asked by community members. Read on to see the answers provided by the ThriftyFun community or ask a new question.
I am on holiday for 10 days and this is only day 2. I am so worried about Kylie my 4 year old cat. I have a really good neighbour who is going in twice a day to feed and do the necessary. I have only had her 1 year and before I had her she was a indoor cat. Now she loves outside, as I live in a tenement which has a large back garden and over the wall there is a huge cemetery where all the cats seem hang around.
My worry is that after I got her she was scared to go outside. My neighbour has 2 cats and said after a couple of days she would let her out and check on her to let her back in the flat. My worry is that she will be lonely with being left in a lot and when she gets out she won't come back. I love her so much and am thinking I will have to go home. My neghbour said cats always come home as they know where there food is. She sometimes goes away for hours when I am there, but she sees me every day and sleeps on the bed with me.
By Ray
Answers
October 1, 2013
0

found this helpful
Have you ever heard of Cattery Boarding Kennels?
Read More Answers
What are the dangers of leaving an indoor cat in the home for 30 days if they are checked only twice per week. They are accustomed to being alone for 8 hours per day.
By sharonstonekontos from Huntington, WV
Answers
Answer

this Question

...
Is it OK to leave my 8 month old kitten home alone for 3-4 days? I will make sure it safe for her, and leave plenty of food and water.
By Shannon A. from Ft. Myers, FL
Read More Answers
January 4, 2014
1

found this helpful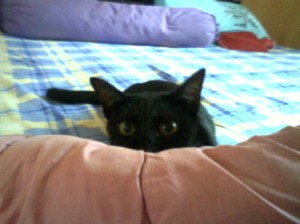 I live in Thailand and have an outdoor cat. She's 18 months old and very independent. She's gone most of the day (she has her own access through a window) and only comes in late at night to sleep until very early in the morning when she takes off again (after something to eat). I plan to go away for 3 weeks and don't want to leave her in a kennel.
Here the only option is to leave her at the vet's in a small cage where she won't be let out to play. I figured that would be more cruel! I'll have a friend visit every day to replenish her food and water, but the only friend willing to do this won't have the time to spend to play with her. Do I risk her running away to find me? Would she be okay, providing she always has food and water and access to her bed inside?
By Solieri
Read More Answers
My neighbors left for a funeral and a graduation out of town. They will be gone a week. They left their cat locked up in the garage with tons of food and water. It will be around 85 outside everyday. I said won't she get over heated and the lady said no the garage stays around 60 unless it is like 100 outside for days. Will the cat be ok? I'm worried about oxygen and the heat. She is a very social cat too. She loves people and I have checked on her for 2 days now by looking in the windows. Today she was meowing wanting out. She is mostly an outside cat. They never left a cell number or key to help if needed. I'm worried.
Read More Answers
I'm looking for a advice. I'm going on holiday for 9 nights tommorow. I have two cats that my neighbour will be going in on everyday and will be sleeping at my house in the evening. But I'm worried they're not going to be OK. I had my 16 month kitten put to sleep two weeks ago due to a serious illness. I'm wondering if my cats will be OK while I'm away.
Read More Answers
November 1, 2013
0

found this helpful
Please advise me. I'm going away for approx. 10-11 days, but I'm so scared and concerned that my little kitten's too small/young to be left alone for that long, even if I would arrange for a friend to come and look after her (food, water etc.). She's only 3 months old. Please help me. Is it dangerous to leave such a young one alone? Will she get traumatised? Many thanks in advance for your kind advice.
I really appreciate your reply, I would rather cancel the holiday, because she comes first!
Thanks again.
By Linn
Read More Answers
Related Content