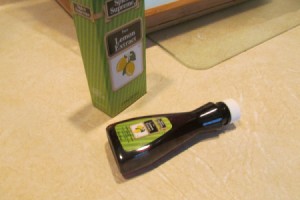 I was baking and spilled over a 2 oz bottle of lemon extract on my counter top. Now, I only pay .88 cents for all my spices and real extracts at The Dollar stores or a wholesale store here. So, no great loss.
I quickly grabbed paper towels and mopped up the mess. Upon cleaning it up, and getting that wonderful fresh lemon aroma, I started wiping down my counter top, my mixer, my toaster, can opener, and all my appliances. They started shining and it left my kitchen with such a clean fresh dry finish. With the alcohol content it dries immediatly and there is nothing in it to leave any sticky residue. It actually is a good cleansing agent due to the alcohol content.
Now, of course we aren't going to run out and buy miniature bottles of lemon extract to clean with, but if you want to once in a while give your kitchen a strong fresh aroma of nice and clean freshness, this will certainly do the trick. A splash on a paper towel goes a long way. And the smell last a long time!
See what one mistake (accident can do)?