Lemon Glazed Mango Bundt Cake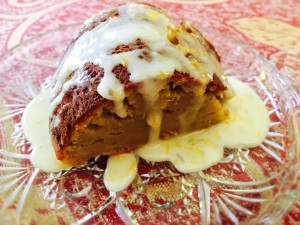 It's mango season so I'm really enjoying all the huge mango sales. This is pretty dense mango cake with a lovely, zesty lemon glaze that beautifully punches through it. This recipe calls for mostly basic ingredients and serves 8 to 10.
Total Time: 60 minutes
Yield: 8-10 servings
Ingredients:
2 cups all purpose flour
1 tsp baking powder
1/2 tsp baking soda
1/2 tsp salt
4 eggs
1 cup sugar
½ cup plain yogurt
2 mangoes
2 cups powdered sugar
2 Tbsp grated lemon zest
1/3 cup fresh lemon juice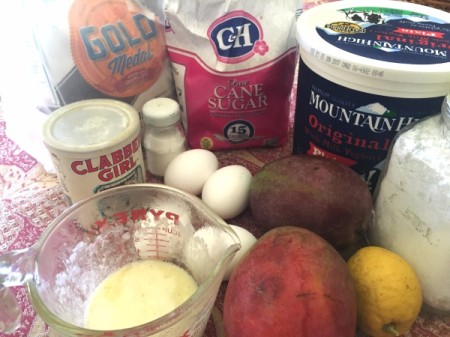 Steps:
Preheat oven to 350 F. In a bowl, whisk together the flour, baking soda, baking powder, and salt.
In another bowl, crack the eggs and beat for a minute.
Add sugar to eggs and beat until sugar dissolves.
Add yogurt and beat until well combined.
Pour in melted, cooled butter. Beat for a few minutes.
Slowly add flour mixture. Beat until well combined, about 2 minutes.
Stand one of the mangoes on a cutting board, stem end down and hold it upright. Cut down through the mango on one side of the pit. Flip the mango around and repeat this cut on the other side. What's left in the middle is mostly the mango pit. Cut slices into the mango flesh, being careful not to cut through the skin. Turn the mango and cut more slices to create cubes. Use a spoon to scoop out the flesh. Repeat with other mango.
In a food processor or blender, puree the mangoes until they're super smooth.
Add mango puree to batter and beat gently until just combined.
Lightly grease and flour a bundt cake pan. I used a standard 9 inch tube pan.
Pour batter into pan and bake for 40 to 45 minutes in preheated oven. Let cool completely.
To make the lemon glaze, in a medium bowl, whisk together powdered sugar, lemon zest, and fresh lemon juice until smooth. Drizzle glaze over cake and serve.
Add your voice! Click below to comment. ThriftyFun is powered by your wisdom!
June 29, 2017
0

found this helpful
Top Comment
I forgot to add that you can substitute the yogurt with milk! I made this bundt cake for a friend who could not have milk but could indeed have yogurt. Totally interchangeable. Enjoy!
July 15, 2019
0

found this helpful
You didn't list how much butter is needed for the Lemon Glaze Mango Bundt Cake. Could you please send me that information? Thanks. Pat
July 16, 2019
0

found this helpful
Attosa your Lemon Glazed Mango Bundt Cake looks like a picture it's so beautiful, and the ingredients, oh yummy!
Thank you for another wonderful recipe :)
Add your voice! Click below to comment. ThriftyFun is powered by your wisdom!