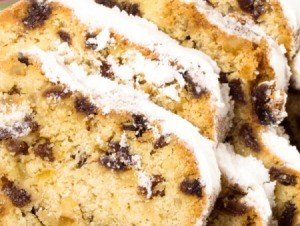 Very similar to spice cake, this recipe has been handed down in my family for generations. It is called Poor Man's Cake because you don't need milk, butter or eggs to make it. During the depression, these were expensive and during the War (World War II) they were rationed. It is an excellent, moist cake that needs no frosting. It is always a big hit at potlucks.
Ingredients:
Wet:
2 cups sugar
2 cups water
1 cup shortening, melted
1 box raisins (not snack size)
1/2 tsp. salt
1 tsp. cinnamon
1 tsp. cloves
Dry:
3 cups flour, sifted
2 tsp. baking soda
Directions:
Combine all ingredients in saucepan, bring to a boil, and boil for 5 minutes. Remove from heat and cool at room temperature. Add dry ingredients and mix well. Pour into a large, generously greased and floured cake pan (I use a 13 x 9 inch pan) and bake at 325 degrees F. for 25-30 minutes. Center should be firm and a clean knife or toothpick inserted in the center should come out clean. Allow to cool before cutting.
Source: Knox family recipe
By Diana Knopf from Millinocket, ME
Read More

Comments
I lost my recipe for a very moist poor man's cake. it was dark brown in color and very moist. I tried a recipe from the internet, and it was not at all like my favorite one. It came out lighter in color, and somewhat dry. Does anyone have this very moist poor man's cake recipe? I would appreciate it!
Thanks,
P.J. from Delaware
Answers

December 6, 2005
2

found this helpful
Hi P.J.,
This is my grandmother's recipe from 50 years ago and is the best in the world. I usually don't share special recipes but since this is the season for sharing. I hope you will enjoy!
POOR MAN'S CAKE
2 CUPS SUGAR
2 CUPS WATER
1 CUP VEGETABLE OIL
1/2 BOX RAISINS
1 TEASPOON CLOVES
2 TEASPOON CINNAMON
1/2 TEASPOON NUTMEG
1/2 TEASPOON SALT
MIX TOGETHER AND BOIL FOR 5 MINUTES, COOL
ADD COOLED MIXTURE TO 2 CUPS SIFTED FLOUR + 2 SEASPOON BAKING SODA.
ADD 1 CUP OF NUTS IF DESIRED
MIX WELL PUT IN TUBE PAN. BAKE 350* UNTIL DONE, IT TAKES ABOUT A HOUR.
LET ME KNOW IF YOU DON'T FIND THIS THE MOST DELICIOUS CAKE. I STILL CAN'T UNDERSTAND WHY THEY NAMED IT POOR MAN'S CAKE AS IT IS EXPENSIVE TO MAKE.
By Lou Lou (Guest Post)
December 6, 2005
0

found this helpful
Hi. That looks like a great recipe! I have also found that adding buttermilk to recipes makes a superb cake.
Cheers!

December 7, 2005
0

found this helpful
I printed this recipe from yesterday's newsletter. I do have a question .The recipe calls for "1/2 box of raisins" What size box?? Would it measure out 1/2 cup, 1 cup or....?
Years ago I believe this was referred to as "War Cake" here in Canada. Thanks - Mairmie
Editor's Note: It looks like a box of raisins is 9 ozs. I think that would be slightly over 1/2 cup of raisins. Susan
By Gail (Guest Post)
December 7, 2005
2

found this helpful
Hope this is what you are looking for. Found this from the Italian Catholic Federation cookbook which was published in 1980.
Boiled Raisin Cake (Poor Man's Fruitcake)
1 lb. seedless raisins
1 cube butter
1-1/2 cups sugar
3 cups flour
1 cup raisin liquid
2 tsps. cinnamon
2 tsps. nutmeg
2 tsps. baking soda
1 tsp. salt
2 eggs, slightly beaten
Boil raisins for 30 minutes, drain and reserve 1 cup of raisin liquid for later use.
Cream butter and sugar. Add sifted flour, cinnamon, nutmeg, baking soda and salt. Add the raisins and raisin liquid with eggs. Mix thoroughly. Pour into greased and floured 9x13 inch pan and bake at 350 degrees for 1 hour.
By Noni in Homewood, Il. (Guest Post)
December 9, 2005
3

found this helpful
Is this a dark chocolate cake. I'm thinking of Wacky cake. It's made with Cocoa. Very very dark & moist. No fruit of any kind.
No eggs. It's mixed in the same pan it's baked in. Delicious. Let me know if you want the recipe. Noni in Homewood, Il.

December 18, 2005
1

found this helpful
Here is my late mother in law's and it IS the ONLY one I ever liked lol Hope this is what you were looking for!
2 c sugar
2/3 c crisco
2 c water
1 and 1/2 c raisins
1 tsp salt
2 tsp baking soda
2 small cloves
1/2 lb walnuts or pecans
1 tsp cinnamon
1/2 tsp nutmeg
1 and 1/2 cups cut up dates
4 c flour
1 tsp baking powder
Combine all EXCEPT soda,nuts,powder and flour into a pan. Bring to a boil on the stove , remove from heat and let it cool. Dissolve soda in 3 tbs of hot water.
When cooked mixture is cooled add all the other ingredients pour into square cake pan (or what you prefer--we used to put them in cupcake pans sometimes) bake 325 degrees for 1 hour.
Happy Holidays
Jo
By Pat Elliott (Guest Post)
December 8, 2006
0

found this helpful
PJ...I love your comments about the cake being expensive. My mother said that same thing! She said they only thing it is missing is eggs.
It was about 50 years or more ago that she made this cake. I couldn't find her receipt...so thanks for sharing yours.
By Bonnie (Guest Post)
August 21, 2008
1

found this helpful
I think this may be the recipe you were looking for. I got it off the internet because I'd lost my recipe, too. Thanks to Mrs. Dorothy David, we can both enjoy an old favorite. Good luck.
Bonnie N.
Title: Poor Man'S Chocolate Cake
Ingredients
3 c flour
2 c sugar
6 tb cocoa
2 ts baking soda
1 ts salt
12 tb oil
2 tb vinegar
2 ts vanilla
2 c cold water
Instructions
Notes: By Mrs. Dorothy David, Albrightsville. The Times News, PA
In greased pan 13x9, mix all ingredients until smooth. Bake 350ø 40 to 45 minutes. Do not overbake. Frost if desired. (see below)
Poor Man'S Frosting -- Yield: 4 To 6 Servings
Ingredients
1 c milk
1/4 c flour
1 dash salt
1 c sugar
1/2 c margarine
1/2 c vegetable shortening - such as crisco
1 t. vanilla
Instructions
In saucepan, cook milk, flour & salt till thick.Cool well. In small mixing bowl add sugar, margarine & shortening. Beat well with electric mixer. Add flour mixture & 1 t. vanilla. Beat till fluffy and stiff like whipped cream.
By Bonnie (Guest Post)
August 21, 2008
0

found this helpful
I sent you feed back regarding your search for the Poor Man's Chocolate Cake, but just now I found another recipe on line that I think is much closer to the one I remember and may be the same for you. Good luck!
By Amy (Guest Post)
September 15, 2008
0

found this helpful
This is the one my grandmother always made. It is dark and very moist.
Stew one pound of raisins in 2 cups of water for 15 minutes. In the same pot add 1/2 cup of shortening and stir until melted. Add 1 cup cold water, 2 cups brown sugar, 2 cups of flour and 1 teaspoon baking soda. Then add 2 more cups of flour on top of the baking soda (if the baking soda hits the warm water it will start to fizz too soon). Add 1 teaspoon each of cinnamon, nutmeg and either allspice or cloves (I used allspice). Mix in original pot and pour into a greased and floured 9x13 pan. Bake at 350 for 30 minutes, turn oven off and leave cake in for 5 more minutes. Cool completely before covering.
hdharley @ verizon .net (remove spaces to email)

August 22, 2010
0

found this helpful
I read about this recipe in a book by Fern Michaels. The book is called Texas Fury and it is the third in a series of 4.
I want to try the recipe but I don't think they used vegetable oil back in the day. I'm going to try it with shortening (the closest thing to lard). I don't think the recipe is as expensive as ya'll make it out to sound (pound for pound anyway). Back in the day, the spices were probably the most expensive things they had to buy and I'm sure they didn't add nuts unless it was a special occasion (the holidays). I'm going to give it a shot and hope my family likes it. Thanks all for sharing.

December 4, 2017
0

found this helpful
This sounds a lot like the one my 98 year old Aunt makes. She's still baking, cooking, and baking. Along with keeping her beautiful three bedroom home, immaculate . It's a busy season for her.shes already starting her Pitzells. The best I've tasted. If I call her for recipes , she's going to invite me to dinner, and won't take no for an answer. I don't want to bother her right now. So I check on line.
Read More

Answers