When my husband and I married, we each brought children to the union. Within a year, we had added the two little boys from across the street. In an 800 square foot house with two bedrooms, this did not work. We found some land a few miles out of town, where we could all indulge our love for raising animals and gardening.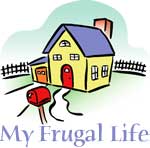 We had to do without electricity and running water because we put all our money into the land. We paid for it in three years, as well as having a 170 foot well dug and some irrigation ditches put in. With kerosene lamps, a generator to run the pump; and a wood stove, we were fine. We have never had to buy firewood, because people know to call us when they want to give away a tree or some scrap wood.
We bought a cow and watched her having her calf; the first one on our land. The little fellow's front hooves emerged, and then his face. He gave his head a big shake to get rid of the fluids, looked all around, nodded as if to say this looks okay, and then put his new front legs on Mama Judy's back legs and pushed. Out he flew! He was a big boy!
We put two old trailer houses on the land, about 12 feet apart. One was for the kitchen, living room, and our bedroom. The other had three bedrooms for the kids. A third one is for Jim's tools and the books we don't have room for in the house. In between trailers, I planted flowers. A lady was thinning her irises and gave me one of each color. The kids threw out fruit pits. We now have an apple, cherry, and apricot tree to shade the trailers and give us fruit. They cool us down by about 20 degrees in summer.
My husband, Jim, plowed up a quarter-acre garden. He and the kids planted fruit trees, elderberries and raspberries. We put in some tiny pine seedlings from the soil concervation district and they took hold almost like magic. We built a chicken coop from scrap wood that we salvaged from a proving up shack.
Later, when we had cleared away enough sagebrush and lava rock, we fenced in a pasture for the cow. There were a few adventures before that fence got finished -- it's a wonder no one was hurt! I say that because we had to picket our cow and calf before the fences. Sometimes they didn't want to let us lead them. When a 1200 pound animal wants to go left, she goes left.
There is no heat bill. Just gas and oil for the generator and chain saw. Jim was working full-time during this period, and I stayed home with the six teenagers. We no longer work for other people. Jim raises baby calves with the help of our cow, Maggie. She was named for Maggie Smith, one of my favorite actresses!
I write for a local newspaper and an in-house magazine for the local utility. We also operate a mobile food concession during the summer, as a team! We don't have a lot of money, but we don't need a lot. Because we grow so much food, I spend only $25.00 per month on our grocery bill. Most of that is non-foods. We eat very well. Today's lunch was T-bones and corn with salsa. Yum!
We began all of this 23 years ago, and the kids have grown up and started their own families. They have turned out fine, thank the Lord! They bring us such happiness! My brother has not visited us until this week. He lives in California in the middle of millions of people in a lovely home. I think he thought we were poor and primitive, so he put it off. We had a wonderful visit! He plays saxophone, and so does our granddaughter, Aime. He's a pro and she's a high school senior this fall. He taught her several techniques like growling, vibrato, and some other terms I had never heard before. She was so psyched up! We caught up on family stories and went through old albums, and I wish he could have stayed longer. But I think he'll be back. Like most people who come for a chat or dinner, he wound up telling us we live in Paradise. We never argue that one.
Coreenhart from Rupert, ID
Do you have a frugal story to share with the ThriftyFun community? Submit your essay here: http://www.thriftyfun.com/post_myfrugallife.ldml