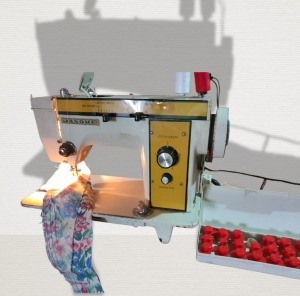 Some time ago, they gave me this sewing machine. I thought it could only do zigzag and straight stitch. Yesterday they gave me the embroidery discs, but I don't know how to use them and it doesn't have a manual, so I would like to find the model to look for the manual of it. I have searched all over the internet and I just can't find the model. I appreciate any help you can give me.

Answers

September 20, 2022
0

found this helpful
Best Answer
This one is identical
tiosdurvis.lv/.../Janome-Sewing-Machines-Color.pdf
This is a Janome sewing machine.
'Yosaku Ose founded what would become the Janome sewing machine company in the 1920s.
Janome made New Home machines starting in 1965.
Janome also produced Kenmore sewing machines for Sear to gain a footing in the United States. The Kenmore 385 models made by Janome can range in age from 1965 to the late 1980s.' silverbobbin.com/.../
You need to find the model and serial number on your machine. Usually, this info is written on a sticker attached to the machine near the power cord or it is stamped into the base of the machine.
Then check out Janomes retired sewing machine manual free download page www.janome.com/.../
You can also find old manuals on eBay and Etsy.

September 20, 2022
0

found this helpful
Best Answer
I believe your Janome is the same model as New Home 531.
Here is how to find your model number but check online for Janome 531 and New Home 531 to see if they match your machine.
www.thriftyfun.com/Locating-Sewing-Machine-Model-and...
' model number or style number
' serial number
' place of manufacture.
All of this information should be on or under the needle plate area.
Here is a link to download a manual for your machine: Janome 531.
You have to go through the complete order process but I checked this out and it is safe. No money is involved and the link is safe. I downloaded the PDF, and it's perfect, but I do not think my link will work for someone else.
www.sewingmachinesplus.com/manual-j-531-en.php
www.thriftyfun.com/.../
manualsoncd.com/.../
If you're still having problems, please join this sewing forum, as these members can help you with any problem or any machine.
www.quiltingboard.com/.../

September 21, 2022
0

found this helpful
Best Answer
You have JANOME sewing machine MODEL 531
Here a JANOME MODEL 531 on the Greek Janome website
www.janome.gr/.../JANOME-MODEL-531
You can also find many identical New Home - Janome 531 Sewing Machine, but with blue color:
picclick.co.uk/Vintage-New-Home-Janome-Model-531...
"In, the word Janome (pronounced Ja-NO-me) means "eye of the snake." The company earned the name in the 1920s when founder Yosaku Ose, a pioneer in Japanese sewing manufacturing, Japanese began to use a round metal bobbin system instead of the traditional long shuttle.
In 1960, ninety-three years after Barker and Clark first collaborated, New Home and the "New Home" brand were purchased by the Janome Sewing Machine Company of Tokyo, Japan." www.janome.com/.../
ismacs.net/.../the_men_behind_new_home_a_history...
You can use the manual for New Home 531 Sewing Machine as it is the same model.
New Home 531 Sewing Machine Threading Guide:
New Home 531 Sewing Machine Instruction Manuals:
becclessewing.co.uk/.../new-home-531-instruction-manual-download
New Home Janome 531 Sewing Machine Service-Parts Manual:
If you want to find out the year of manufacture of your sewing machine, then you need to find its serial number. You should easily find the plate with the serial number at the back of your sewing machine. Then go to "SUPPORT" www.janome.com/.../ and fill out the request there. They should have a record of the serial number.
I found this information about approximative date:
www.janome.com/.../orange-ma-and-rockford-il-dates-of...
Answer

this Question

Can you please help me identify the model and/or serial number of this Brother sewing machine. I do not have a manual and I need your help. Thank you!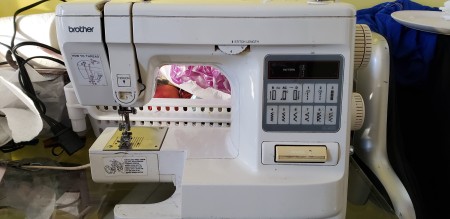 Answers

February 22, 2021
0

found this helpful
Best Answer
I believe your machine is a Brother Boutique 10 but there were sever other models in the Boutique line but all very similar.
This is usually considered a 'foreign' sewing machine and it is difficult to find very much about it in English.
I have not found a free manual but maybe someone else will find one. I did find a link to purchase a PDF download for $4.99 in case you cannot find a free one.
manualsoncd.com/.../
If this is a new machine (to you) you may want to join this forum in case you have need of help with any problems that may come up later. They can also tell you where to find your serial number as well as age of your machine. You will have to join first but they may also be able to find you a free manual.
www.quiltingboard.com/.../
I do not believe you will receive any help/support from Brother other than providing an address to your nearest store/repair shop.
They have contracts with their dealers that they will not provide online support.

February 23, 2021
0

found this helpful
Best Answer
Your machine is missing the panel on the lower left side of your machine but I believe this is more for stability so may not be a problem.
Many companies made machines with popular names and product names. It is possible your machine is both Boutique 10 etc and Brother XL2015 but also possible they were produced in different countries.
This machine is described as Brother Boutique most of the time and there is a full series of different model numbers.
Information or questions about the XL2015 is difficult to find so I believe it is commonly called Boutique.
However, Brother does not support this machine by either 'model name/number'.
It is my understanding that once they drop a machine they no longer provide information or support.
I believe you will receive more information if you contact the sewing forums - especially this one.:
www.quiltingboard.com/.../
Answer

this Question

I bought this sewing machine from a thrift store recently. I need to order some parts for it but it doesn't have any labels or manuals so I don't know the model number.
Does anyone recognize what model this might be?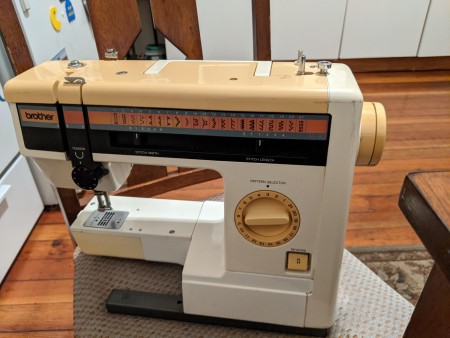 Thank you!
Answers

January 24, 2022
0

found this helpful
Best Answer
I think you have a Vintage Brother Sewing Machine 273C
I found an identical looking sewing machine:
Brother Sewing Machine Vintage 273C With Hard Case And Accessories www.ebay.com/.../274325971988 It is in great working condition, the price is $100.
Brother sewing machine serial numbers are coded to indicate the manufacture date of the machine. The letter and first number indicate the month and last digit of the year the machine was made. Because the first number in the serial number could correspond to a year in any decade, you need help from Brother International Corp., the machine's manufacturer, to determine when the machine was made. You can submit an email request through the company's website. Find both the model and serial numbers on your Brother sewing machine and write them down. The model and serial numbers are usually printed on a tag affixed to the back of the machine, but may be located elsewhere on the machine's exterior.
Answer

this Question

Can't find the year or a model number on a new National sewing machine.
Answers

December 22, 2020
0

found this helpful
Best Answer
I believe you would receive more usable information if you posted a picture as you say 'new' but since there are no new Standard machines we know that you must mean it is 'new' to you.
A picture helps identify the model without knowing the numbers or the year.
National Machine closed their doors in 1954 so we know it had to be before that year:
Here are some details from the National Sewing Machine history:
"National was early into the badge machine business. Large department stores and mail order houses liked to sell goods with a name exclusive to their own business. National obliged by badging the machines with whatever name was needed -- if the order was big enough."
"Somehow National never came together after the war. The company soldiered on until 1953 but then the influx of Japanese models became too much.
National Sewing Machine Company closed its doors in 1954."
If you wish to know more about your machine I would suggest that you join one or two of the vintage sewing machine forums as they have experienced members who can ask the right questions and guide you through what ever problems you may have. I believe you will really like this forum so please join and ask your questions:
www.quiltingboard.com/.../
Ismacs is a very good site but their members usually only deal with antique machines.
There is a little information about the antique National on their website:
ismacs.net/.../home.html
You may be able to contact this company and ask for information:
Contact information is the second link:
needlebar.org/.../National_Sewing_Machine_Company
needlebar.org/.../viewtopic.php?f=11&t=3770
Answer

this Question

Where do I find the model number and serial number on a Good Housekeeper Deluxe 30 sewing machine? I just bought it and would like to see if I can find a manual. I'm new to sewing so I will be practicing on it.
Thank you,
Cindi from Maine
Answers
By trina (Guest Post)
February 12, 2007
0

found this helpful
Don't fret, pretty much all sewing machines have the same things. buy yourself a generic sewing book and figure it out , or check out yard sales or thrift stores which have quite a few actually. Good luck

February 13, 2007
0

found this helpful
That is nice that you are going to practice and teach yourself, I did...however, you WOULD find the manual very helpful, even though machines are somewhat alike, when there is a difference, there is a difference and you need the manual. I would call a local repair shop and ask them where on the machine you could locate the Model and Serial # and then work from there...ask again on here and do a Google search for sewing machine manuals.
If you can find the company, they may be helpful.
I got a very, very nice used Viking, minus the manual and the company copied and mailed me free of charge the majority of the pages to the manual...which I truly needed. Good luck. Also, find a friend who sews and use her brain, that is what I did with several friends.
B. Wilson
Read More

Answers