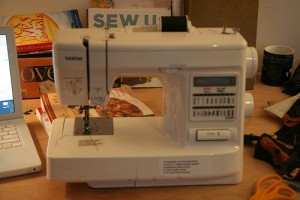 I bought this from a used sewing machine dealer and there are no numbers anywhere. I need a manual for it, but cannot without a number. I am hoping someone will recognize the model. Thanks in advance.
Answers
December 18, 2012
0

found this helpful
I also bought a Brother machine years ago, no manual. Google 'Brother sewing machine manuals'. Go through all the manuals and maybe you will find a manual for your machine. I found a manual, but it was not exactly the model I owned, but mostly similar. Hope this will help you.
Marlene, South Africa
December 24, 2012
0

found this helpful
Finding the model number can be difficult on some models of all manufacturer's sewing machines. Going to the manufacturer website can save hours of searching through Googled images, so here is a link to the Brother US site:
www.brother-usa.com/.../#.UNgcKRy-czA
Scroll down to find the contact feature, you can choose 'home sewing and embroidery' then use the comment box to ask them how to find your model number. I don't think you can attach a photo so you may want to ask in the email if you can send them a picture to make it easier to identify your machine.
Good luck, let us know if you find your instruction manual.
December 24, 2012
1

found this helpful
I had a similar problem - was missing my Brother manual and couldn't find the number, even with the webpage help. I had to call the 1-800 customer service number and the agent helped me locate it. The number can be found on their website! Good luck!
Read More Answers
I have a machine that is turquoise and beige in color. The face plate is missing and the only # I have found is J-A3 4493. It looks close to the 1959 Brother Galaxie 230. This one has a zigzag stitch and is a very heavy machine.
I just need to know the make and model. It was my mother-in-law's. I think she bought it in the 70s. The belt broke and I need to find the model# to replace the belt.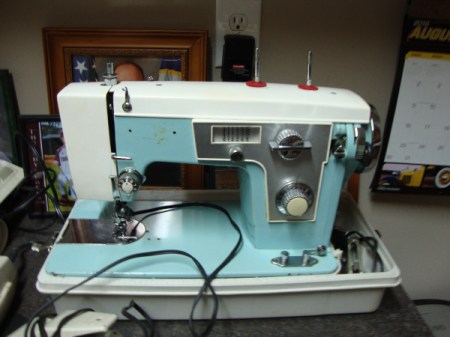 Answers
November 2, 2015
0

found this helpful
Take it to a Sewing Center..... They repair all sorts of machines and can help you. I just remembered...
There might be another place on the machine that will have a smaller name plate or a sticker with the name on it. It looks like a good sturdy one. I hope you find what you need.
November 3, 2015
0

found this helpful
You could also try emailing your photos to:
He does vintage machine repairs - mainly Singer but also a few other brands - and might be able to tell you the brand, model, and he quite possibly stocks the belt you need. Worth a try - he's a lovely gentleman according to my friends in the US who've kept many a fine vintage machine up and sewing thanks to him!
November 3, 2015
0

found this helpful
I just remembered ..... It might be a Janome.... I'll see if I can find out and get back
November 22, 2015
0

found this helpful
I have the exact same machine . The emblem that you are missing reads Made expresly for Carson Pirie Scott & Co . The model mumber is 290. It was given to me but I had to get a new bobbin for it.
The man at the sewing machine co. told me it was an excellent machine. He said that Japan made real good machines. Hope this helps.
November 25, 2015
0

found this helpful
The emblem on this machine that is missing on yours reads as (Made expresly for Carson Pirie Scott & Co.) It is model #290. I have been told that Japan makes an excellent machine. I had to find a bobbin for mine when I got it.
March 27, 2016
0

found this helpful
Take it out of the base and there should be a plate that has the model and serial numbers
March 25, 2017
0

found this helpful
I need a electric cord fo a modeldx2015
Read More Answers
Where do I find the model number and serial number on a Good Housekeeper Deluxe 30 sewing machine? I just bought it and would like to see if I can find a manual. I'm new to sewing so I will be practicing on it.

Thank you,
Cindi from Maine
Answers
By trina (Guest Post)
February 12, 2007
0

found this helpful
Don't fret, pretty much all sewing machines have the same things. buy yourself a generic sewing book and figure it out , or check out yard sales or thrift stores which have quite a few actually. Good luck
February 13, 2007
0

found this helpful
That is nice that you are going to practice and teach yourself, I did...however, you WOULD find the manual very helpful, even though machines are somewhat alike, when there is a difference, there is a difference and you need the manual. I would call a local repair shop and ask them where on the machine you could locate the Model and Serial # and then work from there...ask again on here and do a Google search for sewing machine manuals.
If you can find the company, they may be helpful.
I got a very, very nice used Viking, minus the manual and the company copied and mailed me free of charge the majority of the pages to the manual...which I truly needed. Good luck. Also, find a friend who sews and use her brain, that is what I did with several friends.
B. Wilson
By guest (Guest Post)
November 4, 2007
0

found this helpful
I just recieved an old sewing machine with the number at the base. Trying to figure out the manufacturer. Thank You.
By Barbara D. (Guest Post)
December 10, 2008
0

found this helpful
Do you have a manual/parts list for this machine?
burton32 AT verizon.net
January 24, 2014
0

found this helpful
I have that same machine and I can't find a manual. Have you had any luck?
Read More Answers
I bought a Brother sewing machine at a garage sale. I can't find the model number on it. Can anyone tell what model this Brother sewing machine is? I have attached a picture. Thank you.

Answers
October 25, 2015
1

found this helpful
It's impossible to tell what the model number is by just looking at a photo. Have you looked all over the machine for the model number. Remove the bottom plate and see if the number is there. If not, take the machine into a sewing machine shop and ask the repairman.
December 1, 2016
0

found this helpful
Are any of these numbers a model number for Brother sewing machine? XL5130, Uj0541, UI0541,885-453, A3E124519
July 15, 2017
0

found this helpful
This looks like a VX-980. The model # is located on the red ban, on the right side, on the front of the of the machine.
Answer

this Question

...