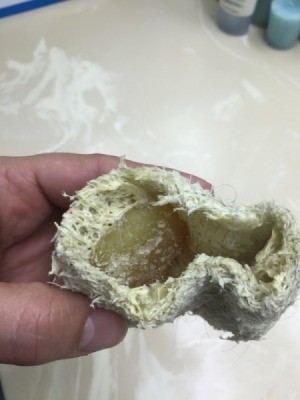 I have never been satisfied with the various nylon soap pockets used for showering. So, a while back, I began to cut a three inch chunk off of a loofa, and then cut out the center part to leave just the outside ring of fiber. I do this using a serrated bread knife to really saw through the loofa, as it's pretty tough. Then, I water up the loofa a bit and massage it until it's somewhat pliant. Finally, I shove a bar of soap inside the center and, voila, I've got a loofa soap pocket.
The loofas really hold the suds well! These pockets usually survive two or three bars of soap before I have to toss it out, but as you can get two to three of these holders out of one loofa you buy, one loofa can last you up to a year or more! And if you wait for a 99c or $1.00 store somewhere to carry cheap loofas, you're talking really cheap!
It's good to keep them propped up well and have a chance to dry out a bit so they don't get moldy or anything yucky like that.
Enjoy!