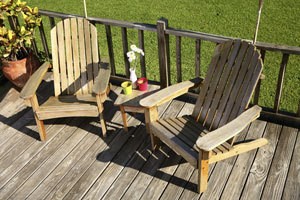 Our gardens and patios have truly become an outdoor extension of our indoor space. And just like furnishing our interior spaces, decorating our exterior spaces can be an expensive investment in furniture and accessories. Here are some tips on selecting and maintaining your garden furniture.
Choose A Timeless Style
The most important element to consider when choosing a style of furniture for your outdoor space, is to get something you'll like for a long time. Outdoor furniture is expensive, so select pieces that are comfortable and built to last and not so trendy in design that you tire of the style in a few years. Avoid garish colors and flamboyant patterns that will distract from the beauty of the plants in your garden. Go for colors and styles that fit in with the surroundings and compliment the exterior color of your home. Classic styles will never look dated.
Choose Quality Materials
There is an unbelievable selection of construction materials used to manufacture garden furniture today. Different materials can have very different maintenance requirements. Before deciding on furniture made out of a particular material, consider who will use the furniture, how much effort you're willing to put into maintaining it, and how it will be stored. Here are some pros and cons of each:
Metals
Pros: Beauty, strength and longevity; comes in a variety of classic and modern styles.
Cons: Expensive; problems with paint flaking; prone to rust (unless you buy aluminum); can be heavy and difficult to move (cast-iron); can be quite cold (or hot) to sit on depending on the temperature.
Wood
Pros: Long lasting; blends in well with surroundings; less expensive than metal, gains character as it weathers; comfortable to sit on regardless of temperature.
Cons: Color fades over time; sliver factor; subject to rotting from horizontal surfaces collecting water; subject to damage from termites; more limited style selection; some made from nonrenewable resources.
Plastic & Resin
Pros: Less expensive than wood or metal; lightweight; unaffected by wet weather; many are stackable, which saves space; some may be made from recycled plastics; hold original color longer than wood.
Cons: Not as durable as metal and wood; can become brittle and crack if stored outdoors over winter, framing not easy to replace or repair.
Care & Maintenance Issues
No matter what type of outdoor furniture you buy, if you want it to last, it's going to require some kind of maintenance. When refinishing your furniture, look for environmentally-friendly paints, stains and preservatives and make sure you work in a well-ventilated area.
Cleaning: Dirt and chlorine will eventually degrade patio furniture. Never use chlorine bleach or a stiff brush-especially on cushions. The chlorine will degrade all parts of your furniture and using a stiff brush on the cushions will create pores in the fabric that will allow water and dirt inside. Use a mild dish detergent in warm water and a soft textured rag instead. Use a toothbrush and a wood oil soap to clean between areas in wicker furniture.
Rust: Replace rusting hardware with galvanized steel or brass to avoid rust. Use steel wool to remove rust and touch up exposed metal parts immediately to prevent further rusting. Use rust inhibiting products when repainting.
Weathering & Fading: Bring wicker back to life with a permanent marking pen that matches the color of exposed areas or paint each piece with a can of outdoor spray paint. Apply a tinted wood preservative to revamp and recolor tired-looking wood furniture.
Silvering: Certain types of woods (e.g. teak), will take on a silvery sheen as they weather. Many people find this attractive, but if it's not your style, a regular rub down with teak oil will preserve the wood and its original color.
Fungal & Lichen Growth: Remove fungal growth from rotting wood by scraping the wood until it is completely gone. Fill in gouged areas with a wood filler and apply a wood sealant to help prevent future problems. Lichen will not harm your wood furniture, but if you don't like the look of them, they can be removed with a wire brush. Use a wood preservative to prevent them from re-growing.
Flaking Paint: Remove all flaking paint with steel wool or a metal brush before refinishing. To keep paint from flaking in the future, choose a paint that is specially formulated for use on metal. Be sure to follow recommended instructions on priming. Allow each coat to dry thoroughly between applications.
Winter Storage
If you have room in the basement, garage or storage room, it's best to bring your garden furniture indoors for the winter. If you don't have the room, at least try to find some space indoors for the umbrella and chair cushions and buy covers for the table and chair frames. You have already invested a lot of money in the furniture, and spending the extra $15 to $50 a piece (depending on the size) to cover your table and chairs will pay off in the long run. It doesn't matter what type of furniture you have, there is a cover designed to fit it. Unlike regular plastic or tarps, covers are designed to be waterproof, tear-resistant and fit snuggly over your furniture. Make sure you give everything a good cleaning before storage and make sure everything is dry before you cover it to prevent mold. Metal furniture can be covered with a coat of car wax help prevent rusting. Wood furniture may need to be re-sealed. Follow manufacturer instructions. If possible, keep furniture off its feet and store it in a tilted position to shed water.