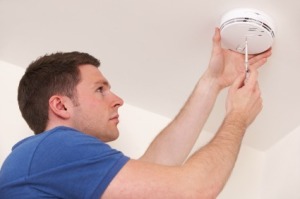 Remember that most areas of the US set their clocks back one hour this weekend (officially I believe at 2 a.m. on Sunday morning). Spring forward and fall back.
The twice a year time change is also a great time to change out your smoke alarm batteries, and if needed, your smoke alarms.
Most smoke alarms are only recommended to be used for not more than 10 years. After that, they become clogged with dust and the sensors fail.
If you are unable to change your own out, call your local American Red Cross or fire department. Many will provide and install new ones at no charge. Even if they don't provide them, if you purchase them they will send someone over to help you install them at no charge.
Smoke alarms can be purchased for as little as $4.50 at home stores. Saving the life of your family is worth much more than that.
Do not install alarms in areas where they are easily tripped, such as over the fireplace or kitchen stove. When installed there, people tend to disconnect them for sounding off falsely and you have then defeated their purpose.
Install them in the center of the room, away from ceiling fans. Ideally one should be in each bedroom, living and dining rooms, basement rooms and hallways. If you can, also install in the kitchen away from stoves or grease sources (like the fry daddy on the counter).
Source: I am a firefighter and help with public education programs
By mom-from-missouri from NW Missouri
Read More

Comments

I have a problem with one of my smoke alarms and I don't know how to fix it.
My smoke alarm is completely dead (red and green lights are completely not on, it is not making any sound). All my other alarms are functioning well. Is it a battery fault or something more serious?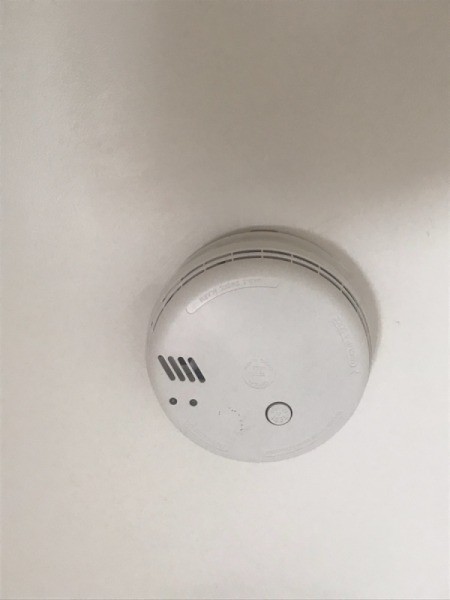 Thanks!
Answers

January 8, 2019
0

found this helpful
Smoke alarms have a life. It probably needs to be replaced, if a battery change is not effective.

15mhhm15
Diamond Post Medal for All Time! 1,298 Posts
January 8, 2019
0

found this helpful
How old is your smoke alarm? A smoke alarms lifespan is generally 10 years. If it's outdated, I would recommend changing the entire unit for safety precautions.

January 9, 2019
0

found this helpful
Try replacing the battery and if that does not work then it looks like you need to replace it.
Some cities/counties give free smoke alarms so Google free smoke alarms with your zip code and see you live in one of those counties.
Some cities will also send a fireman to your house to check out a problem with a smoke alarm so check this out if you cannot find the problem (and you know your alarm is a newer model).

Pghgirl40
Bronze Feedback Medal for All Time! 196 Feedbacks
January 13, 2019
0

found this helpful
Are they hardwired together? You may need an electrician to check it out if that is the case. If they are single working, toss it and buy a new one. Google the company and find out their life span. I think most are 8-10 years. If it is newer than that perhaps they will replace it free of charge. Safety first!!
Answer

this Question

My smoke alarm is chirping at present. I have tried to remove the outer case to replace the battery, but it is impossible, seems to be stuck. It is a smoke alarm which was installed in the house when built. Any advise?
By Linda Halpin
Answers

PENNY K
Bronze Feedback Medal for All Time! 107 Feedbacks
December 21, 2009
0

found this helpful
Getting the lid off can be a pain. There's usually a little tab that's supposed to give to pressure. Just keep trying; my son finally got ours off after I was sure it wouldn't.

December 21, 2009
0

found this helpful
Removing smoke detector covers can be difficult. Usually a tab has to be depressed. Try usinf a small flat blade screwdriver. Replace the battery with an ALKALINE battery.
Ordinary batteries may be fully charged but will not work in a smoke detector. Good luck!

December 25, 2009
0

found this helpful
There is a door in the side that when depressed opens. The whole cover does not come off. When you get the door open (not easy), slide out the old battery and insert a fresh alkaline one, close door and test it. Mine are sensitive and don't work with all batteries.Some are fresh and still chirp because they aren't compatible with my brand smoke detector. Get on a ladder so you are eye level with the detector to see the door that needs to be opened. Jill

Dena Roberts
Bronze Feedback Medal for All Time! 102 Feedbacks
December 26, 2009
0

found this helpful
I would get the brand name off the cover and google it...there is usually an owner's manual on line that will tell you how to get the cover off without breaking it! Or phone the manufacturer and ask. There are so many different ways these covers come off!
Answer

this Question

My smoke alarm chirps maybe 1-2 times per week. I figure it needs a new battery, but can't figure out how to open it. I looks like a slide out tray, but won't slide and beeps when I try.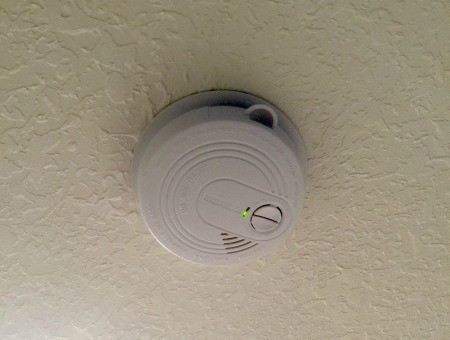 Answers

July 22, 2019
0

found this helpful
I think you have to twist the cover off like a jar lid.

Pghgirl40
Bronze Feedback Medal for All Time! 196 Feedbacks
July 22, 2019
0

found this helpful
What brand is it?
This is a how to for a Kidde:
www.youtube.com/watch?v=KG4XROjpq9Y
Most brands have YouTube for how to change the batteries.
What did we do before YouTube? :)
Answer

this Question
Where would I find my smoke alarm battery? I need to change it because its beeping every 30 seconds. How do I change it?
By Phil m

Answers

April 2, 2013
0

found this helpful
It's the only 9 volt battery in the back. Good luck.

Grandma J
Silver Feedback Medal for All Time! 270 Feedbacks
April 4, 2013
0

found this helpful
Batteries are meant to be changed out every 6 months. Fire code suggestion. Take alarm off the wall, turn it around, there it is. Even if you test it and it is good, replace. Your life is not worth the $3 battery.
Same time, check your CO detector. If it has a battery backup, change that too.
Answer

this Question