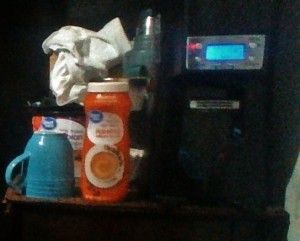 I encountered a little problem when someone came to visit me who drank as much coffee as I do, and man alive, do I ever drink a lot of coffee! What was the problem? I couldn't make a pot of coffee last very long at all!
I didn't mind. I love having a coffee buddy, but I needed to find a way to make it last a bit longer. Here's what I did.
I have a plain Hamilton Beach Brew Station. It yields me 12 cups of coffee. I just filled the carrier for it all the way up to the bottom of the handle with the hottest tap water, then I poured only enough water into the tank until it reached the bottom of the 12 cup line. Next, I used my 1/8 cup coffee scoop and put 4 heaping scoops into the filter basket. I use 2 filters. One paper, one plastic.
Anyway, there will be 4 cups of plain hot water left after you pour in the 12. Just leave it in the carrier. 4 heaping scoops is plenty strong, believe me. I'm a coffee junkie! But, you're going to need to use your scoop to put a well in the center of the grounds so they don't touch the lid when you close it. The hot water speeds up the process. If you use cold, your coffee won't be as hot as it could be.
Note: When you do this, you can't rob the pot. Gotta wait for it to finish brewing, but I can never go back to making 12 cups again. I can wait. It's worth it. I stick it in my 2 quart Stanley thermos when it's done with the cream and sugar already in it then I don't have to fool with all that stuff later on and I still get an extra 15 ounce cup of coffee after filling my thermos to the top! How great is that? K cups, puhlease! Pfffft! NEVER! :)